Museum of early consumer electronics and 1st achievements
www.rewindmuseum.com


Practical Television magazine. June 1950.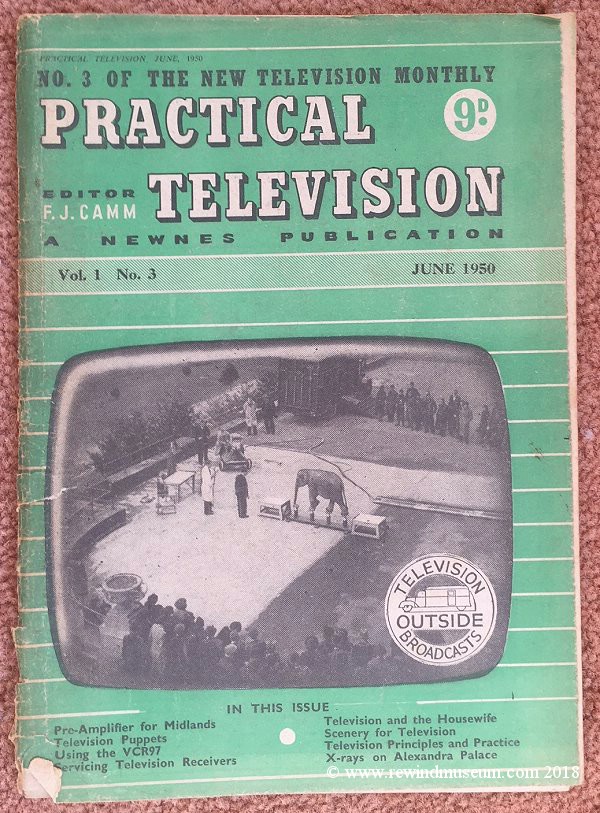 Volume 1. Number 3. Price 9d which was about 4 pence.
Regular TV broadcasts started in 1936 to the London area but during the war, (1939 - 45) they were
discontinued. After the war they restarted and in 1949 the second transmitter was built near Birmingham.
By 1950 there would not have been many TV sets in the country, mainly they would have ben in the London
area with a very small number near Birmingham but this magazine dated June 1950 was available.
Some of the features in this June 1950 copy of this magazine were - "Television and the Housewife",
"Scenery for Television" and "Television Puppets".
Editor FJ CAMM. The same editor as
Practical Motorist
,
Practical Mechanics
and
Practical Householder
.
Frederick James Camm was born 6th October 1895 and died on the 18th February 1959.
He was an English technical author and magazine editor for a number of magazines - Practical Engineering -
1st published Jan. 1940, Practical Home Money Maker, Practical Householder, Practical Mechanics -
1st published Oct. 1933 - until Aug. 1963, Practical Motorist - 1st published May 1934, Practical Television -
1st published Sept. 1934 until June 2008, Practical Wireless - 1st published 1932 - still in publication.
Please note we have an extract from the 1928 issue of Practical Television
below
.
Practical Television magazine. March 1951.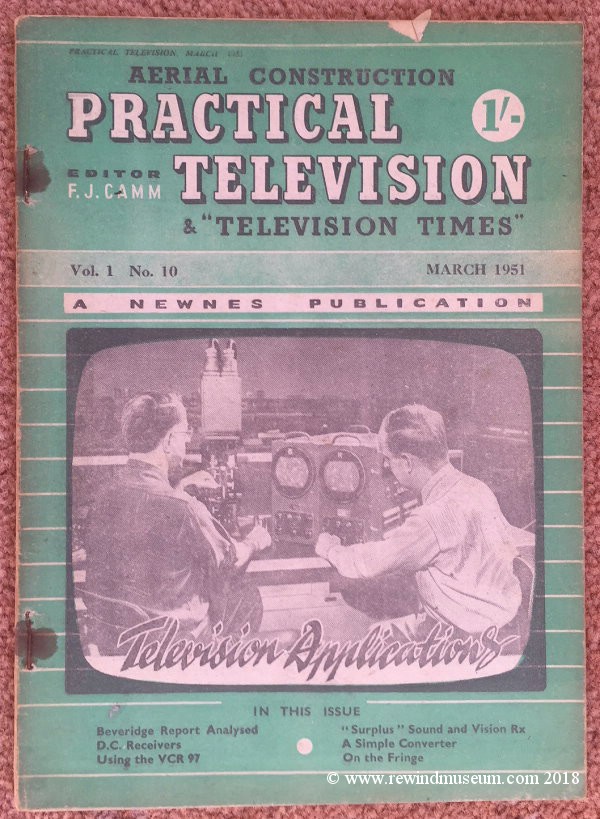 Practical Television magazine. February 1953.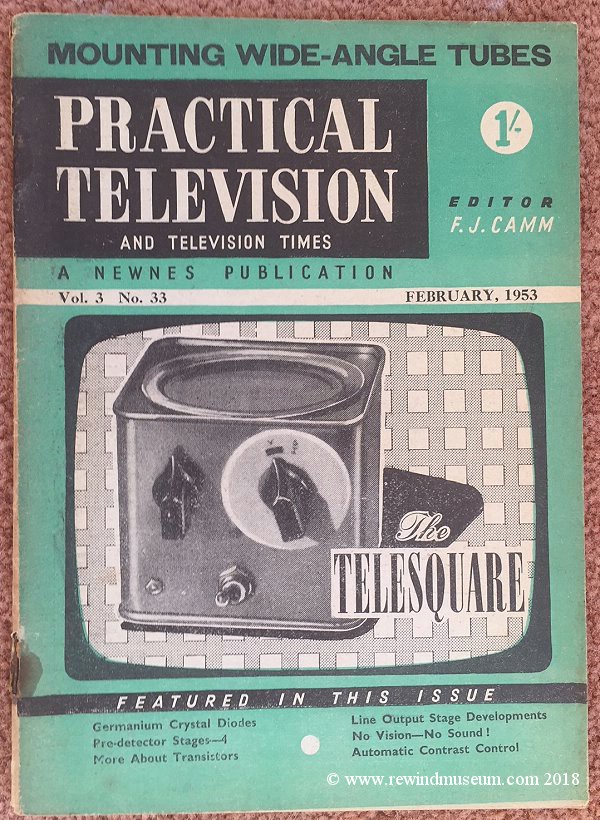 Practical Television magazine. December 1958.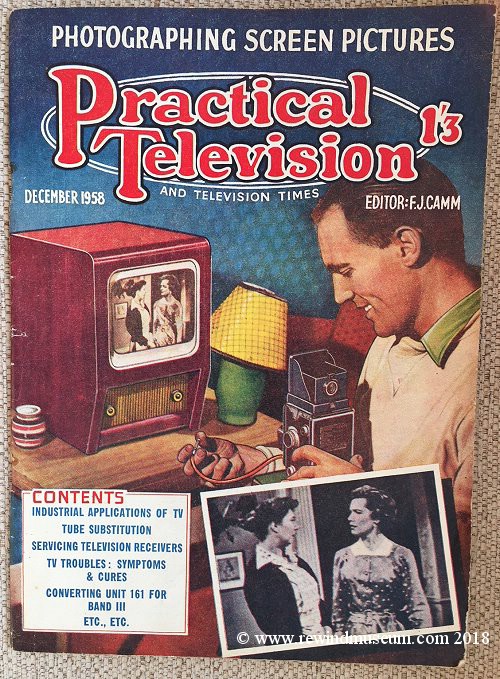 The front of this Practical Television magazine shows a TV which looks very similar (but not identical) to the
Ekcovision Model T164
television which we have in the museum Also notice the excellent front cover graphics
which, in my opinion were better than previous front covers above and better than latter front covers below.
Again
FJ Camm
was the editor. Probably one his last magazines as he died in 1959.
There is some interesting advertising from this magazine below.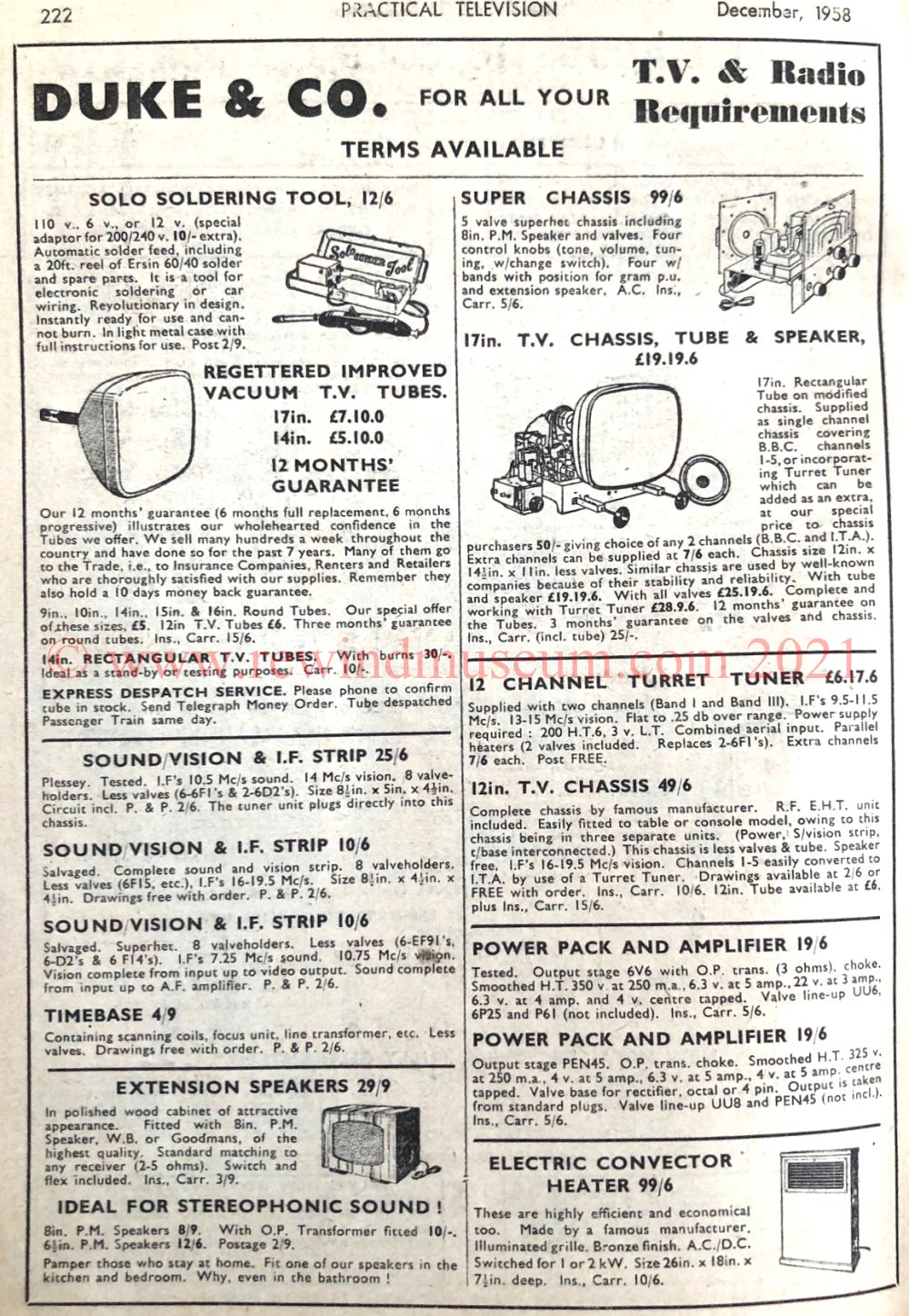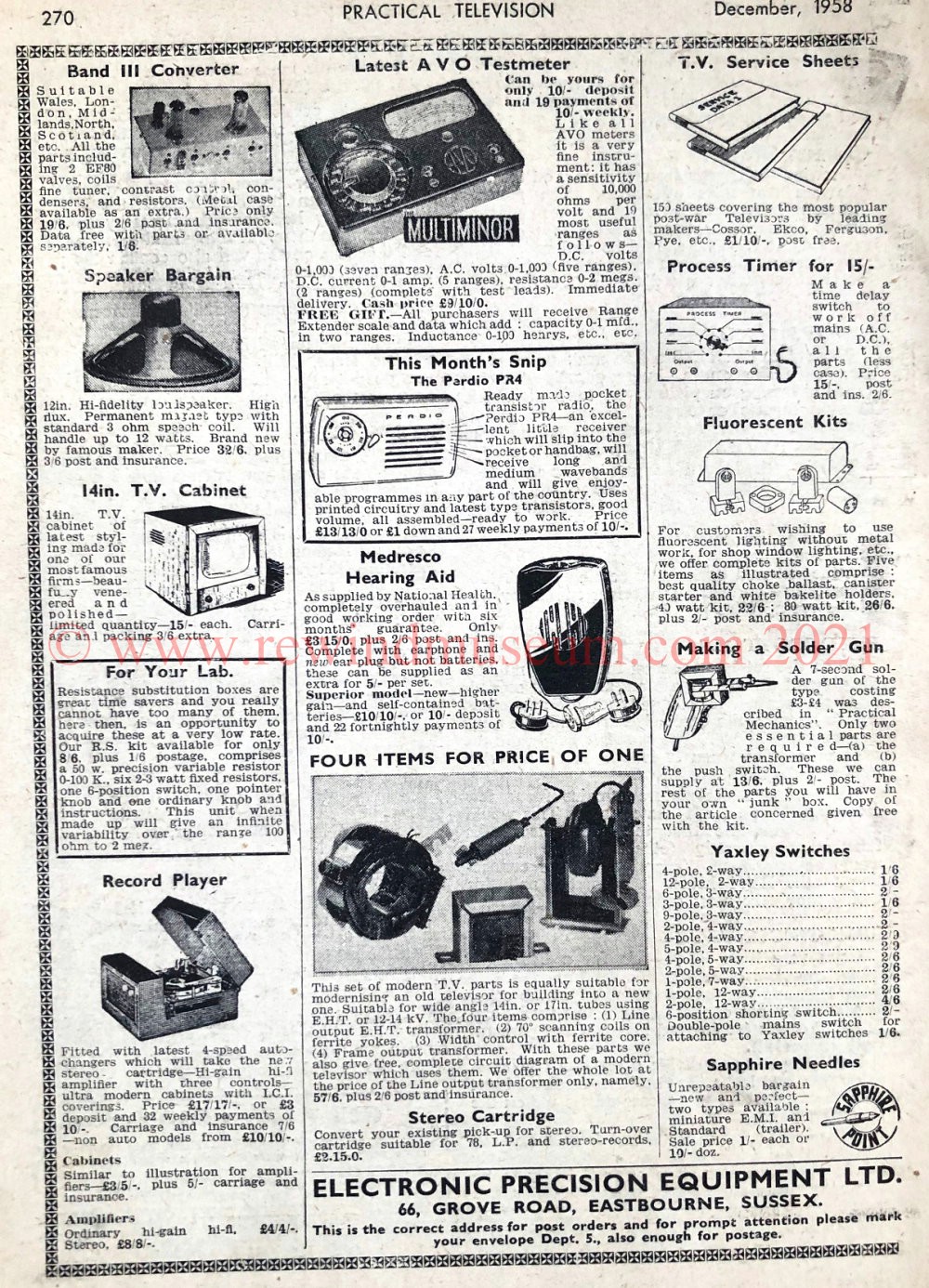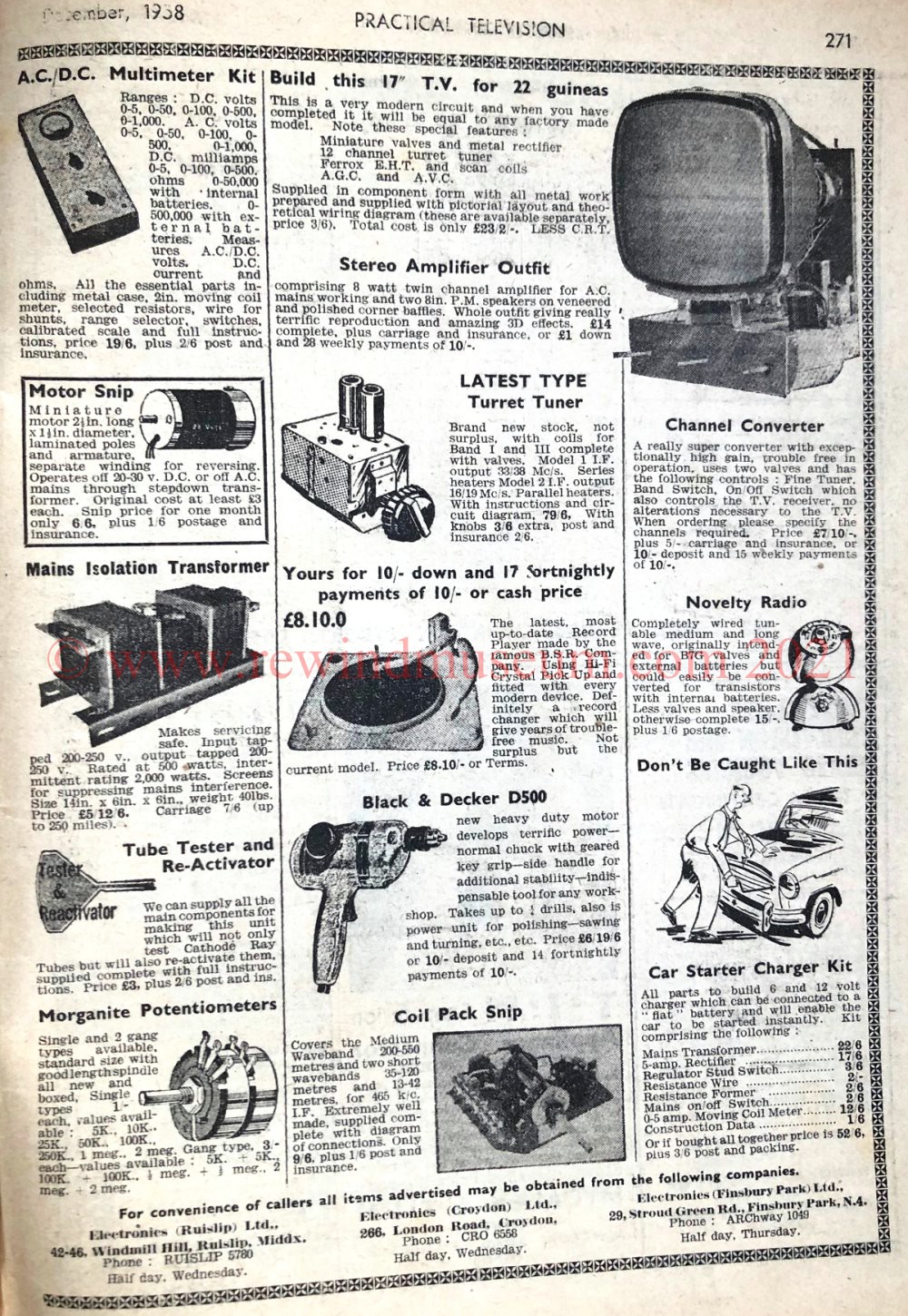 Practical Television magazine. December 1964.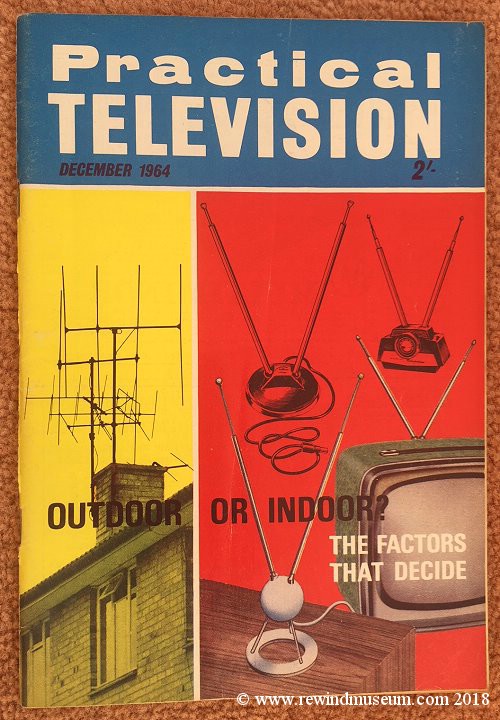 Practical Television magazine. January 1965.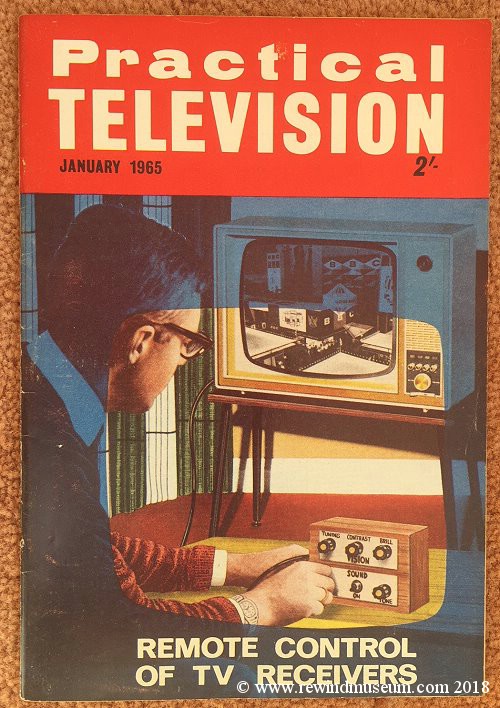 These days remote controls for televisions are the norm, but not in January 1965.
Here you can build your own remote control. Notice how large it is and with knobs on!
Practical Television magazine. February 1965.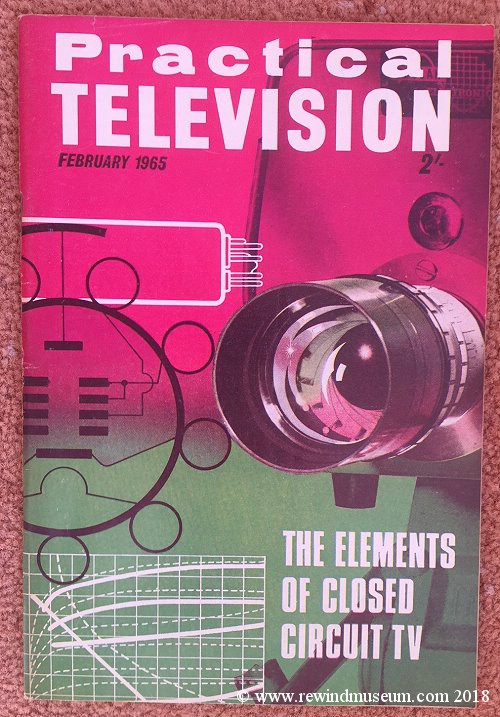 Practical Television magazine. February 1967.
This is a very interesting Practical Television magazine as it includes a feature on "Getting TV Taped".
You can see on the front cover a
Philips EL3400
and also what looks like an Ampex reel to reel similar to the
VR5003
.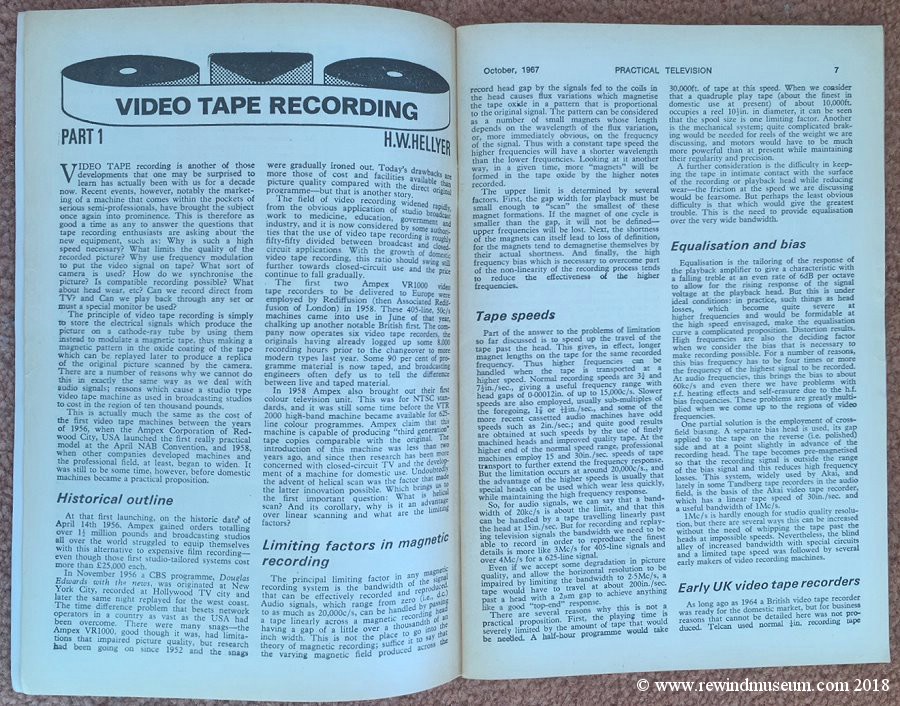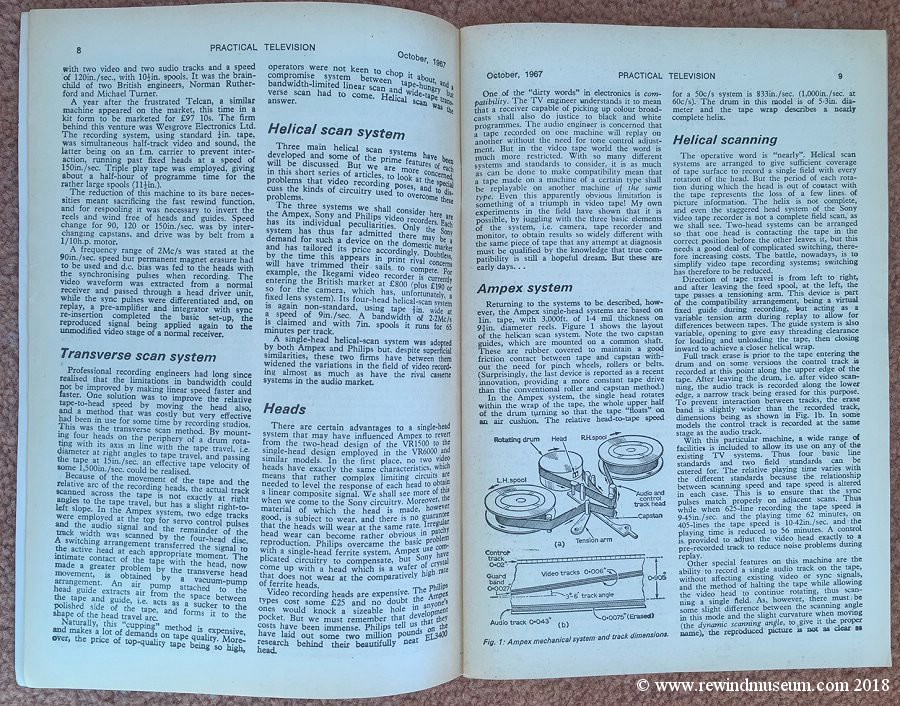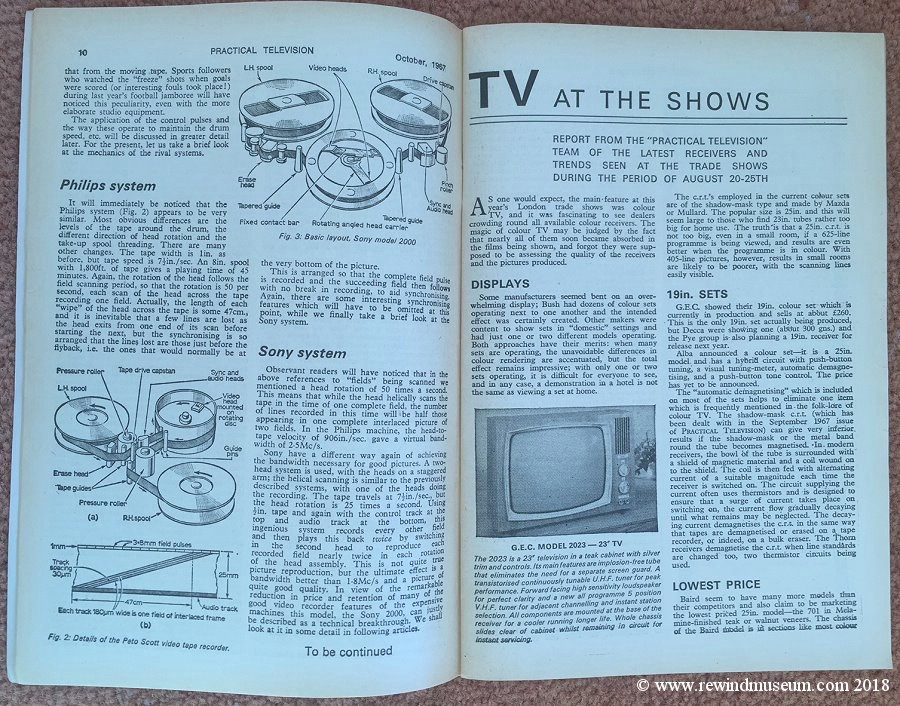 Practical Television magazine. September 1967.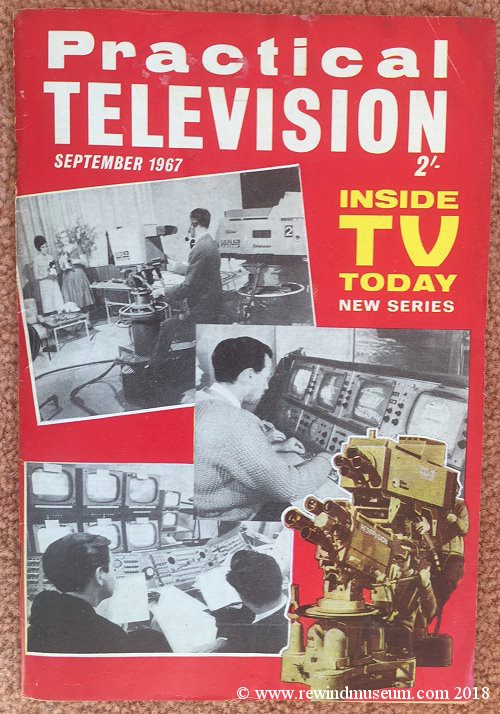 An excellent picture on the front of production facilities and studio cameras in 1967.
The camera has "Rediffusion" on the side which was the main cable provider in the UK. In those
days only terrestrial content was found on cable as this is 20 years before satellite TV.
Practical Television magazine. February 1969.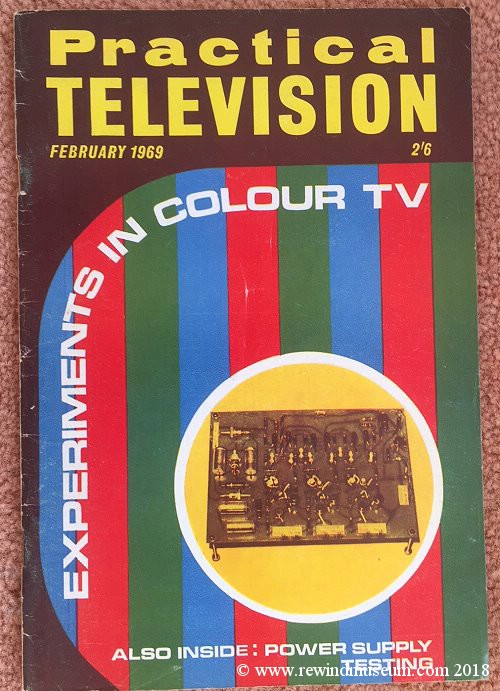 This one is of particular interest to me as I bought it in 1969 and kept it (not a donation).

"Television" magazine. October 1975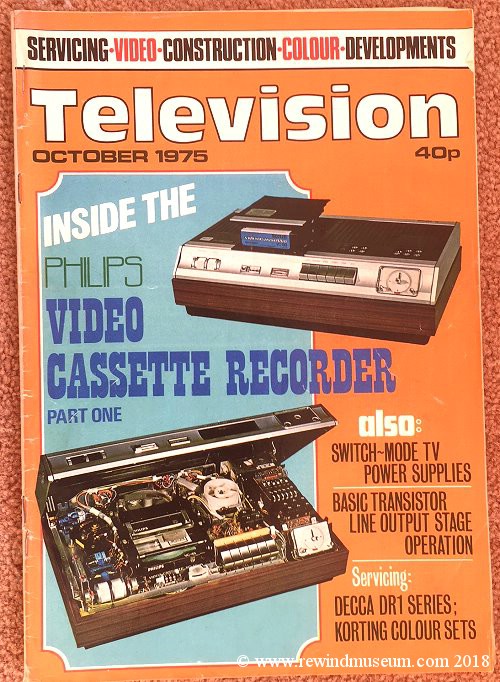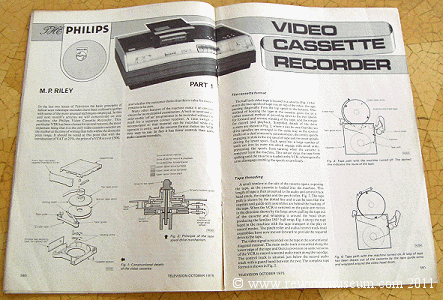 Featuring the Philips N1500 video recorder. The first ever domestic video cassette recorder.
"Television" magazine. November 1975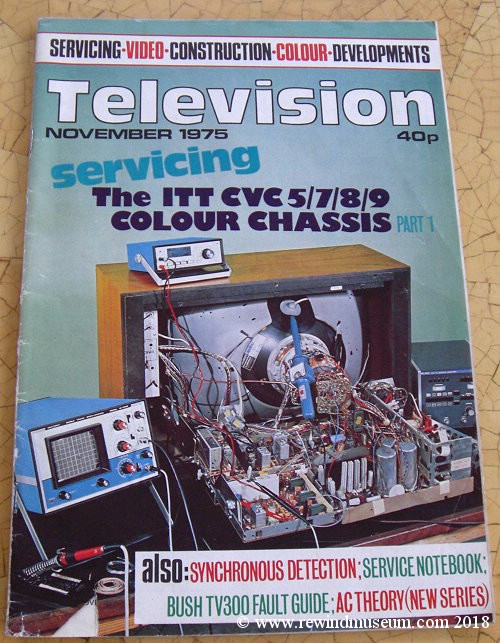 Television servicing advice.
"Television" magazine. September 1982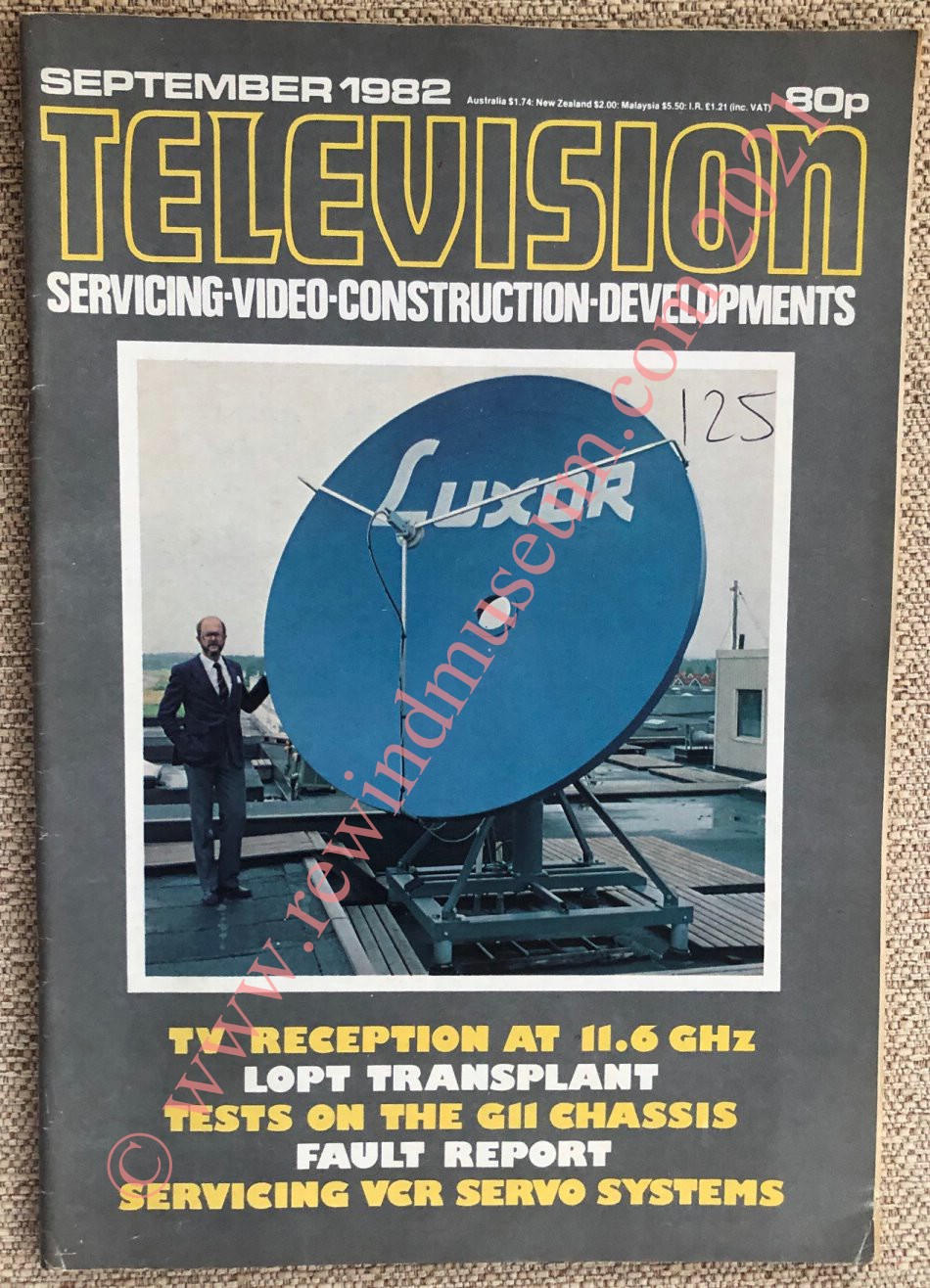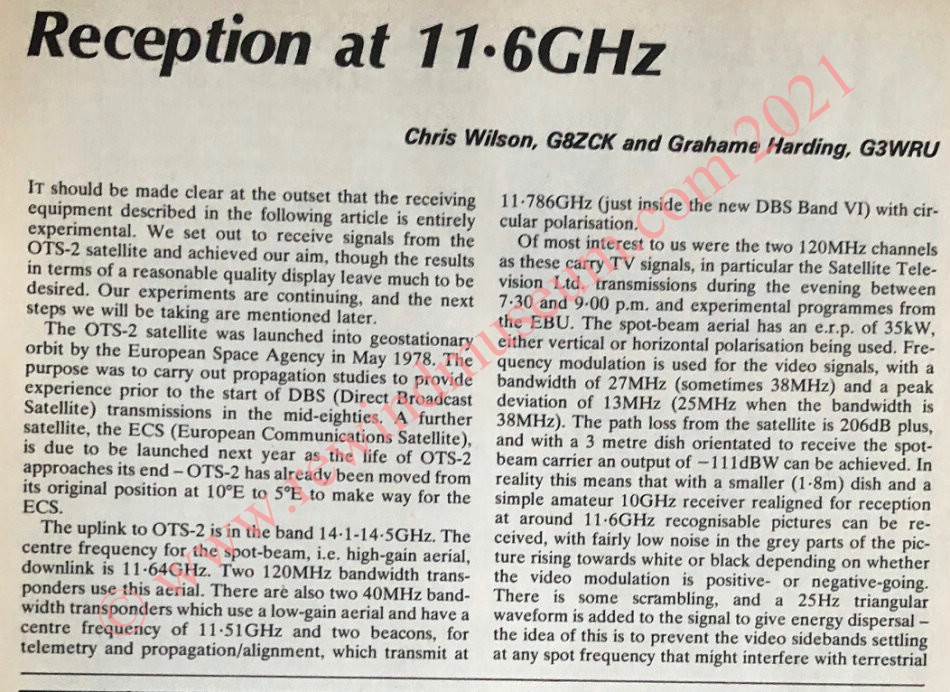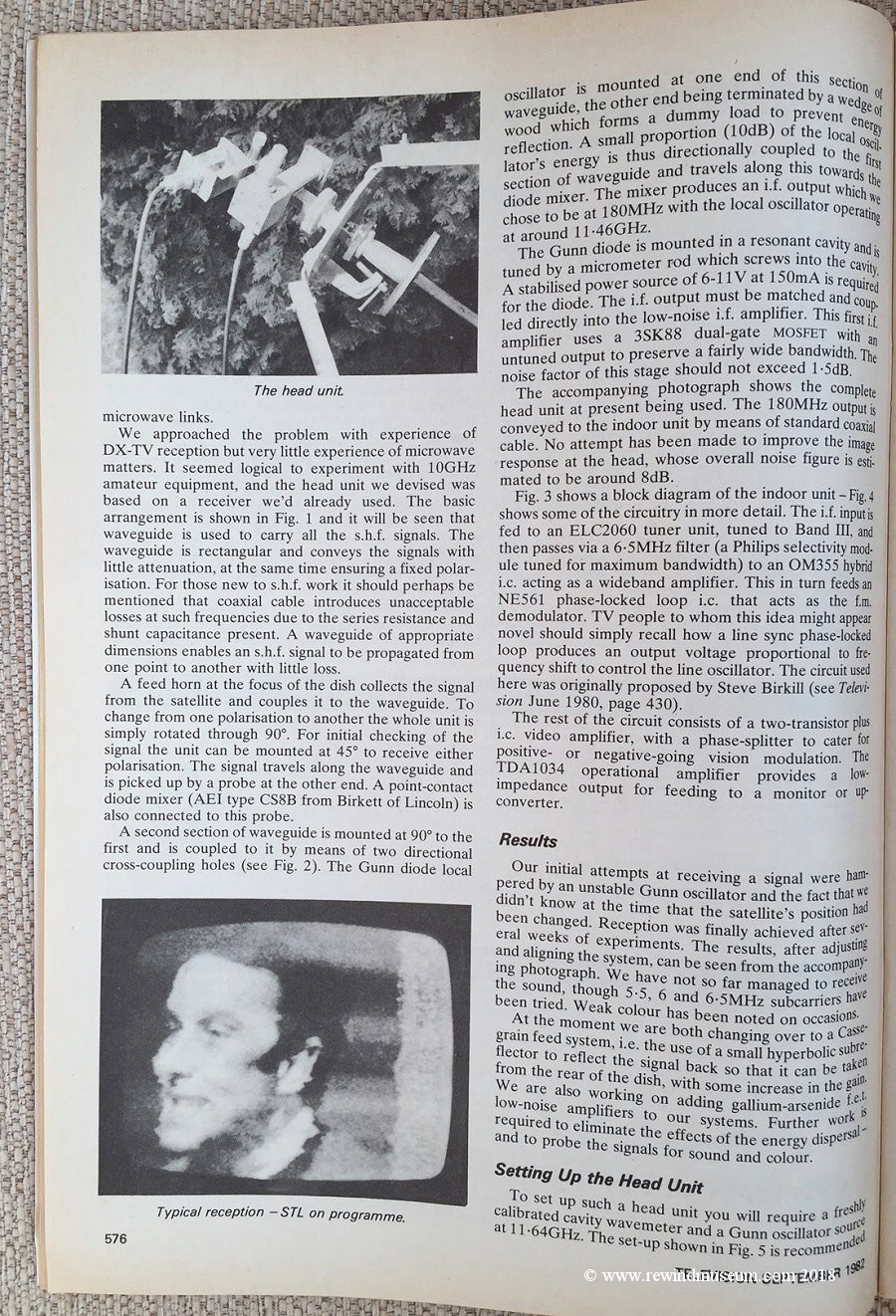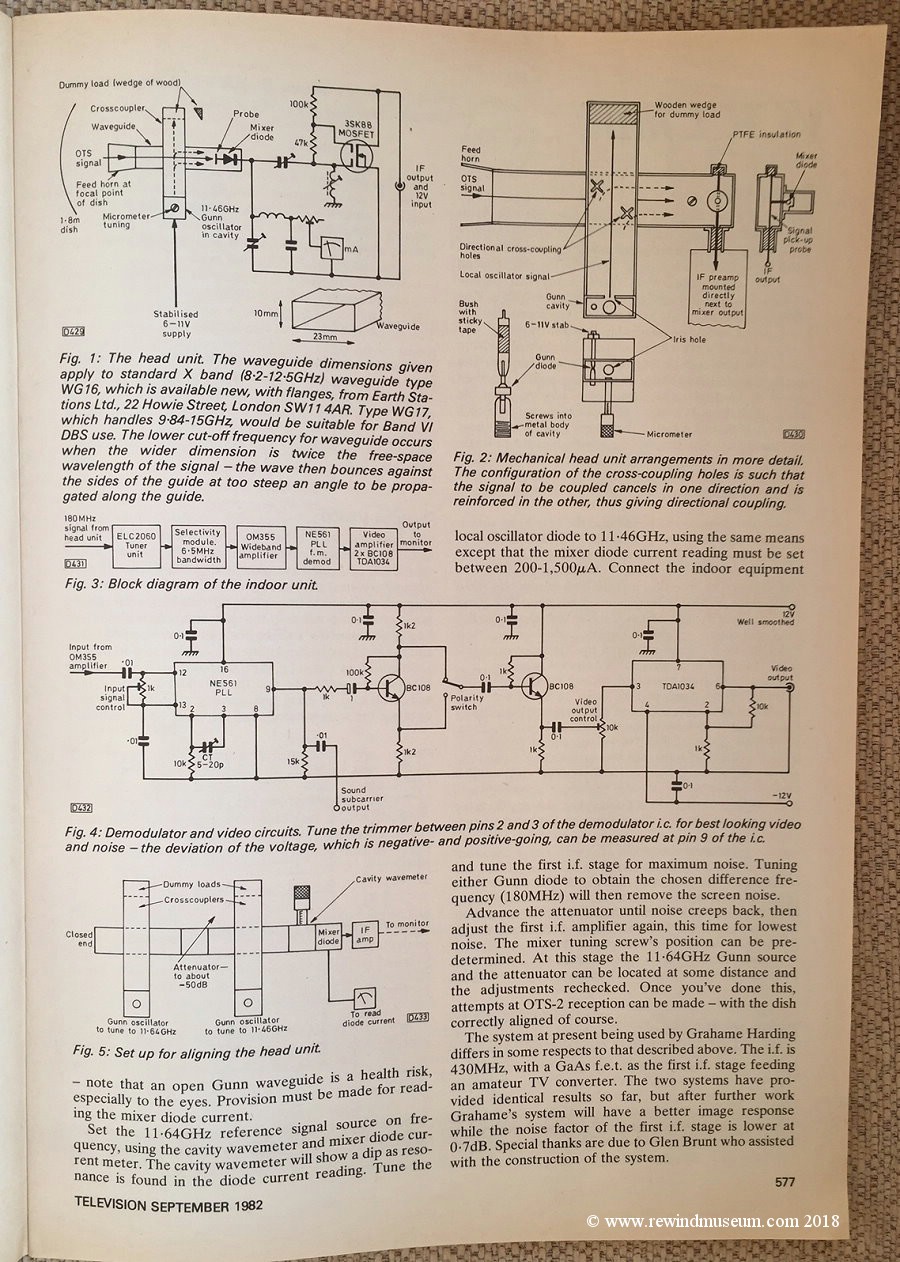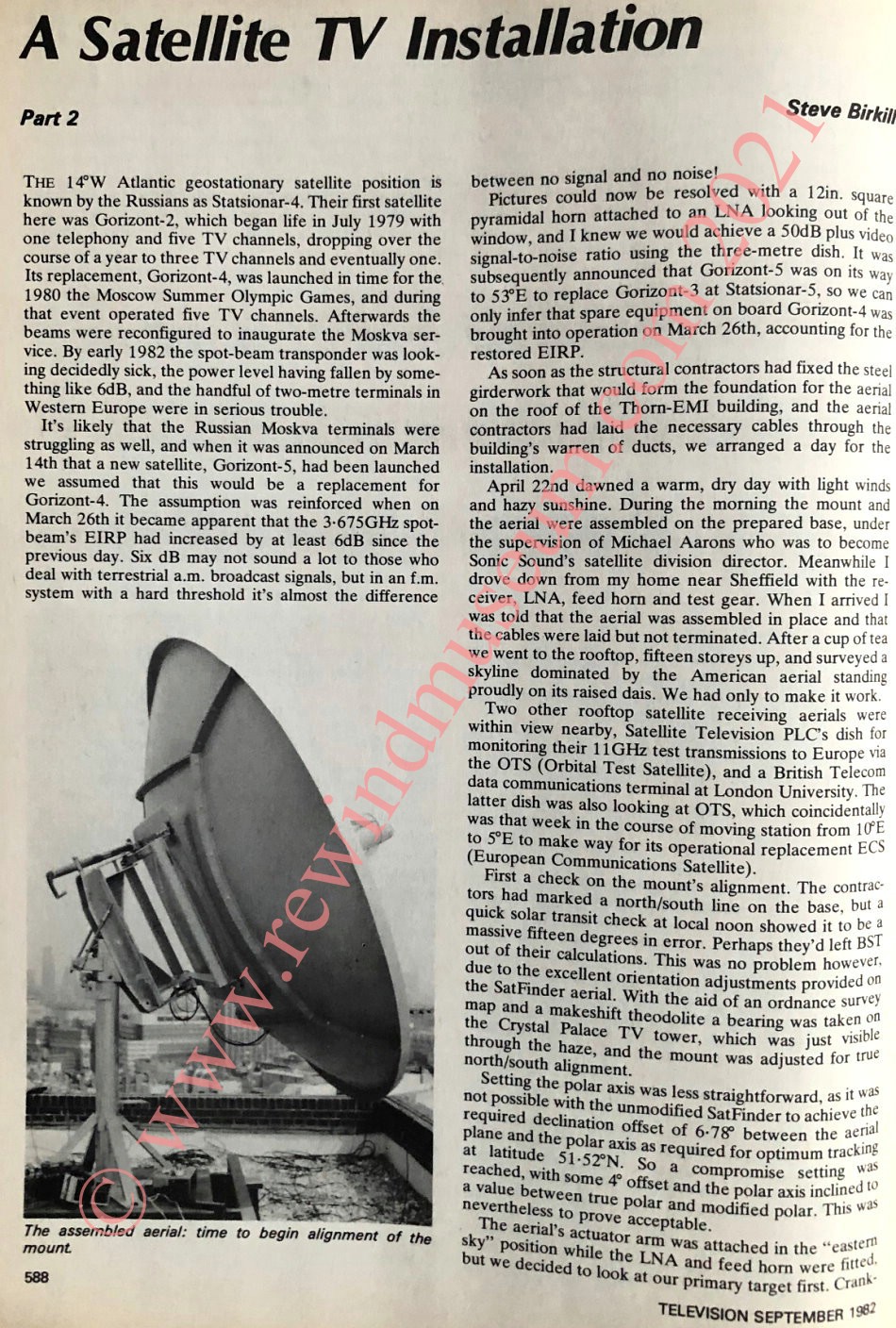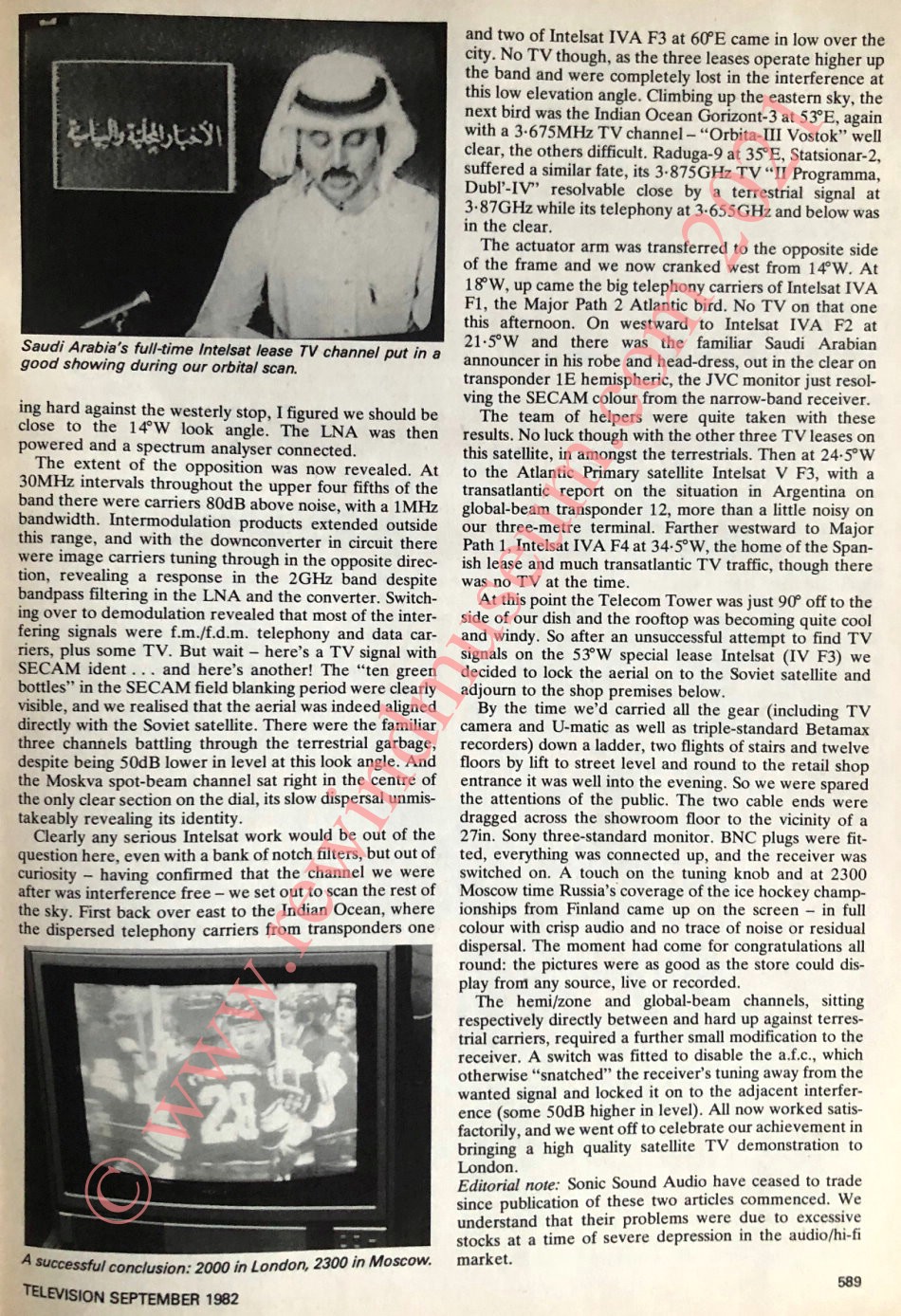 It is quite difficult to find good satellite articles before 1985. The two articles above are from the
Sept 1982 issue of Television magazine. The first article details the situation regarding satellite TV
in 1982. The only satellite directing programming to Europe was the OTS satellite (Orbital Test Satellite)
which was launched in 1978 and stated TV transmissions in Oct 1981. One of two channels was called
"The Satellite Channel" and by Sept 82 it had increased it's transmissions from 2 hours a day to 5
hours a day in August only 4 weeks earlier. A September magazine may well have been written in
early in August before the increase to 5 hours.
The following year the channel was bought by News International and in 1984 it became "The Sky Channel".
In 1982 a 3m dish was required to receive The Satellite Channel from the OTS satellite.
A picture with quite a lot of noise was possible on a 1.8m dish. They refer to a "recognisable picture".
I was surprised to see a 2nd satellite article in this magazine and this time written by
Steve Birkill
.
Steve is also mentioned in the 1st article above. He suggested a circuit for the "indoor unit" (These days
we might call it a set top box or satellite receiver) in the June 1980 edition of Television magazine.

Long Distance Television by Roger Bunney. June 1976.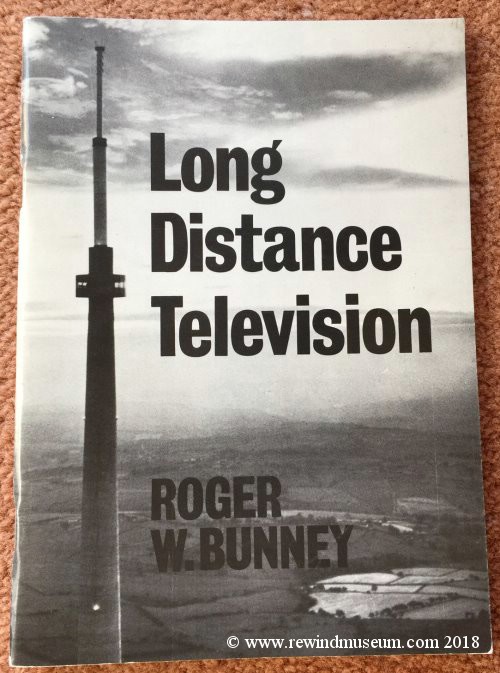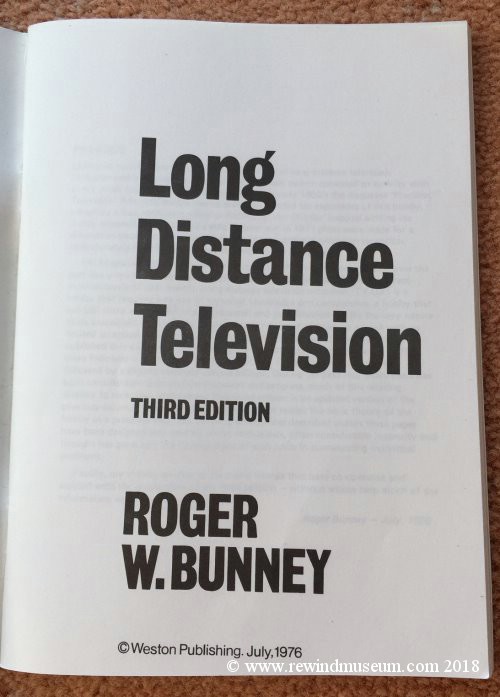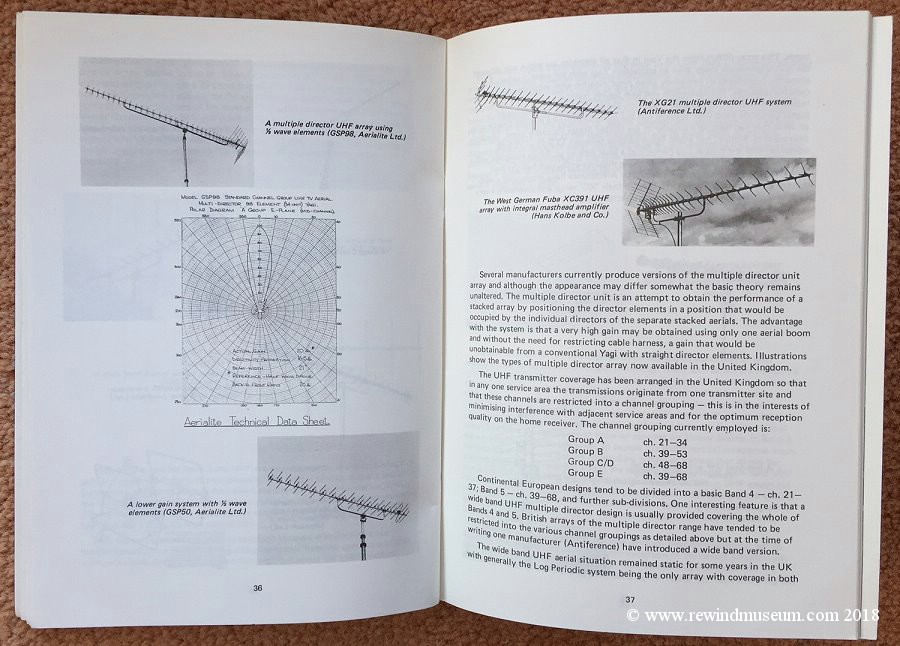 I have known Roger Bunney for many years. He is a satellite enthusiast and feed hunter. In 1976 he
wrote a book about "
Long Distance Television
. Before satellite TV, large high gain aerials were used
to try and receive a different terrestrial transmitter. The BBC and ITV would have local programs
and those programs would be different from one region to another. Being able to receive more than
one transmitter provided a wider range of programs. This was still a very small, even minute
selection compared to the 1000s of channels available these days from satellite or internet
sources. Sometimes rotating motors were used to turn the aerial from one transmitter to another.
Indeed I still have an Antiference aerial rotator which I used in the 1970s. It was not used
for TV reception, it was used to rotate a large FM aerial. In 1986 he wrote another book
called "
A TV-DXers Handbook
" about terrestrial and satellite TV
and including satellite feed hunting using a satellite system.
Roger Bunney sent me this email in May 2018.
"I started writing for Practical Television in the June 1971 issue and continued until 007 when the
Television magazine folded. (the regular articles were usually called "Long Distance Television" but
there were others. Ed) I have an unusually early issue from March 1928. Then of course it was spinning discs
and 30 lines. (See the very interesting advert from the 1928 issue which he sent in his email below. Ed)
I first met
Steve Birkill
going back to about 1965. He then disappeared from DXTV and surfaced again
in 1975 with dramatic pictures of the ATS-6 [SITE] Indian TV satellite experiment from 35e and although
miles off boresight it was possible to receive signals in the UK. Bob Cooper encouraged to go to
the States, and leaving his transmitter job at Holme Moss. Steve returned to the UK forming a
research/development company somewhere in Wales. He did much of the design for Sky receivers.
(I spoke to Steve via "Messenger" in 2018. Details on the History of Satellite TV page. Ed)
(I used to read Roger's articles in Practical Television magazine and it was one of his
articles in 1987 which led to me buying the
Sentra STX600
television. Ed)"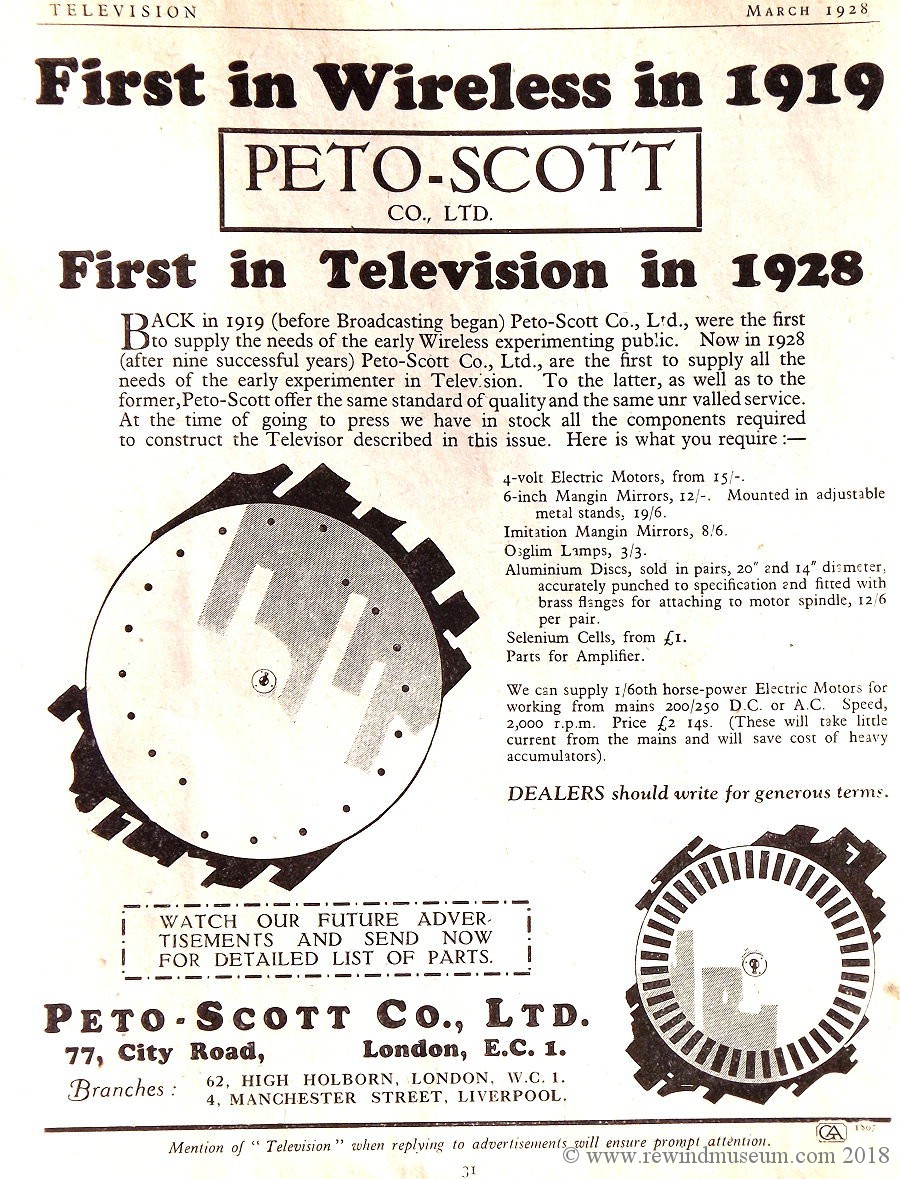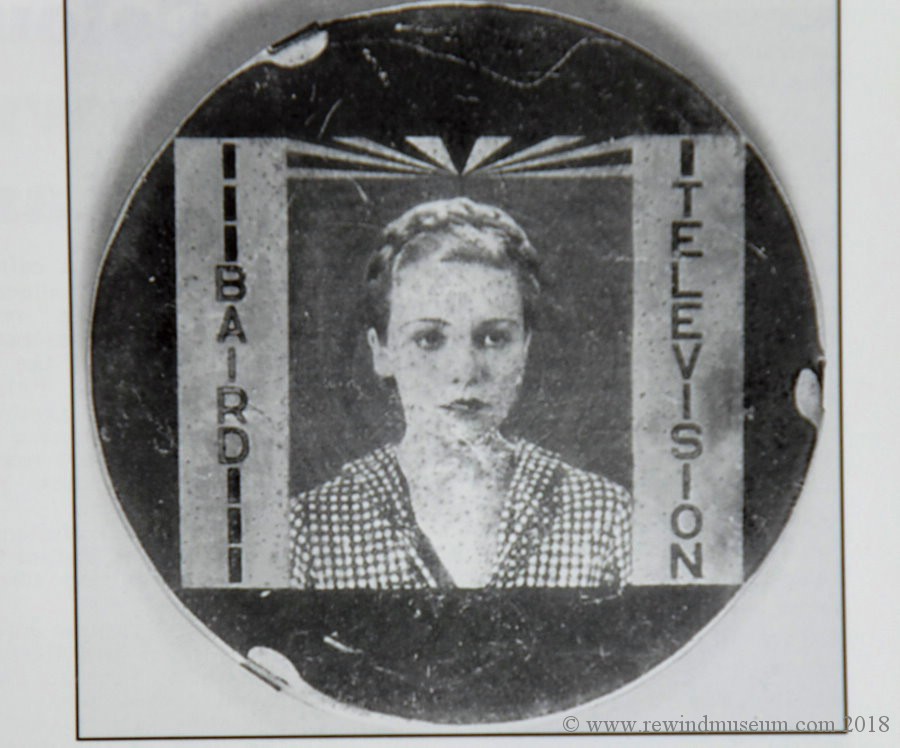 Making a donation.
The Rewind Museum is a non-profit making endeavour. The web site and the touring exhibitions are run on
a voluntary basis. Donations,
not money,
just old items you no longer want, are always welcome.
If you have something that you think would be of interest, please contact us with the details.
We can send in a courier to pick them up. (Even an international courier). Thank you.
Please note - The Rewind Museum site has been archived by the British
Library so that future generations can always access the site's content.
To talk to us about making a donation please go to - "
making a donation
".

Are you interested to read about a 10 year + restoration of a classic vehicle?
If so go to -
www.1952chevytruck.com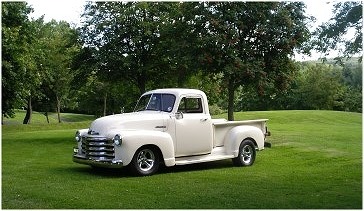 The 1952
The 1952 Chevy truck
web site.

Link to our main site. Satellite TV.
Rewind Museum is sponsored by Vision International. Note. One of our businesses, Vision International (established 1991)
sponsors
Rewind Museum
and
Satellite Museum
including financial support for this web site. Vision International
is one of a group of businesses which we have in the field of Satellite TV.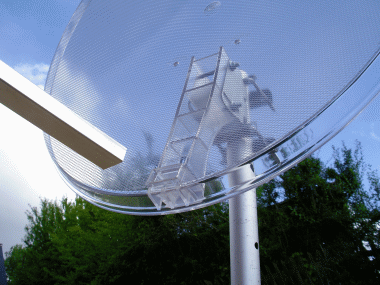 Tune in an extra 10,000 channels? Watch the world? Links to some of the Satellite Superstore pages are below,
Sky Receivers
Freesat Receivers
All satellite receivers
Fixed Dishes
Transparent Dishes
Motorised systems
LNBs
Multiswitches
Caravan satellite
Satellite finder meters
Installation equipment.
Catalogue of all satellite products.
Rewind Museum web site is maintained on a non-profit making voluntary basis.
Our main business website is at
www.satellitesuperstore.com
.
Our main business is satellite TV and we are a specialist satellite company. We
supply satellite goods in the UK and worldwide including fixed and motorised satellite
systems, multiswitches, instrumentation, accessories and installation equipment.

Web site copyright © 2018 Vision International. All rights reserved.
For all questions & comments about this site's content
contact Dave
at Rewind Museum.