Museum of early consumer electronics and 1st achievements
www.rewindmuseum.com


1960/62. The Honeytone portable reel to reel recorder.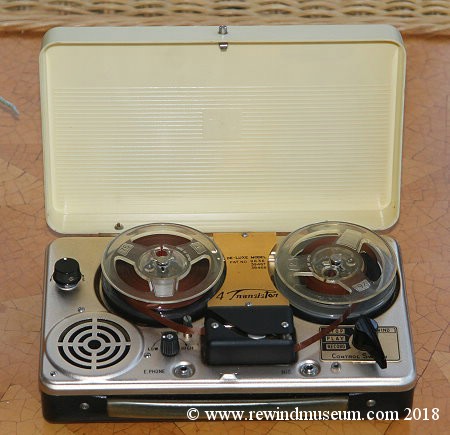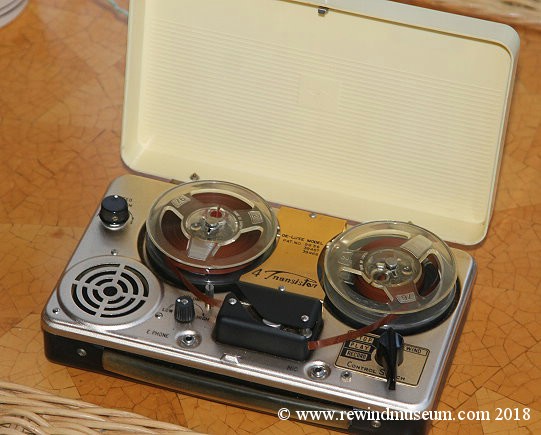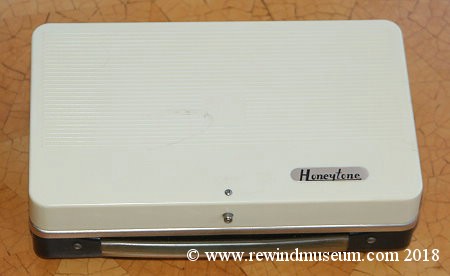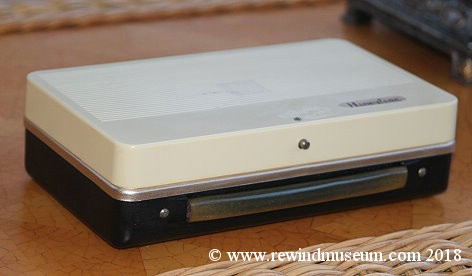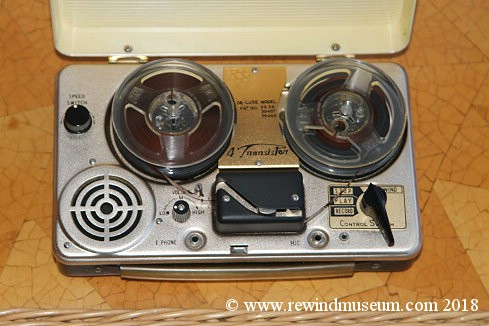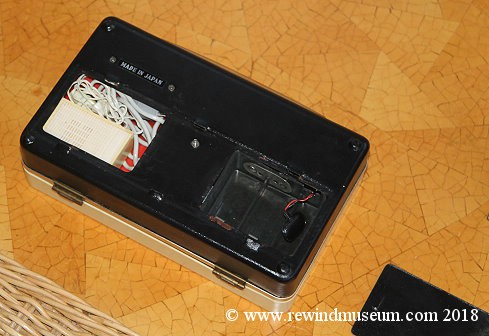 Including microphone and earphone. This early transistor portable tape recorder was made under
several brand name, Honeytone, Binatone and Benkson. It has a very nice push button catch to open
the lid. It used a single speed mote which usually meant it was necessary to only play back tapes
which have been recorded on this machine. As the writing on the top sates, it contains 4 transistors.
The sticker on the bottom says "Made In Japan", not Hong Kong as stated elsewhere on the internet.

1960s. The National rq-114 portable reel to reel recorder.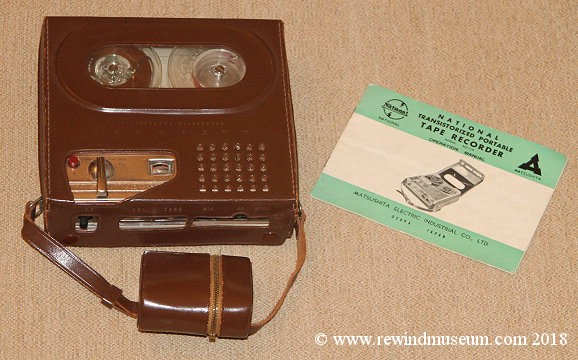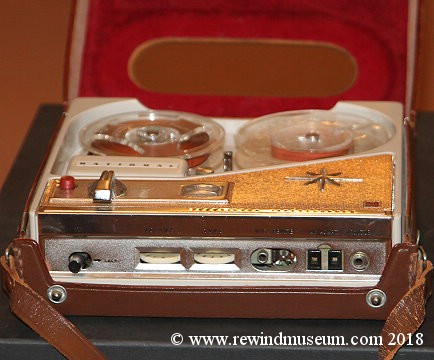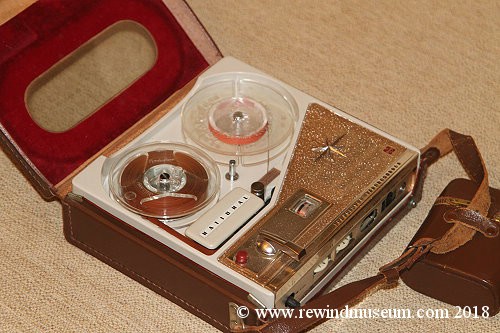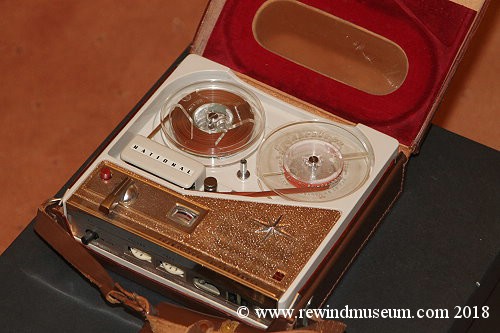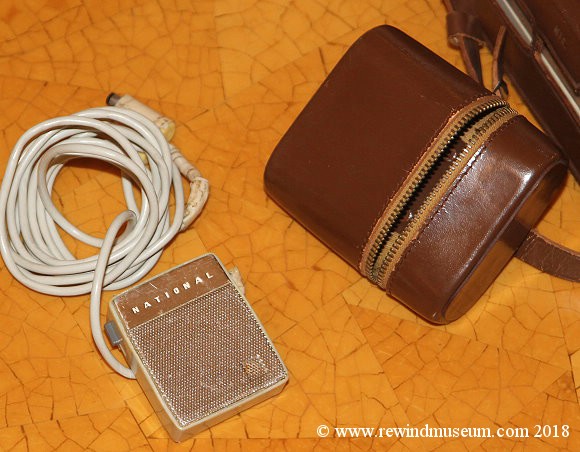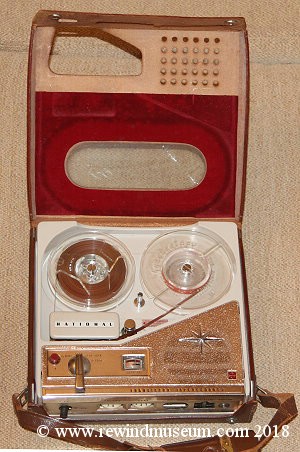 This excellent little audio reel to reel recorder comes in an attractive leather case.
National RQ-114 portable reel tape recorder. Made in Japan in the 1960s by "Matsushita Electric Industrial Co., LTD.".
Dimensions 195 x 185 x 63 mm. Weight without batteries 1.8 kg. Powered by 12 AA batteries, Switching speeds,
3 3/4 - 1 7/8 ips. Microphone included in it's own attached leather case. Complete with instructions. This recorder
was branded as National or Panasonic. These were both brand names of Matsushita. Matsushita used the National brand
everywhere except the USA in the 1960s and 70s and Panasonic in the USA. National Panasonic was also used but
eventually the National name was dropped and products were either Panasonic or Technics.

1961. The Philips EL 3585 portable reel to reel recorder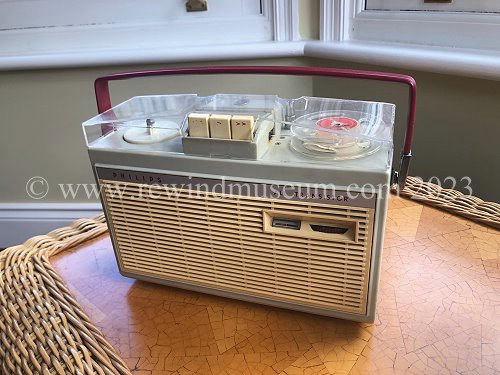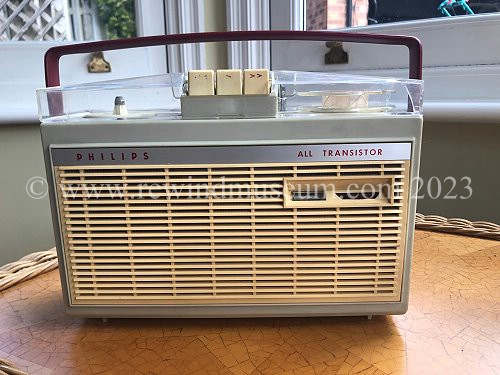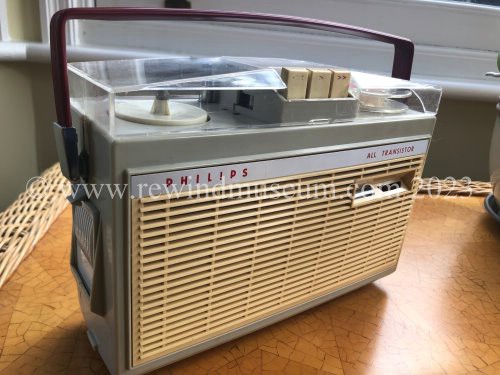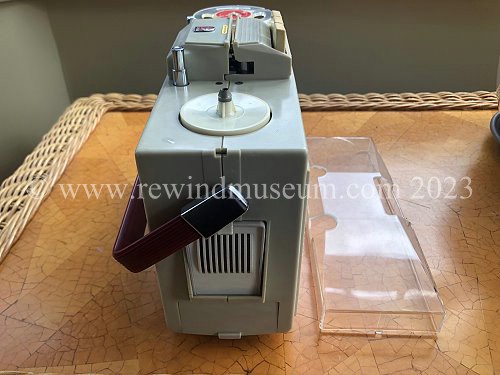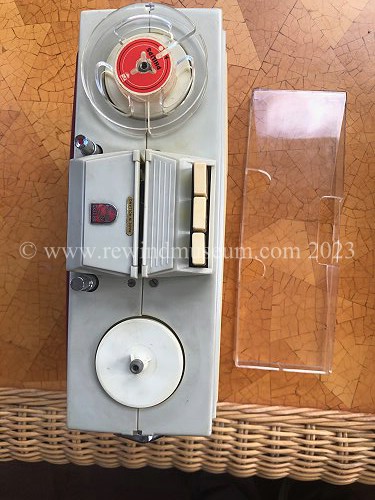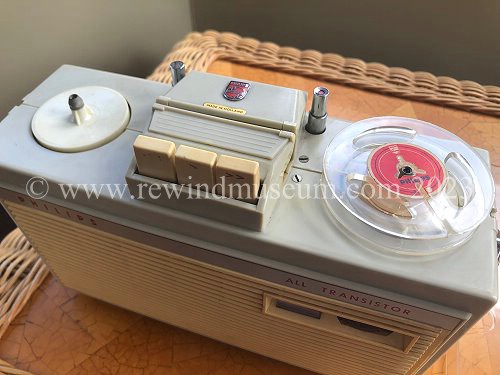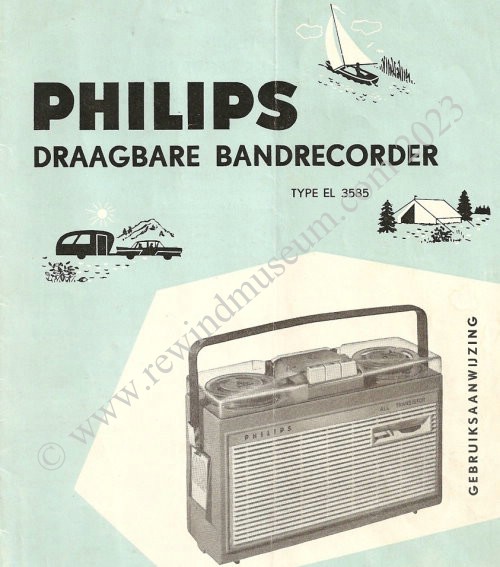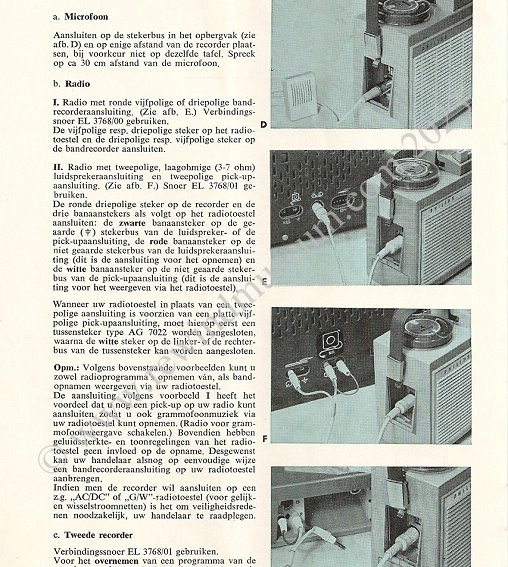 In the early 1960s when I was very young, I remember the TV adverts for this Philips portable recorder.
I always wanted one but in those days could not afford one. To have one in the museum is great. The
problem with these portable recorders is that the rubber belts perish, however it is easy enough to
find belts which would do the job if required.
In 1961 this tape recorder cost 27Gns which was about £28.50. This was about 3 weeks pay for most people.

1964. The Philips EL 3586 portable reel to
reel recorder and EL 3586's separate power supply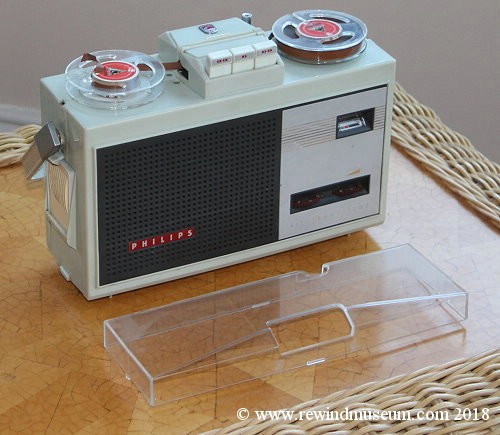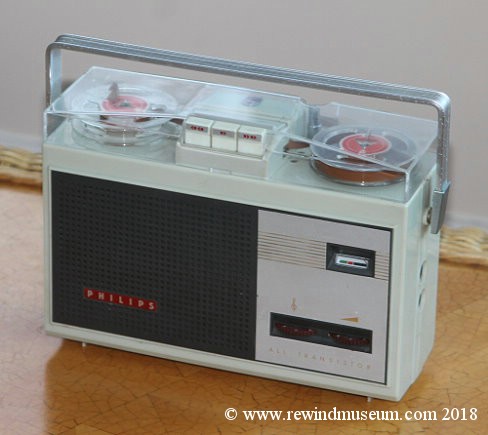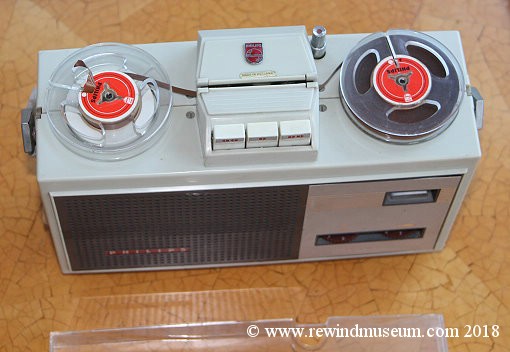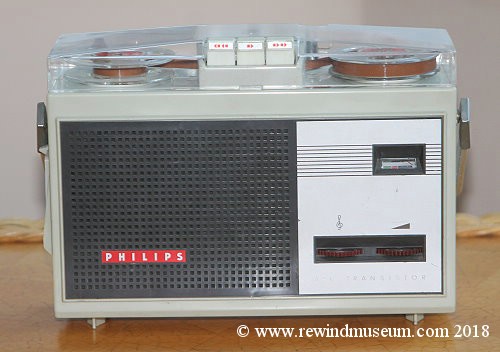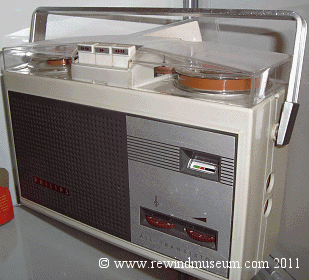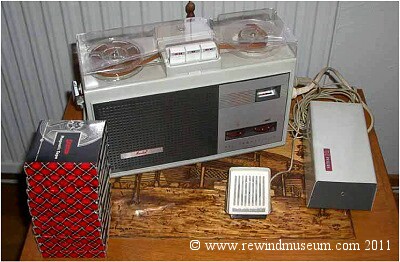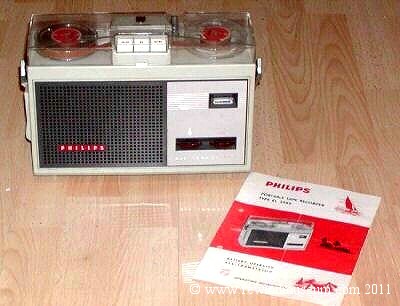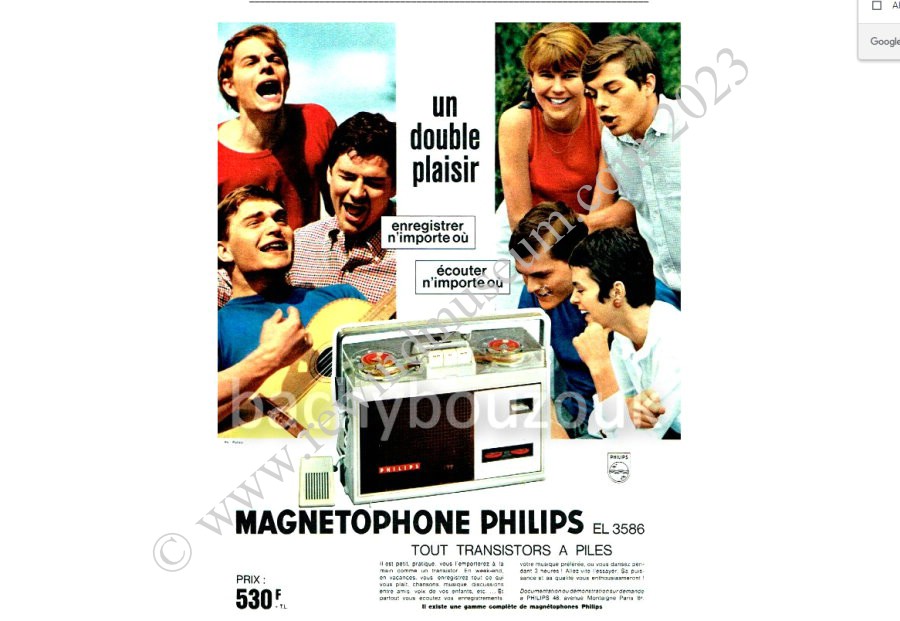 In the early 1960s when I was very young, I remember the TV adverts for this Philips portable recorder.
I always wanted one but in those days could not afford one. To have one in the museum is great. The
problem with these portable recorders is that the rubber belts perish, however it is easy enough to
find belts which would do the job if required.
In 1961 this tape recorder cost 25Gns which was about £26.00. This was about 2-3 weeks pay for most people.

1955 Simon SP2 Valve (Tube) Tape Recorder.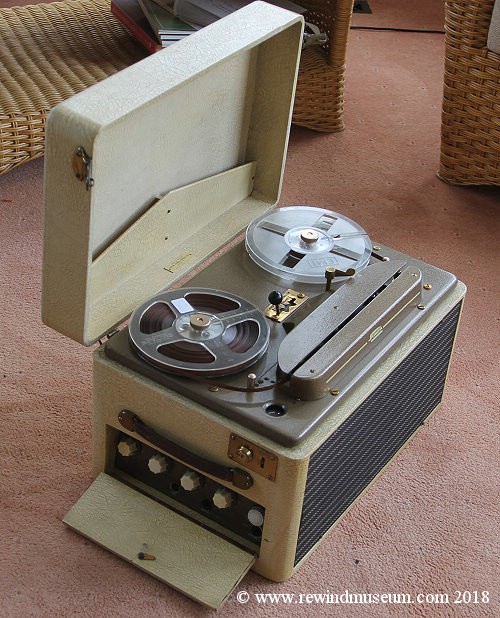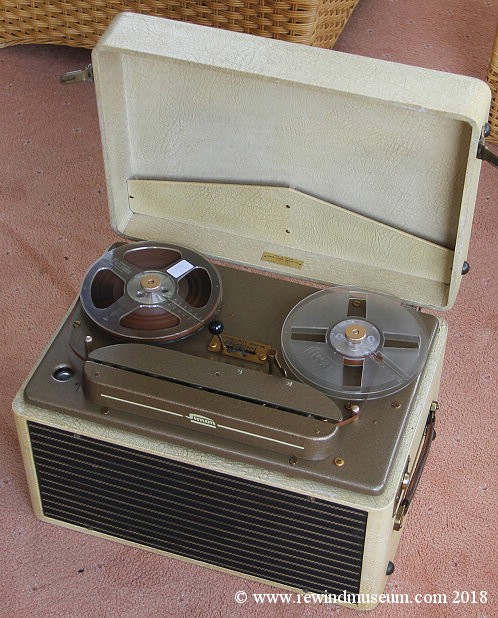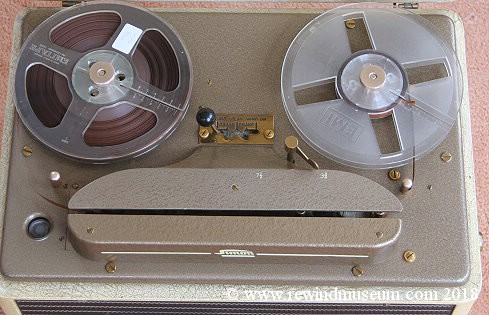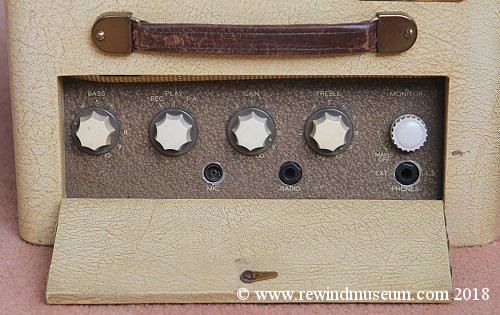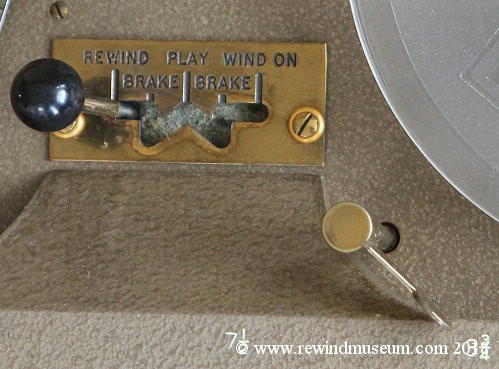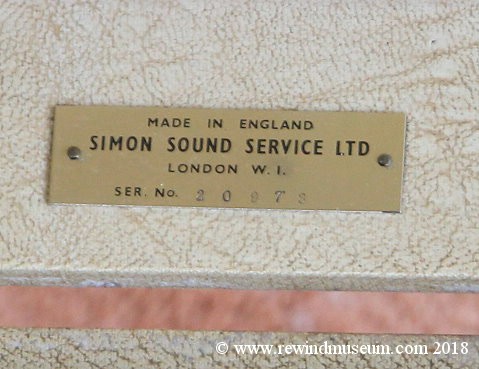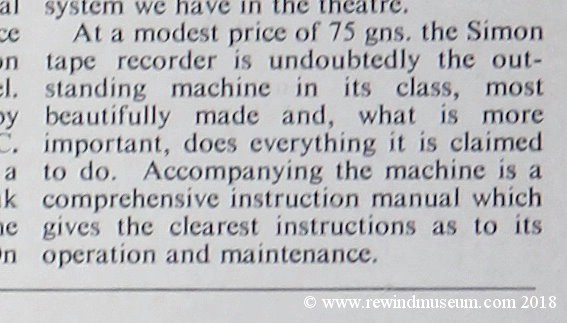 Produced by Simon Sound of London, the SP2 was developed from their earlier SP1 and dates from late 1955.
It was a two-speed (7-1/2 and 3/3-4 ips), three-motor tape recorder which provided excellent recording
and reproduction through an internal 10" speaker. Uniquely, it featured a W-gate motion control lever
simplifying its operation. The electric motors were made by Collaro whom themselves later produced
a very successful tape deck in addition to their famous record players. The SP2 cost £79.00. which was a lot
of money in 1955. Also note this heavy tape recorder weighs 50lb which is 22.7Kg. We also have the manual.
At the same time as they were developing the SP deck, Simon developed an interesting airfield voice logger;
that division was sold on, but while the Simon SP series tape recorders were very highly regarded and
they continued their development into the late 1950s, they lost their direction in the early 1960s with
innovative designs using a Garrard and a novel EMI desk, neither of which captured the imagination of the
public. By 1967, Simon Sound had effectively disappeared. - Thanks to Barry M Jones for this information
Also see above a review from the Dec. 1955 issue of "Music Trades" Review and the conclusion bottom right.
Information on UK tape recorders can be found in the softback book "A Guide to British tape-recorders" by
Barry M Jones. The book can be ordered from Barry M Jones. See
www.brenelltape.co.uk

1965. The F1-Cord portable reel to reel tape recorder.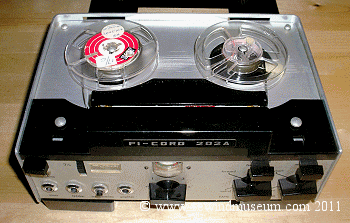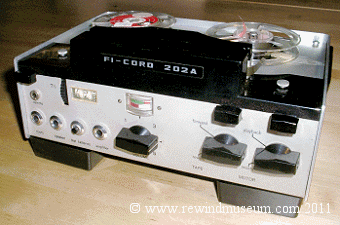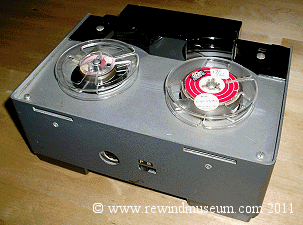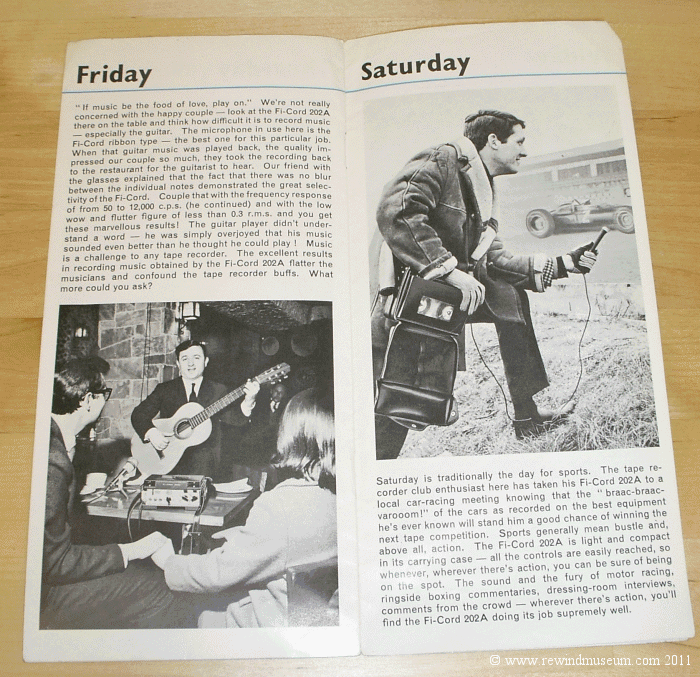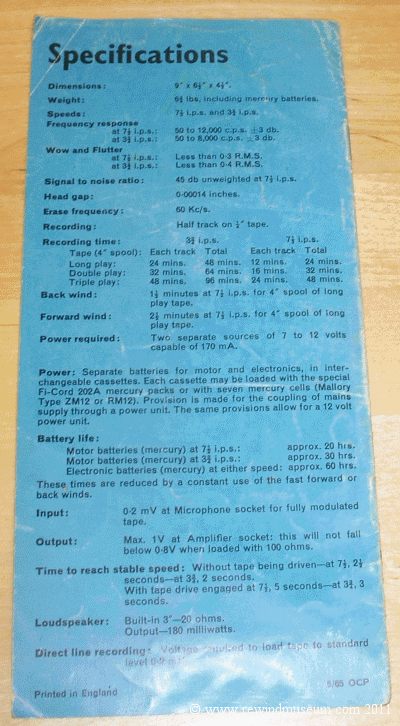 Fi-Cord were based in Yorkshire and offered a superb British built, portable 3" battery portable,
the Fi-Cord 1A, designed by Quallet-Stellavox of Switzerland. Costing 59gns (£62/19/0d) in 1959
it proved tremendously popular with journalists and engineers alike in field tests through its sheer
compactness an durability, suffering only in limited duration.
With the launch the superb Uher 4000 portable in 1963, adopted by the BBC, Fi-Cord designed the
table top/portable Fi-Cord 202 which was built in Switzerland. With automatic recording level
control, it had a claimed 50-12,000Hz response and operated at 3-3/4 or 7-1/2ips but suffered
poor wow and flutter. Though otherwise a good performer it failed to match the superior Uher
model and was thus a short lived, and loved, model.
Thereafter Fi-Cord concentrated on hi-quality, Swiss made miniature recorders such as the 101 and 303
Thanks to Barry M Jones for this information.

1958 Grundig TK20 Tape Recorder.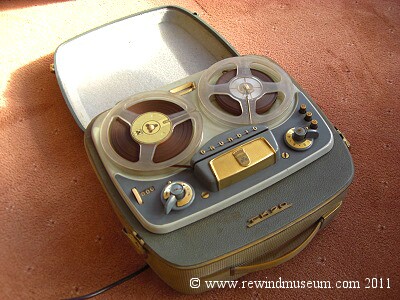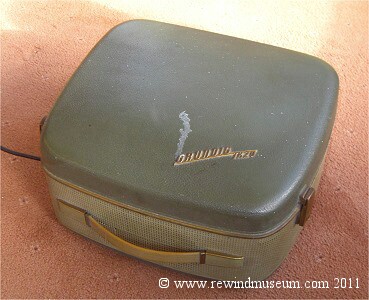 Made in Germany, this is half track mono audio tape recorder. Tape Speed - 3 i.p.s.
Grundig TK20 Tape Recorder. Original price 50 gns. Grundig Ltd, 39/41 New Oxford Street, London.
Many reports on the web date this unit as 1960. This is not correct. It was reviewed in the
September 1958 issue of "The Gramophone Magazine".

1962 Grundig TK23 Tape Recorder.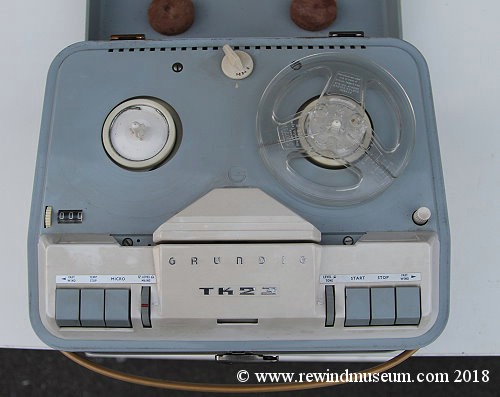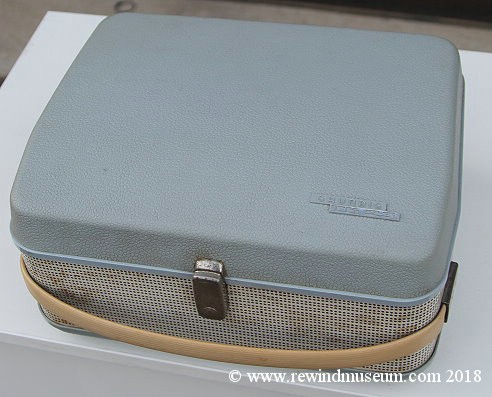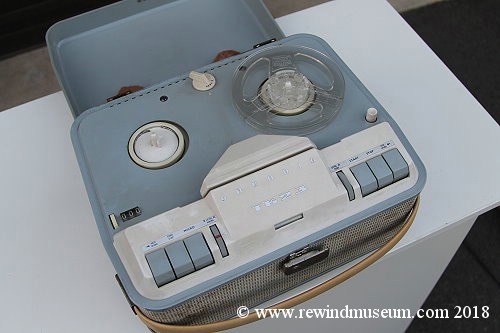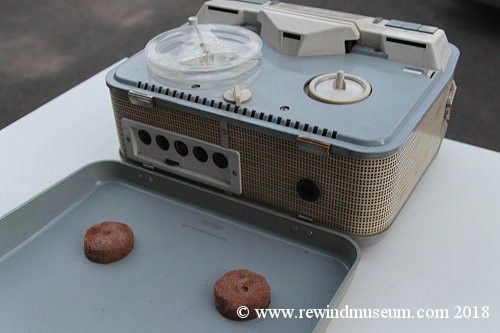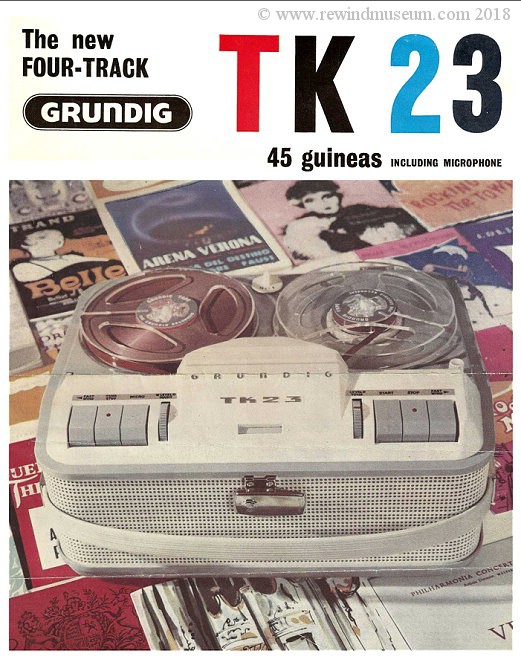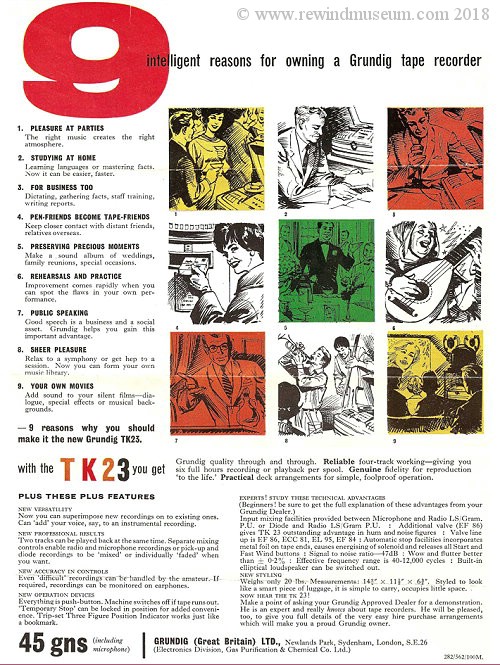 Portable tape recorder with four tracks, 3 3/4 ips, reel diameter up to 6-inch, record time 4 x 90 min with
548m duo-tape. 2 heads - 1 x erase, 1 combo playback and record. Made in Germany. Original price 45 gns.
That is about £50.00

1949 Boosey and Hawkes Wire Recorder.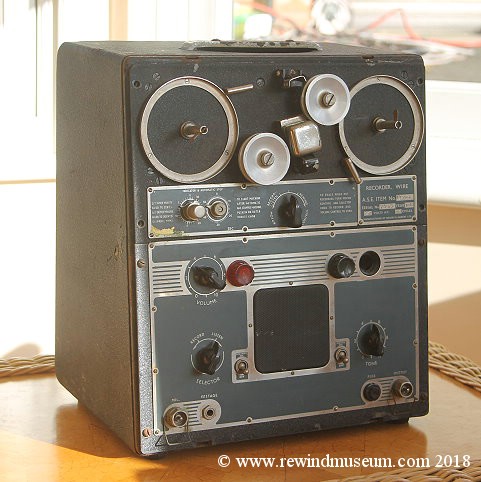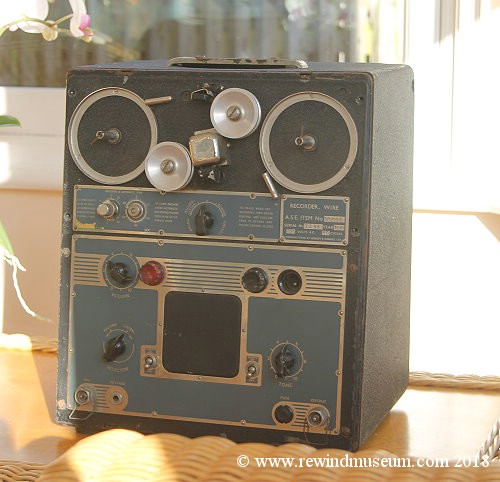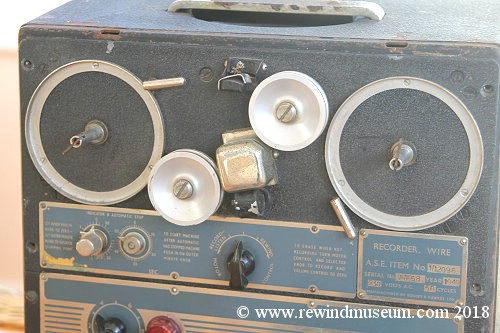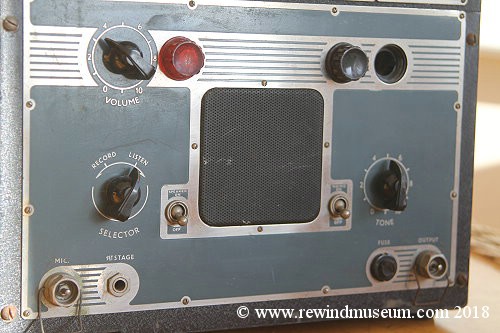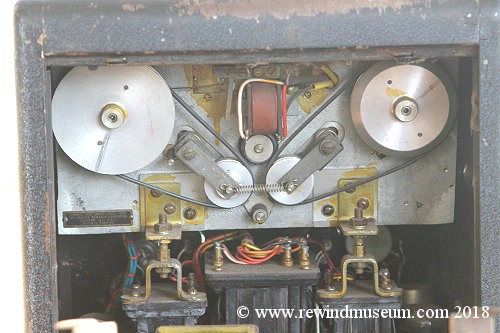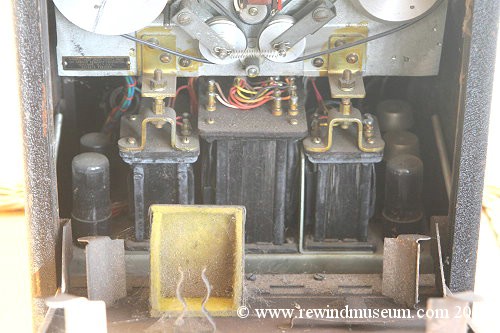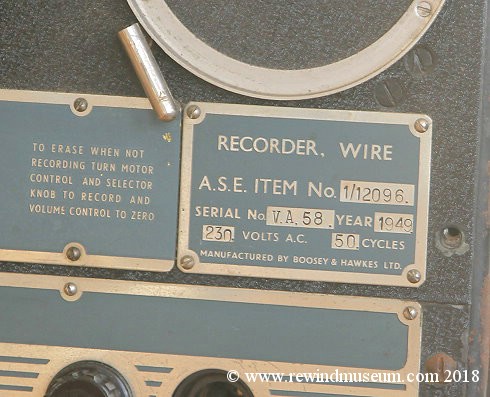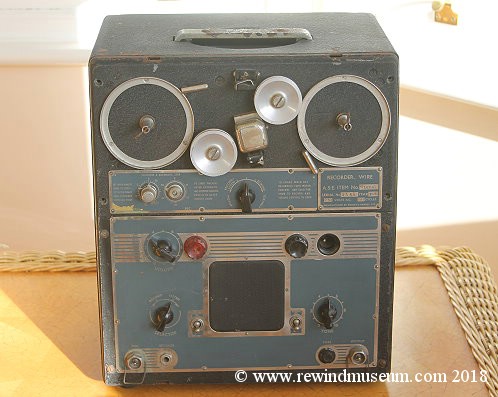 This wire recorder and was built by Boosey & Hawkes Ltd. Manufacture stared in 1942. This particular recorder
was made in 1949. Wire recording (or magnetic wire recording) was the first early magnetic recording system.
The Allied Forces used wire recorders during the war. American designs were manufactured in the UK by
Boosey & Hawkes under license. It was an analogy audio storage technology in which a magnetic recording was
made on thin steel wire. These recorders were designed primarily for speech recording. There are 2 speeds, 30
inches per second for 66 minutes of recording time or 60 ips for 33 minutes of recording time. The were called
potable recorders, however, they weighed 26Kg. The case was made of steel and the circuitry contained valves
(tubes) The recording wire is 0.004" thick (1mm) which is wound on a 3.75" diameter spool Boosey & Hawkes
started in 1930 after a merger between Boosey & Company founded in the 1760s, and Hawkes & Son founded in
1865. Boosey & Hawkes is the largest specialist classical music publishing company in the world.
See the
Boosey & Hawkes web site
. Since wire recorders were the first magnetic recording medium, this
is probably the most important audio recorder in our "Rewind Museum". The advert below is from the
Grace Guide
. It shows a Boosey & Hawkes recording device for test-pilots from 1953.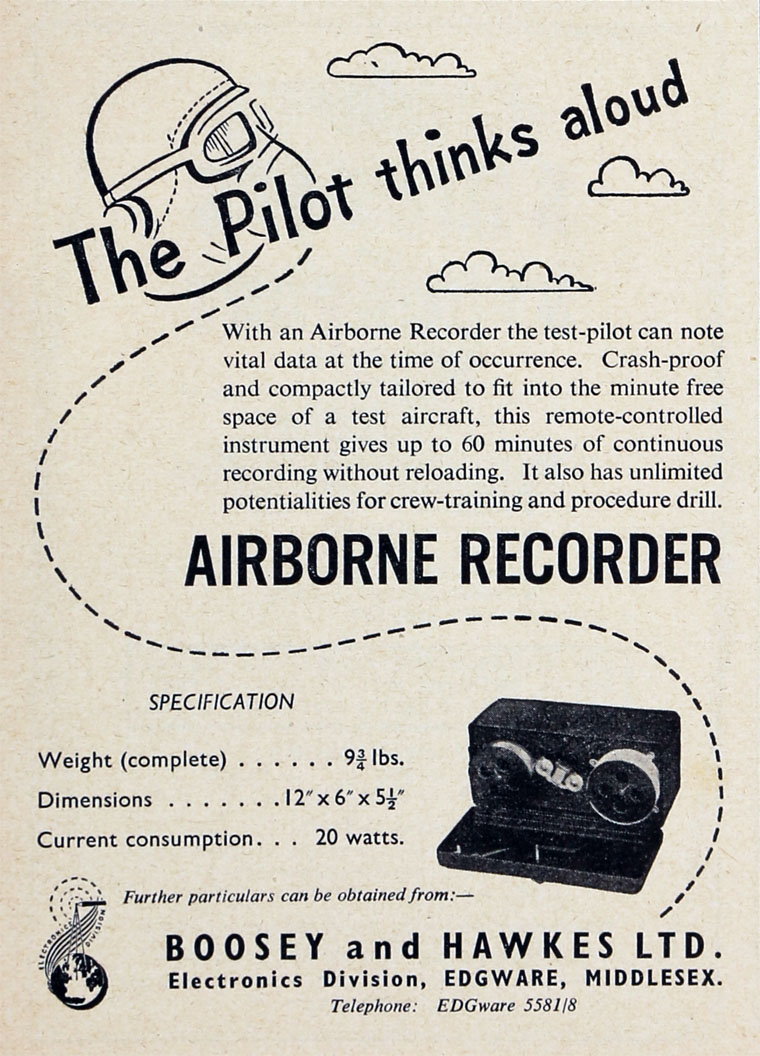 1965. Ampex 1100 reel to reel audio tape recorder.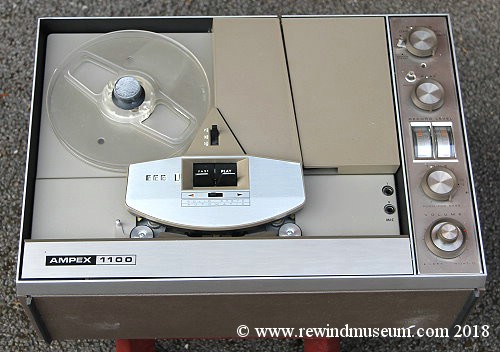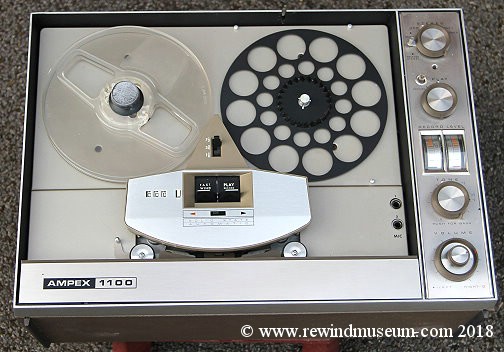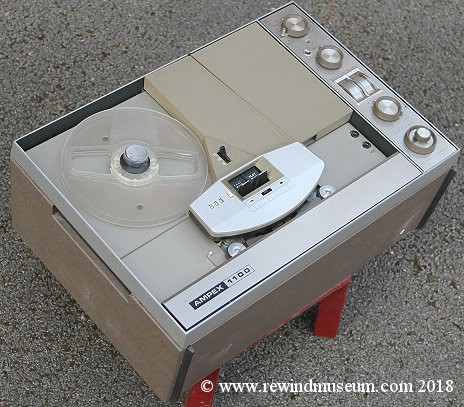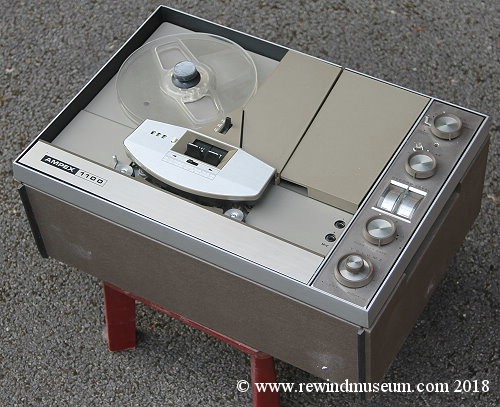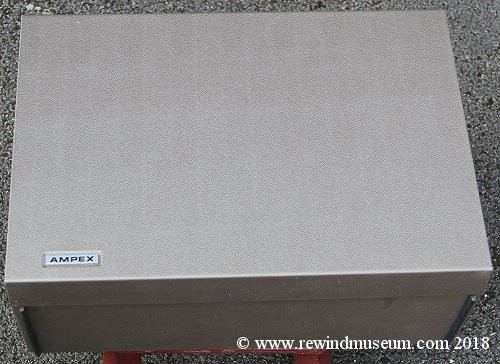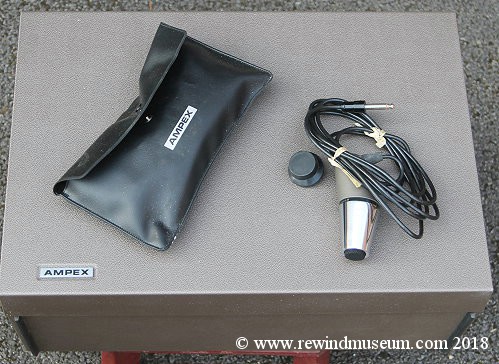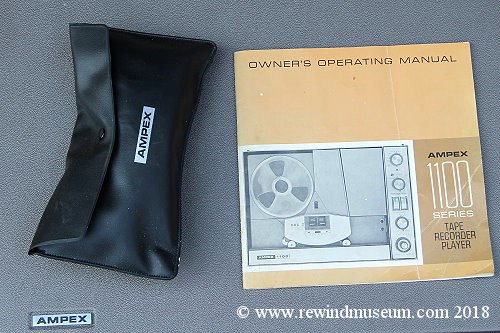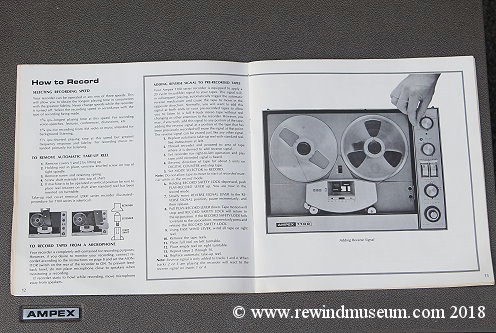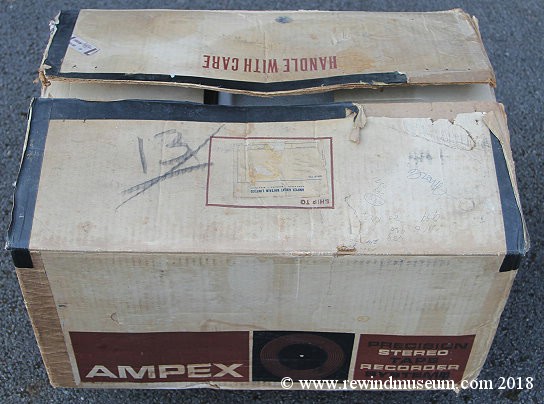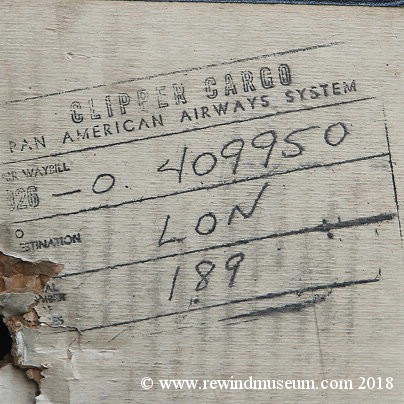 When there is a company as famous as Ampex it is important to also have an audio reel to reel recorder. This model
was first introduced in 1966 and is complete ion the manufacturers packaging and including all of the accessories
and a manual. Notice how one of the two reels is hidden. This is unusual. As with all Ampex products, build quality
is very high. $449 in 1965 and 1966. Shown below is an advert from august 1966. The model 1161 came with speakers
in the lid and 2 mikes at $499, the model 1160 at $449 came with just a lid and 1 mike. Also below see the manual
showing speaker options, Ampex 3000 series, 2000 series and 1000 series loudspeakers and above see the tape
recorder was shipped from the States to London by Pan American Clipper Cargo.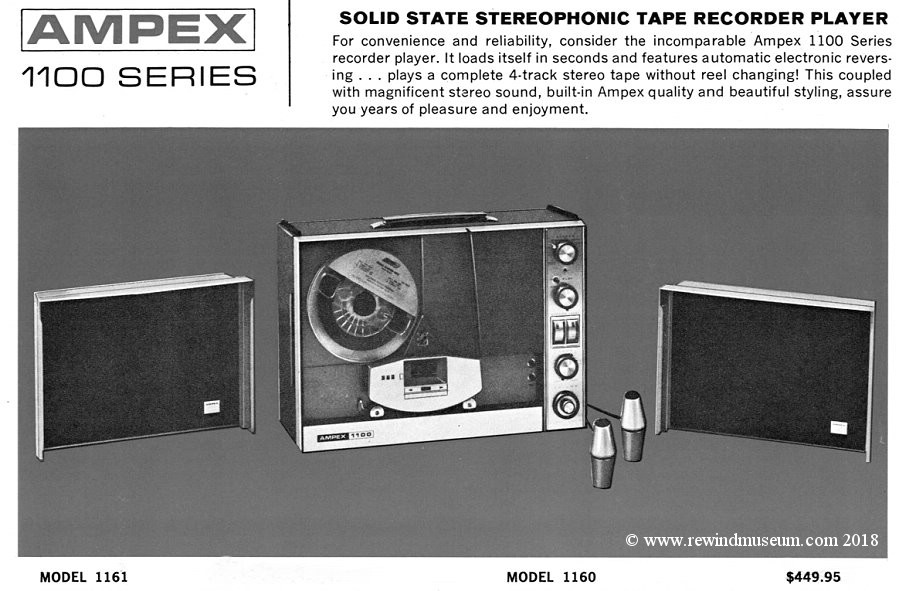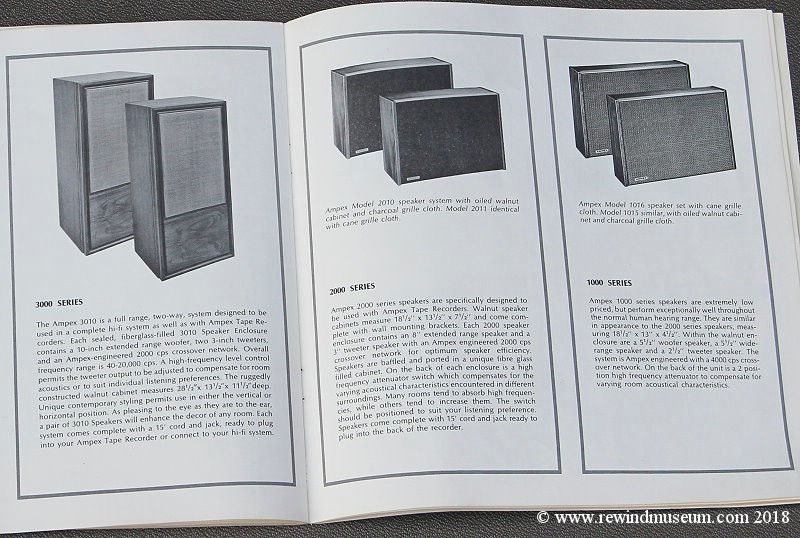 1978. Akai 4000DS Mk II reel to reel recorder.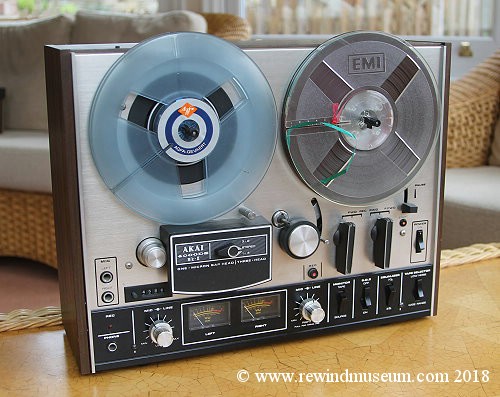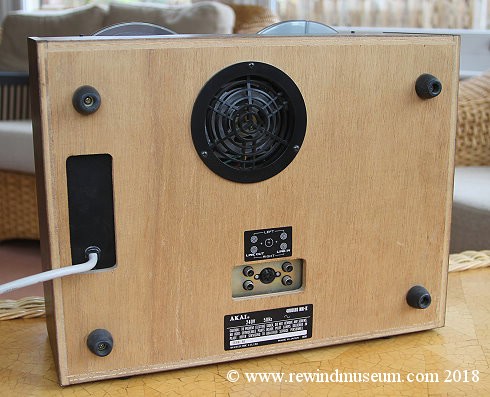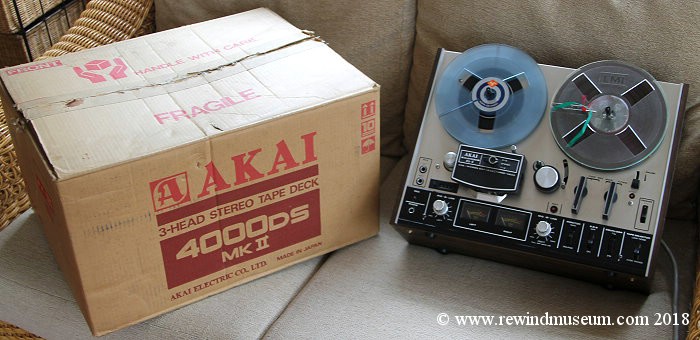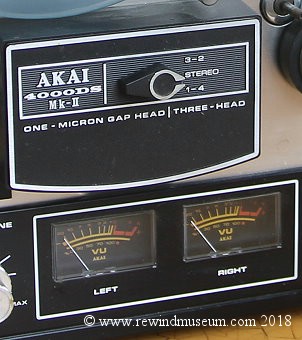 The 4000 range of reel to reel recorders were made from 1973 to 1979 with the 4000DS in 1978. This was top-end domestic
and very popular at the time. Indeed in 1978 I wanted one but for some reason never managed to buy one. Maybe I could
not afford one in those days. This 4000DS came with the original packaging but without a manual. In the museum there is
a a manual for a 4000DB which is almost the same. Of all of the domestic models, I always thought this one looked the
best compared to other brand names. It was well featured with 3 heads and easy to use. It came in a wooden cabinet and
had a silver facia. D on the end means the unit does not have built-in speakers so it needs to be connected to a
Hi Fi system. Made in Tokyo Japan by
Akai Electric Co., Ltd.
Founded in 1929

1971. Sony TC-377 reel to reel recorder.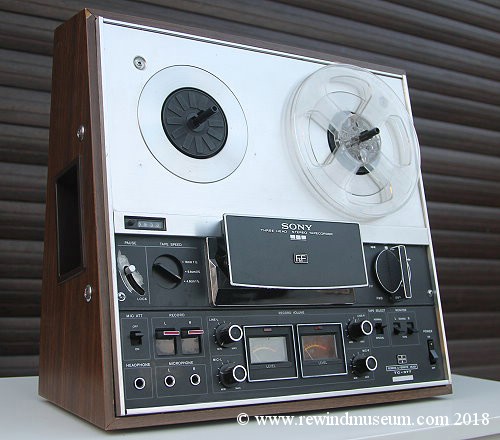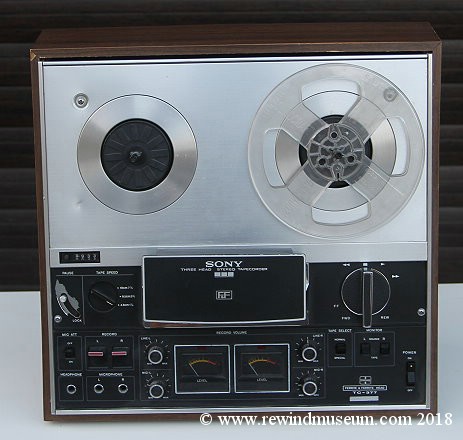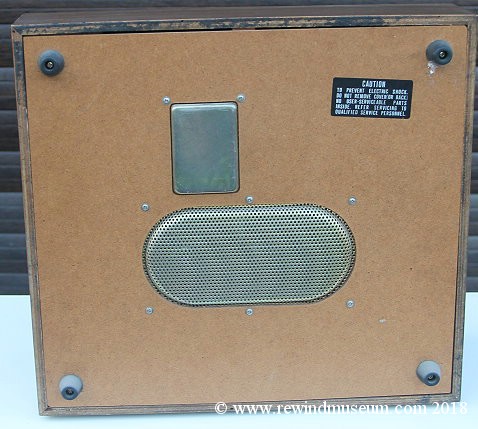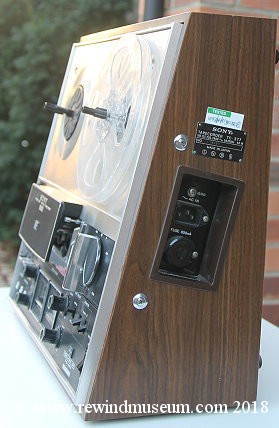 In the 1970s the Akai 4000 and the Sony TC-377 were direct competitors. The Akai 4000 series was available from the
late 1960s to the late 1970s in various versions (the one in the museum above is a 4000DS Mk2 from 1978). The Sony
had a similar specification, similar price and also aimed at the top-end domestic market. The sloping cabinet was
interesting. If the chassis was out of the cabinet and inverted, it sloped nicely towards you when used flat on a desk.
Like the Akai, it had 3 heads, two Vu meters, similar spools and similar features. It also had mixing controls which was
a great idea for creative use. Made in Japan. The TC-377 won a Japanese Good Design Award. Adverts below from 1972/73.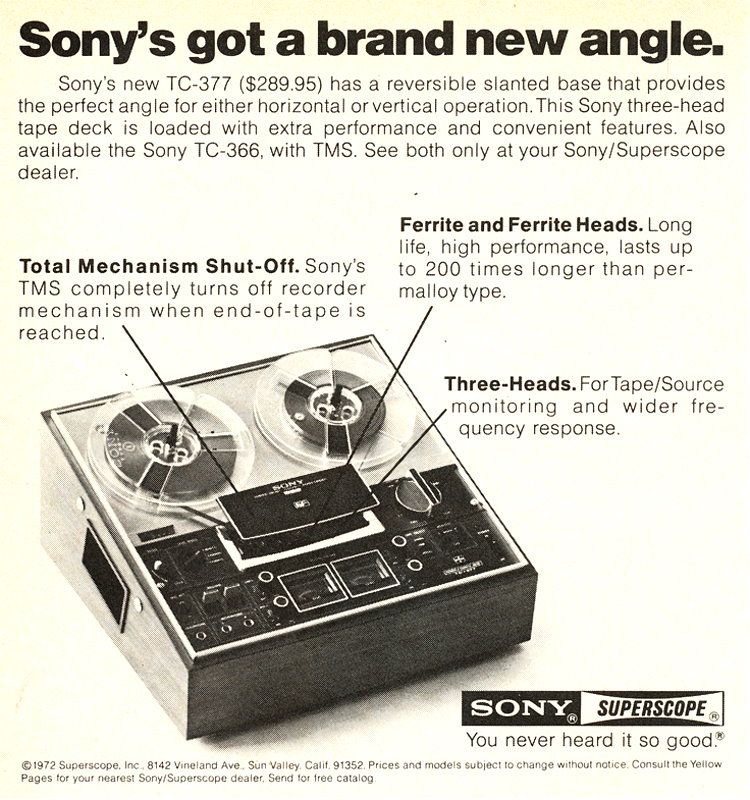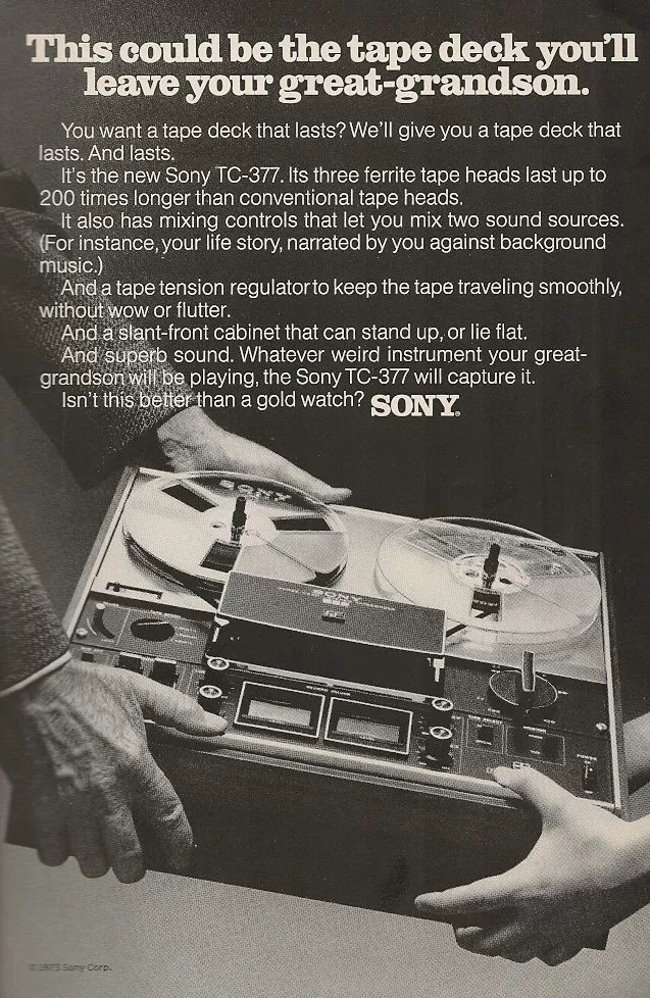 1968 TEAC A-2340R reel to reel quadraphonic tape recorder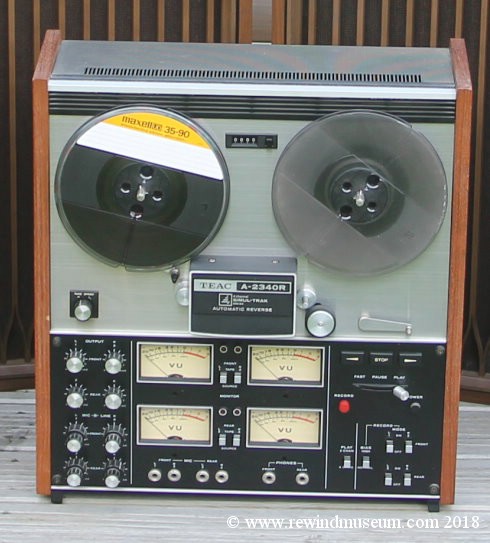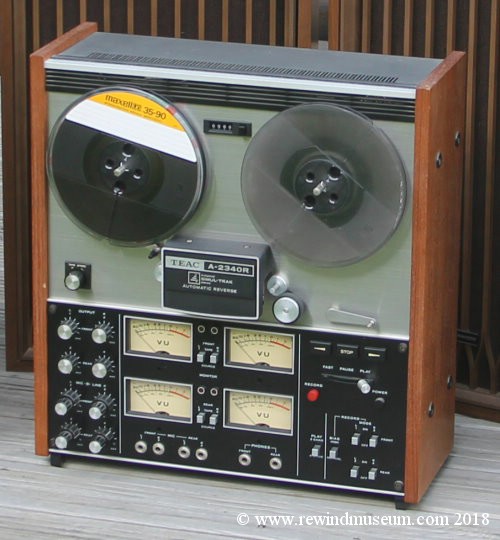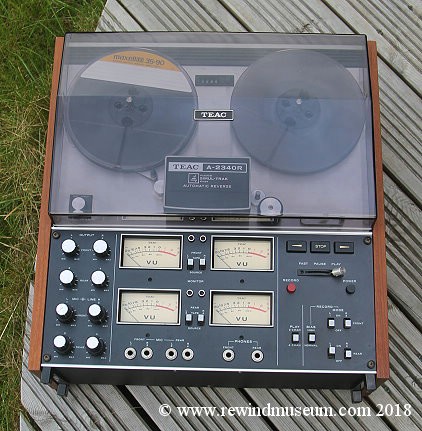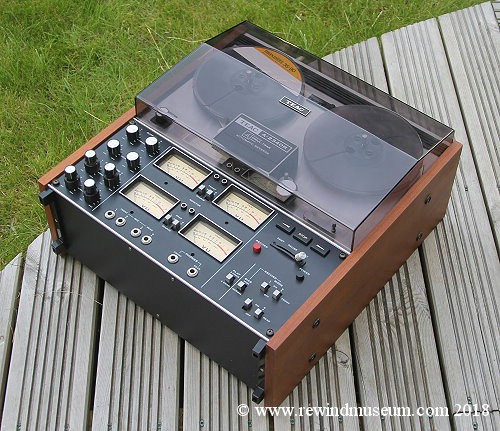 The TEAC A-2340R recorder could be used in a 4 descrete channel quadraphonic surround sound system.
Click here
to see the complete system. This is a Semi-professional tape deck.
Track system - 4-track, 4-channel, stereo/monaural/multi channel system, Heads- 1 x record, 1 x playback, 1 x erase
Motor - 1 x capstan, 2 x reel, Reel size: up to 7 inch reel, Tape speeds: 3.75ips and 7.5 ips,
Semiconductors - 24 x transistors, 8 x diodes. Weight: 20kg
TEAC stands for "Tokyo Television Acoustic Company". The original company was founded in 1953 and became TEAC in 1956.

Hi Fi Sound magazine from Feb. 1970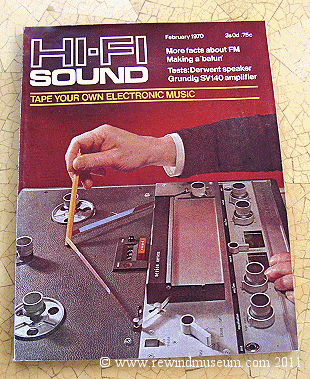 I bought this magazine in 1970 and recently mislaid it. Managed to find it on ebay so if it
turns up in the future, I will have 2 copies. This copy features the excellent
Ferrograph Series 7 reel to reel audio recorder.


Making a donation.
The Rewind Museum is a non-profit making endeavour. The web site and the touring exhibitions are run on
a voluntary basis. Donations,
not money,
just old items you no longer want, are always welcome.
If you have something that you think would be of interest, please contact us with the details.
We can send in a courier to pick them up. (Even an international courier). Thank you.
Please note - The Rewind Museum site has been archived by the British
Library so that future generations can always access the site's content.
To talk to us about making a donation please go to - "
making a donation
".

Are you interested to read about a 10 year + restoration of a classic vehicle?
If so go to -
www.1952chevytruck.com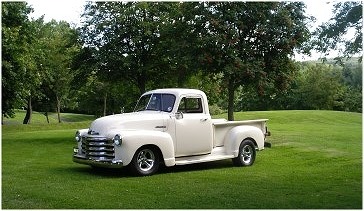 The 1952
The 1952 Chevy truck
web site.

Link to our main site. Satellite TV.
Rewind Museum is sponsored by Vision International. Note. One of our businesses, Vision International (established 1991)
sponsors
Rewind Museum
and
Satellite Museum
including financial support for this web site. Vision International
is one of a group of businesses which we have in the field of Satellite TV.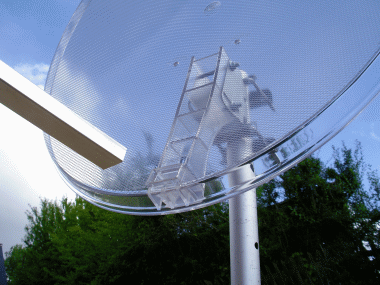 Tune in an extra 10,000 channels? Watch the world? Links to some of the Satellite Superstore pages are below,
Sky Receivers
Freesat Receivers
All satellite receivers
Fixed Dishes
Transparent Dishes
Motorised systems
LNBs
Multiswitches
Caravan satellite
Satellite finder meters
Installation equipment.
Catalogue of all satellite products.
Rewind Museum web site is maintained on a non-profit making voluntary basis.
Our main business website is at
www.satellitesuperstore.com
.
Our main business is satellite TV and we are a specialist satellite company. We
supply satellite goods in the UK and worldwide including fixed and motorised satellite
systems, multiswitches, instrumentation, accessories and installation equipment.

Web site copyright © 2018 Vision International. All rights reserved.
For all questions & comments about this site's content
contact Dave
at Rewind Museum.