Museum of early consumer electronics and 1st achievements
www.rewindmuseum.com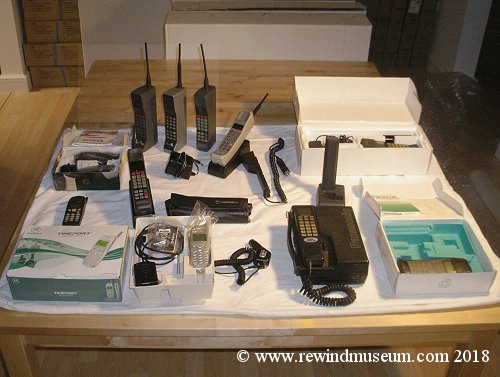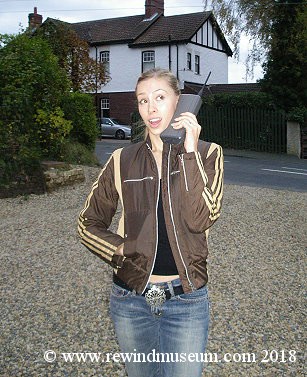 1990. Nokia Cityman 100.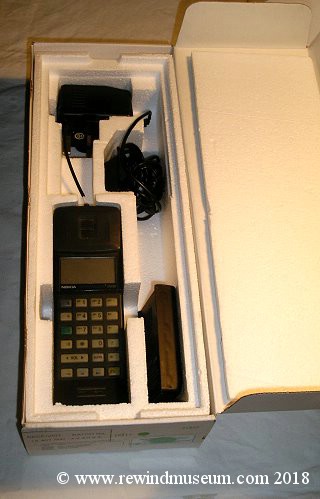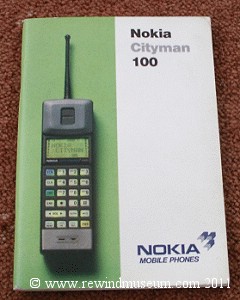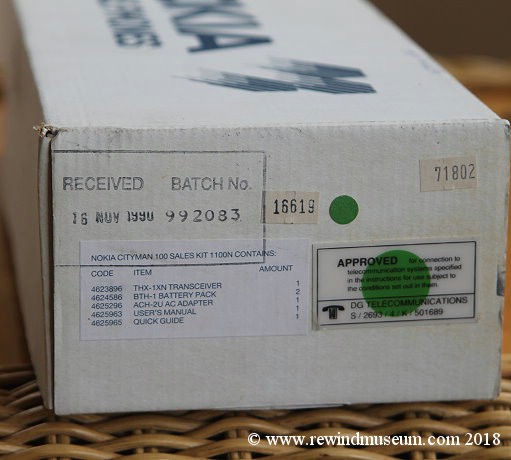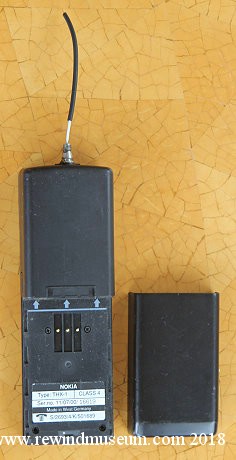 My very first brick phone was the Nokia Cityman 100. Owned from new in 1991. I say 1991 but the box says
16th Nov 1990. That may be when it was received by the store. Not sure if I owned it from the end of 1990
or the beginning of 1991. Very few people had mobile phones in the early 1990s. I was the first to have one
in my family (wider family) and it was and still is a large family. The phone number is key to knowing how
long someone has owned a mobile phone. My number started 0831, later to become 07831. I have never
changed my telephone number and if anyone has a number starting 07831 you know that is from a very early
database and they have had cell phones for a very long time. Here is an interesting final comment - Back
in the 1990s we were asked to look after a parrot while someone went on holiday. The damage to the
antenna was caused by the parrot attacking it with it's beak!

1987. Panasonic EF-6157EA car phone. Range Rover branded.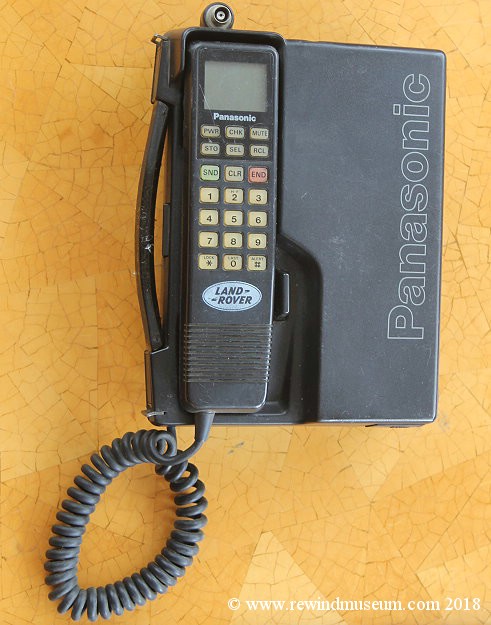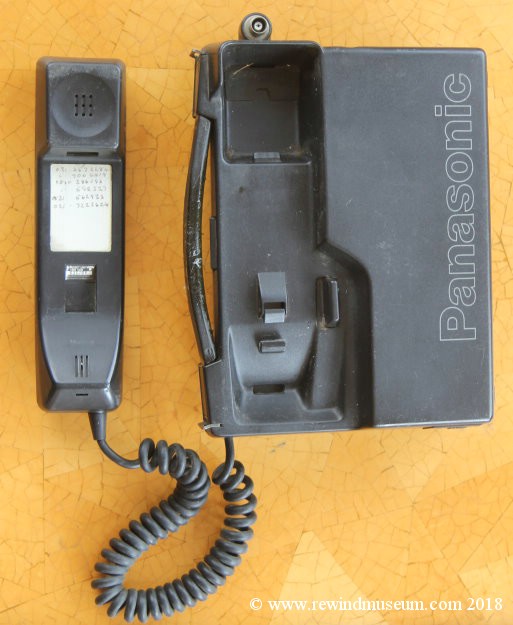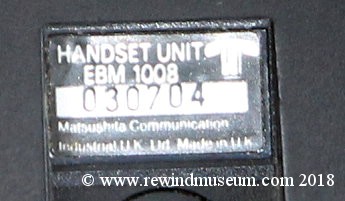 The first cell phone I ever saw in the UK was in 1989. I went to a trade show with a friend and he was
carrying a transportable in a case with a carry handle. It would have been similar to this Panasonic.
This phone came into my possession in the mid 1990s. The network was analogue and the coverage
in some parts of the country was not very good. I fitted it in my car with a high gain aerial and
I used it if I was going to be in one of those low signal areas. Class 2 had more power. I remember
using it in Cumbria while visiting Maryport, Whitehaven and Workington. I guess it must have previously
been fitted to a Land Rover as it has a Land Rover official badge on the top of the handset.
Weight 3.1Kg It was also called an EJB-114. Price when new in the USA - $1500 in 1988.

1983. The Motorola 8000X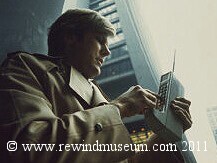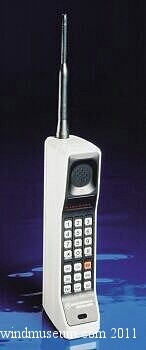 By February of 1973, Motorola had succeeded in producing the first working DynaTAC portable phone prototype.
The left hand picture shows a man in 1973 holding the prototype. The right hand picture shows the final 8000X in 1983/4
The Motorola 8000x was 28 oz In 1983 the Motorola DynaTAC 8000X phone became the first FCC-approved portable
cellular telephone in 1983 - Price $3,995

Motorola 8000 series brick phones including the UK model the 8500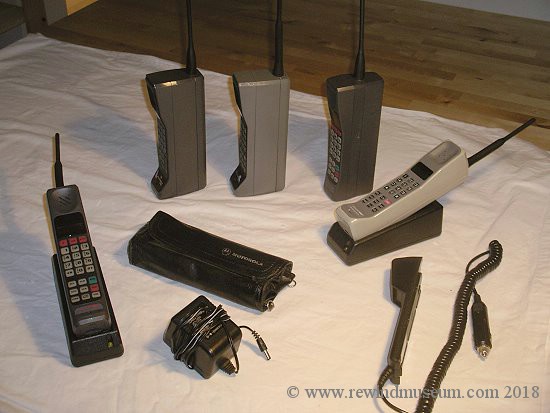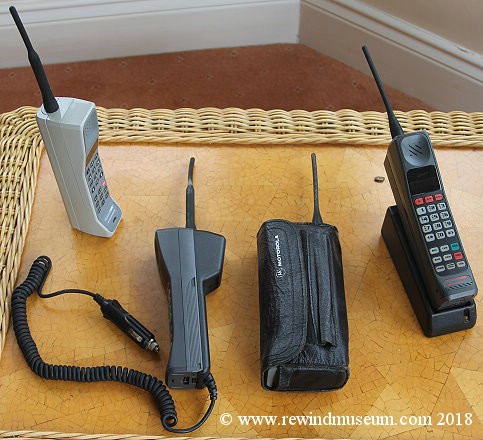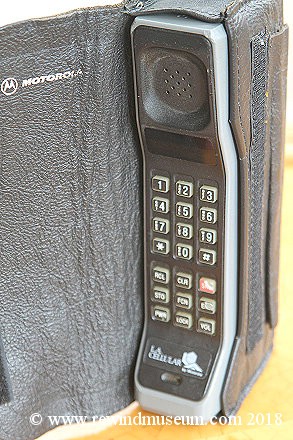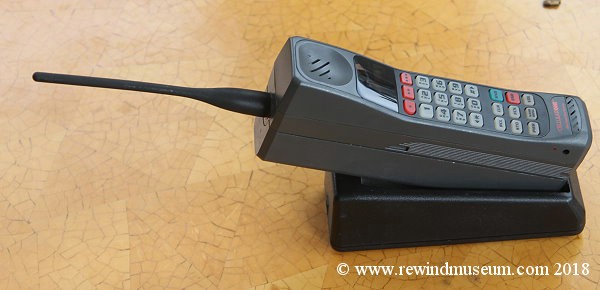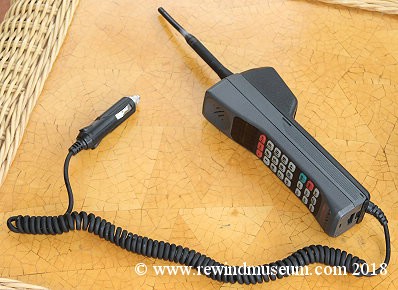 After the DynaTAC 8000X was the 8438AG at 24 oz and 8500X at 26 oz. The 8500X was sold in the U.S. in 1986
and overseas a year later. The 1986 model is putty in colour. The overseas version was a dark charcoal
grey. A red triangle with blue and white stripes to the left of the Motorola logo marks the non-U.S. versions.
The picture above shows a selection in the museum and this includes the 8500X, see above right and below.

1987. Motorola 8500X cell phone.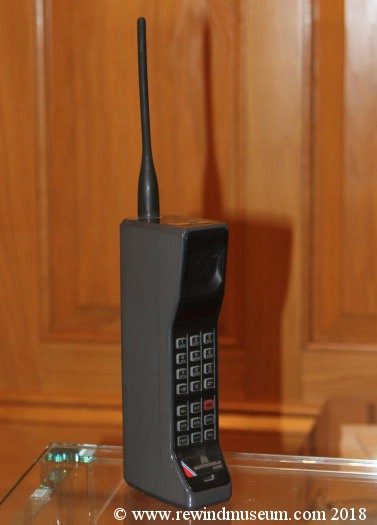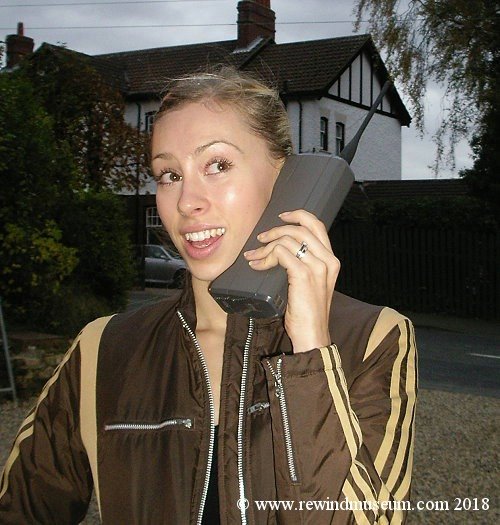 Of all the Motorola 8000 series phones in the collection, the 8500X is my favourite. It came into the collection in 2005.
The 8500X was sold in the U.S. in 1986 and in the UK by 1987. The 1986 US model is putty in colour. The UK version
was a dark charcoal grey. A red triangle with blue and white stripes to the left of the Motorola logo marks the non-U.S.
(UK) version. The 8500X was an improvement on the 8000X as it had the ability to store contact details in it's memory.
The original price was over £1000. By 1992 it was looking dated. In 1992 I had my first phone the Nokia Cityman 100
(see above). My friend had a 8500X. I can remember at the time thinking his phone looked dated and he probably
needed to upgrade. No one else I knew carried such a large brick by 1992. In 1992 the 8500X was very cheap. Just
like today you can buy an older iphone much cheaper than the latest one. This 8500X sits on my desk near my
computer and so I am able to look at it every single day!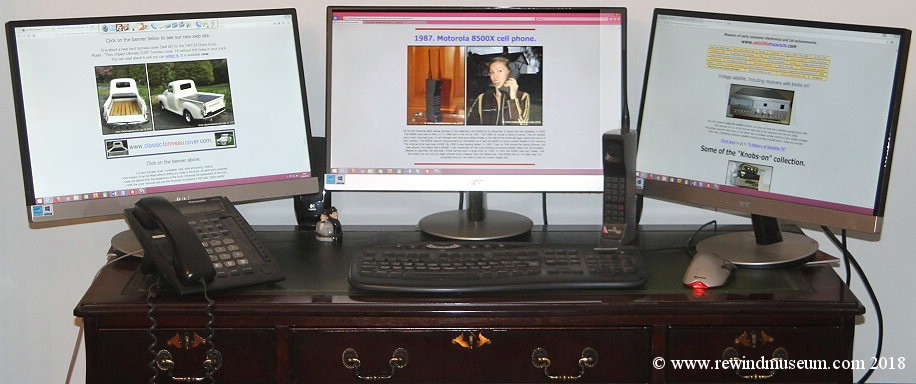 1989. The Motorola MicroTAC. The 1st ever "flip" phone.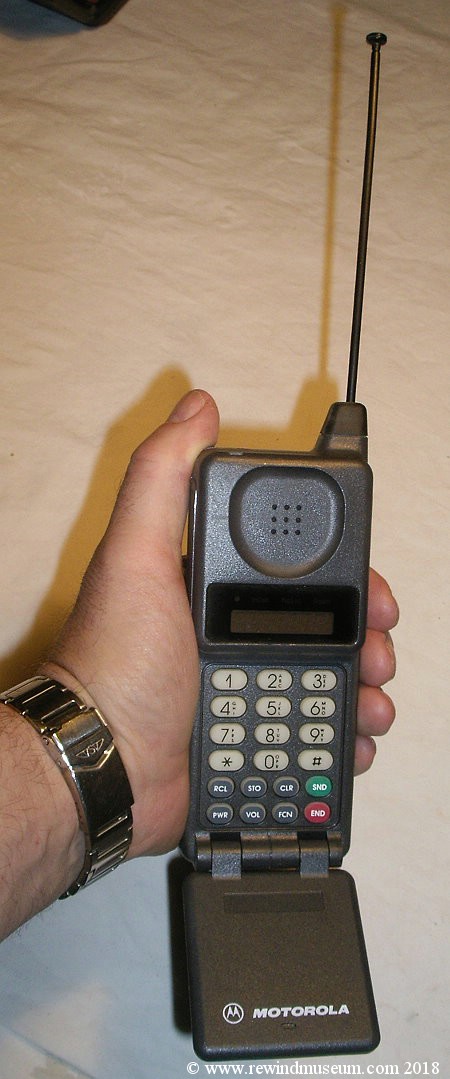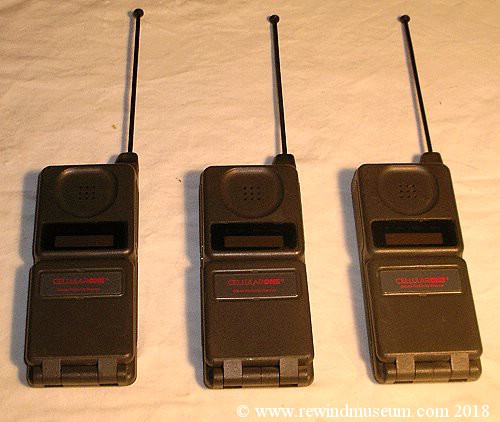 In 1989 Motorola launches MicroTAC, the first flip-phone. It had a hinged cover which flips open
from the bottom of the device to reveal the keypad. As the smallest and lightest phone on the
market at the time, the unit weighed 12.3 ounces, measured 6.75 x 2.25 x 1.25 inches and
retailed between $2,495 and $3,495 An interesting design feature was the retractable aerial.
In fact, the aerial does nothing as it is purely for show. The unit features an internal
antenna, however, the pull up plastic was added after focus groups in the US felt that any
phone should have a visible aerial. It is interesting to note that 20 years earlier, in 1968/69
a flip up phone / communicator was part of the original science fiction Star Trek series.
We have 3 Motorola MicroTAC phones in the museum (but no Star Trek communicators).

1999. Motorola Timeport Tri-Band.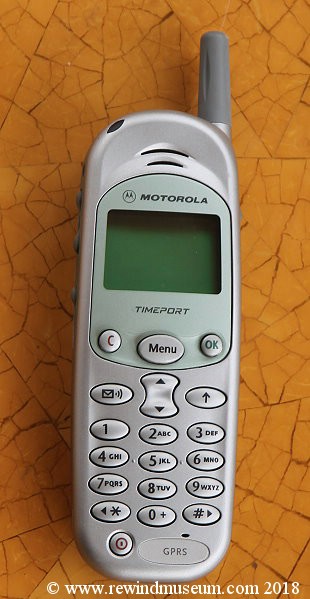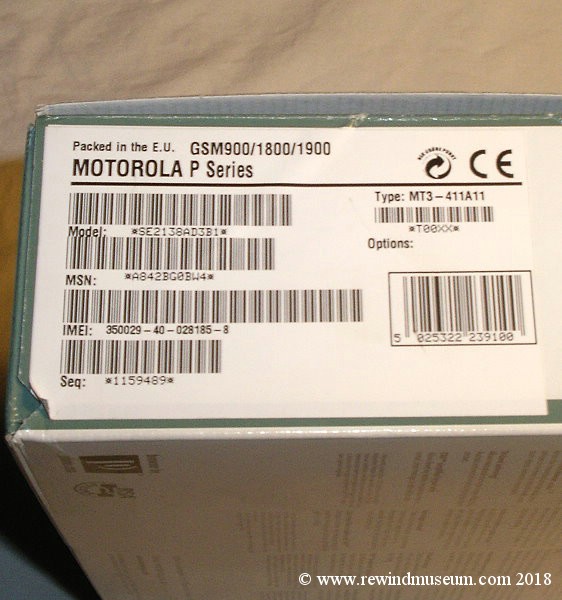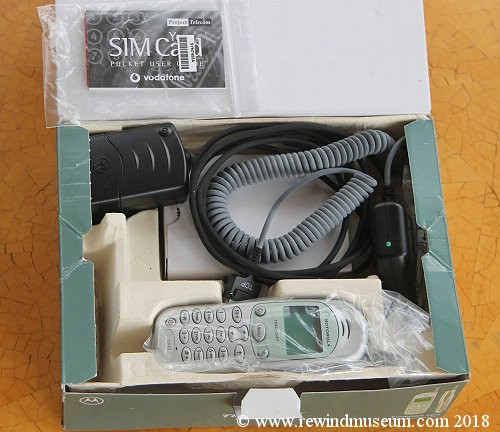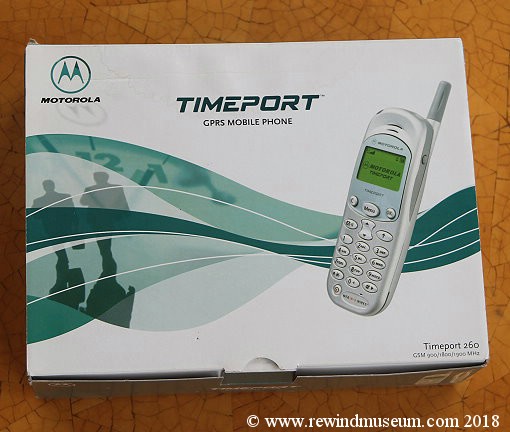 The Timeport L Series phone started in 1999 and P series in 2000. They were the first ever tri-band phones. See
the packaging GSM900/1800/1900. Most of Europe used 900Mhz. 18000Mhz was used by Orange and One2One
and 1900MHz was used in the US and Canada. These days we are used to phones working anywhere but back
in 1999/2000 you needed this phone if you travelled between Europe and the USA. It is interesting that early
analogue phones were referred to as "brick phones", then when digital started phones like this one were
referred to as "candy bar" phones, due to their size and weight. This one weighed 140g and it is similar in
size and weight to a typical bar of chocolate. In the US a bar of chocolate is called a candy bar. After the
candy bar phone came the "flip phone". After the flip phone came the Blackberry with full keypad and after
the Blackberry came the "smart" phone. The P series phones (this one is P series) also boasted another 1st
achievement. It was the first mobile phone with OLED (Organic Electroluminescent) display. Developed by
Tohoku Pioneer Corp, using OEL technology the display was not in full colour but did use green blue and red.

1994. Nokia 2110.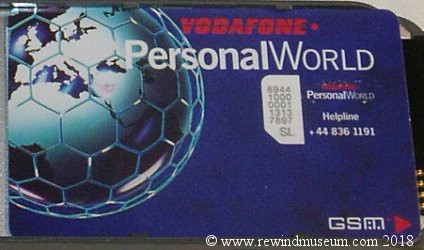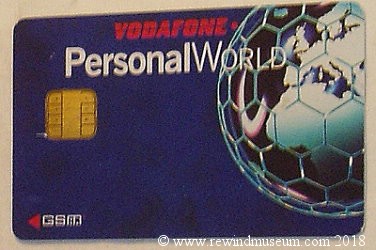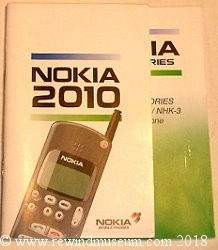 The Nokia 2110 was first announced in 1994. It is the first Nokia phone with the Nokia tune ringtone.
It was aimed at business users. Notice it uses a full size simm card.

1996. Nokia 1610.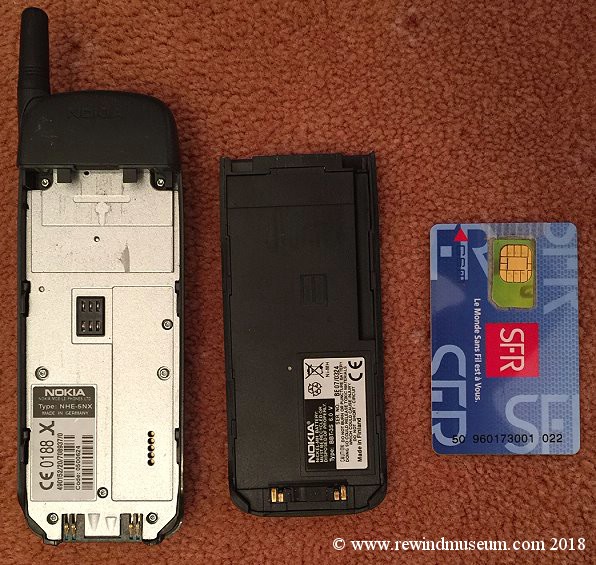 Weight 232g. This phone had a 16-character, illuminated LCD display which could show two rows of
text at a time. The 1610 used a credit card size SIM-card and it worked in the GSM900 network
Model Nh6-5nx. This was one of the very first phones to be on the digital GSM network. It is
also interesting to see the full size SIM card. At 232g is it a "brick" phone or a "candy bar"
phone? Maybe the latter. In 1996 mobile phones were only owned by 10% of the population.

1998. Nokia 6150.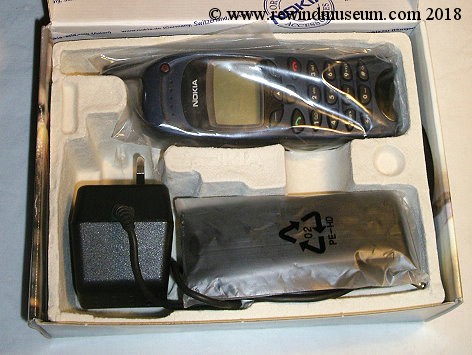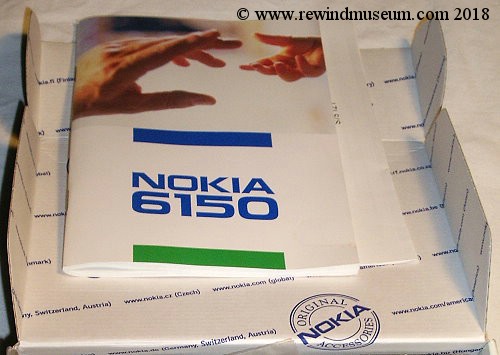 In 1998 Nokia launced the 6150. It is an enhanced version of the Nokia 6110.

1999. Nokia 3210.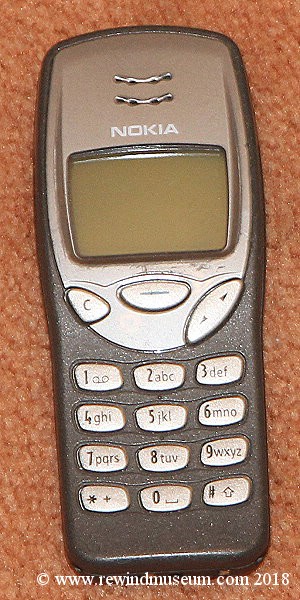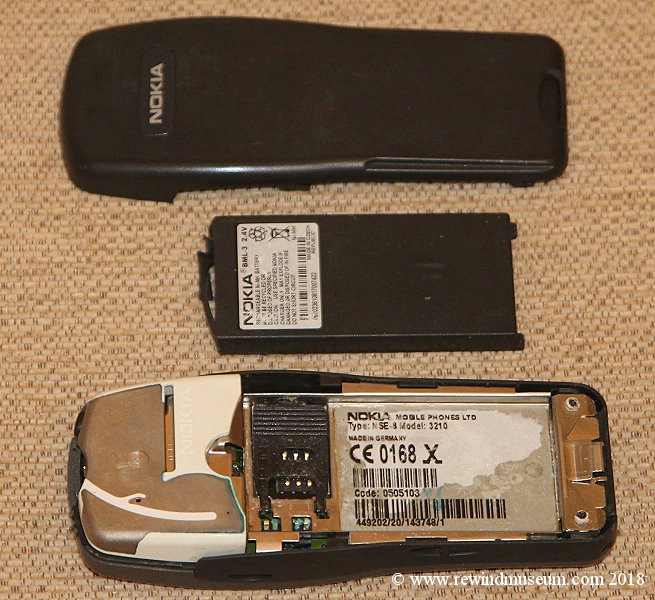 This was another very popular digital phone from Nokia with 160 million sold. Weight 151g, "candy bar" type.
Notice - compared to the Timeport above from the same year, Nokia introduced an internal antenna and this
contributed to the phones success. It also had changeable covers which made it popular with younger consumers.

1998. Nokia 5110.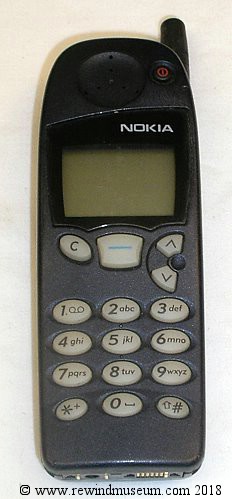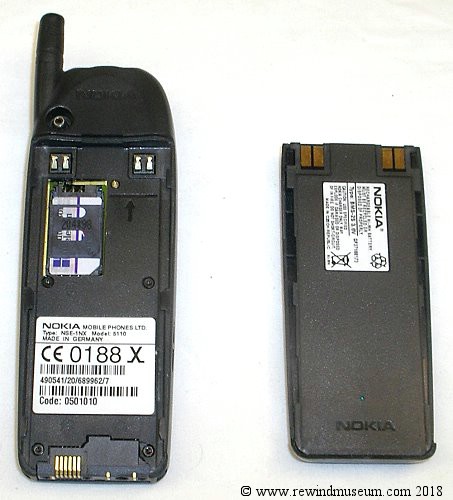 This was my first digital phone. I kept most of my early phones. The Nokia 5110 was a very popular phone
at the time. It was available from 1998 - 2001. It was rugged and had a long batter life. It had an LCD
display. The digital GSM network started in 1991 in the UK when Vodafone sent the 1st text message and
by 1992 the 1st calls were made. In 2000 the 1st GRPS services were launched. For a while there was an
analogue and digital cellular service but by the year 2000, analogue networks started to close down.

1996 Ericsson GA 628 and 1998 Ericason SH 888.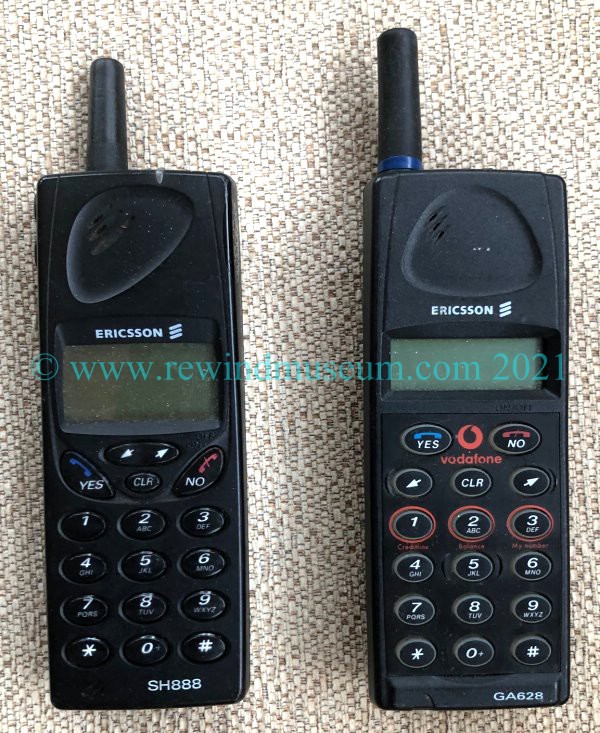 GA 628 - introduced 1996. GSM. Weight 160g Mini-SIM
SH 888 - introduced 1998. GSM. Weight 195g Mini-SIM

2004. Nokia 6230.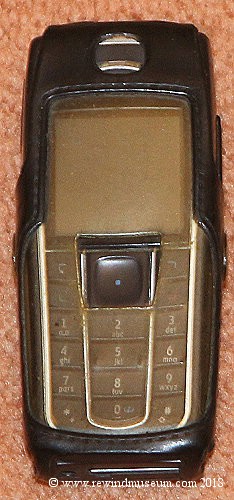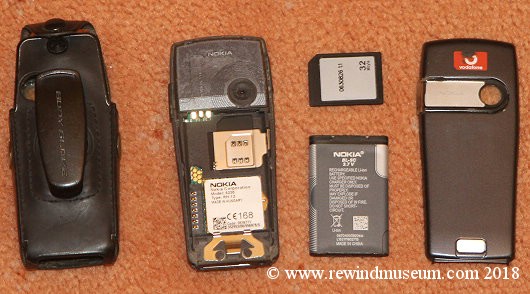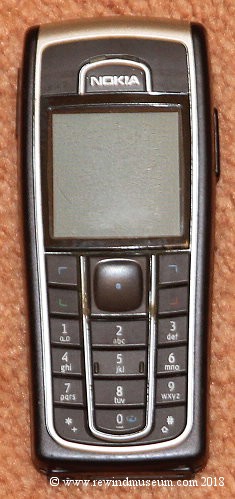 This was my last normal phone. Following this phone I had a Blackberry, then a Galaxy II and then an iPhone.
I loved this phone. Small, light, robust and did everything which, at the time, I thought I needed. Of
course these days phones are more than just a phone, you can watch the TV on them, internet access,
Banking, Whatsap and much more. The pictures above also show the excellent case.

2003. Nokia 1100.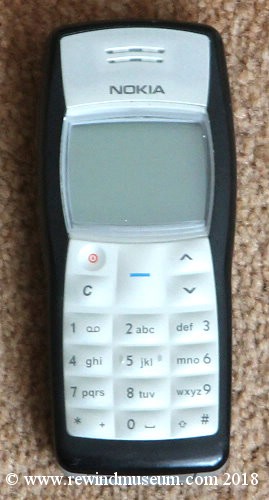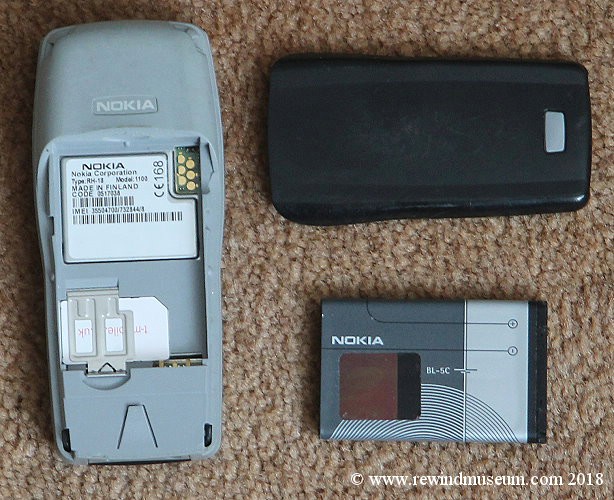 This was my wife's first mobile phone. She bought it in 2007. Until then she just used my phone if we were away
somewhere. It was used as a PAYG phone and she used it for 2 years. The Nokia 5110 was a basic GSM phone.
Over 250 million were sold from 2003 - 2009 making it the worlds best selling phone handset at the time. It
was a rugged phone and had a long battery life. It had an LCD display.

2007. Nokia 2760 flip phone.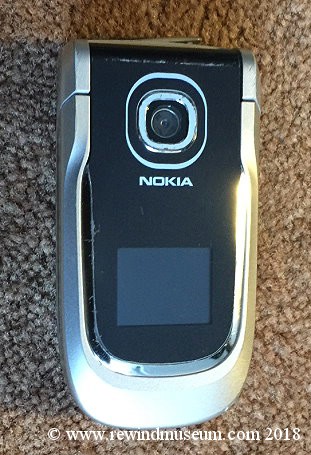 This was my wife's second mobile phone. It was a Christmas present from our daughters in 2009 who were sick
of seeing her with an old phone. She used it until November 2017. Again it was used as a PAYG phone. Was
she the last person in the world to use a flip phone? Probably not but I finally converted her to an iPhone
in Nov. 2016 on a shared contract. The 2760 was a dual-band phone. It had a long battery life and was very
compact and ideal for a ladies hand bag. Weight only 81g. It had a good camera in it's day an an FM radio.
It was also possible to send and receive emails. The main problem was the GPRS - texting. This was
possible but not easy as it does not have a full keypad. Internet access was via a WAP browser.

2005. LG U8380 flip phone.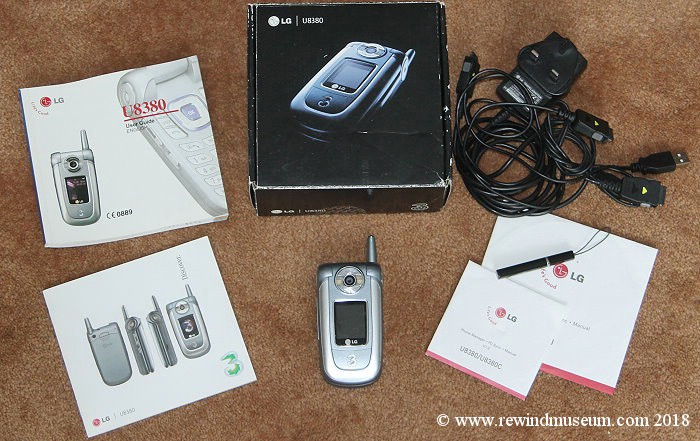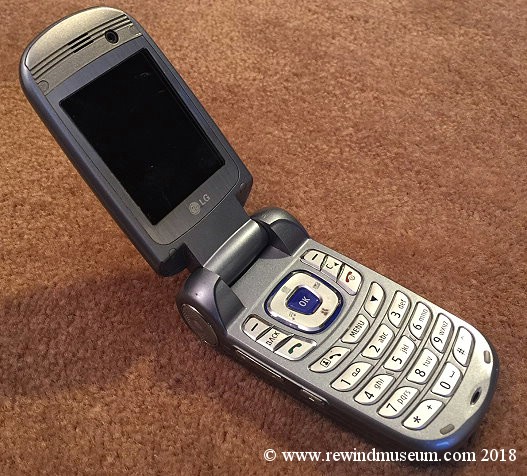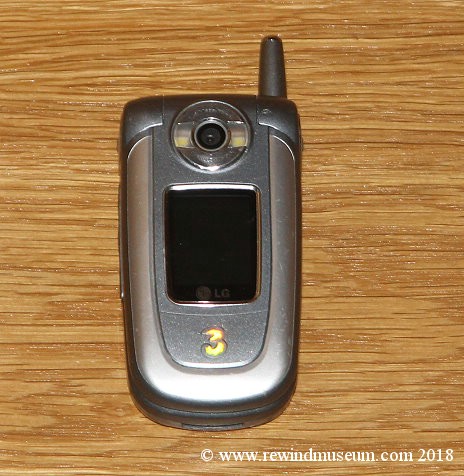 This was my daughters phone. After this phone she moved on to a Blackberry (as I did) and then on to a
Samsung Galaxy II (as I did) and then to an iPhone 6 (as I did). This is a tri-band phone and has
a 2.2 inch display, 1.3 MP primary camera, 1050 mAh battery, 23 MB storage. It works on the 3G
network. At 139g it is quite heavy but it feels like it has a very high build quality.

Practical Wireless magazine. December 1984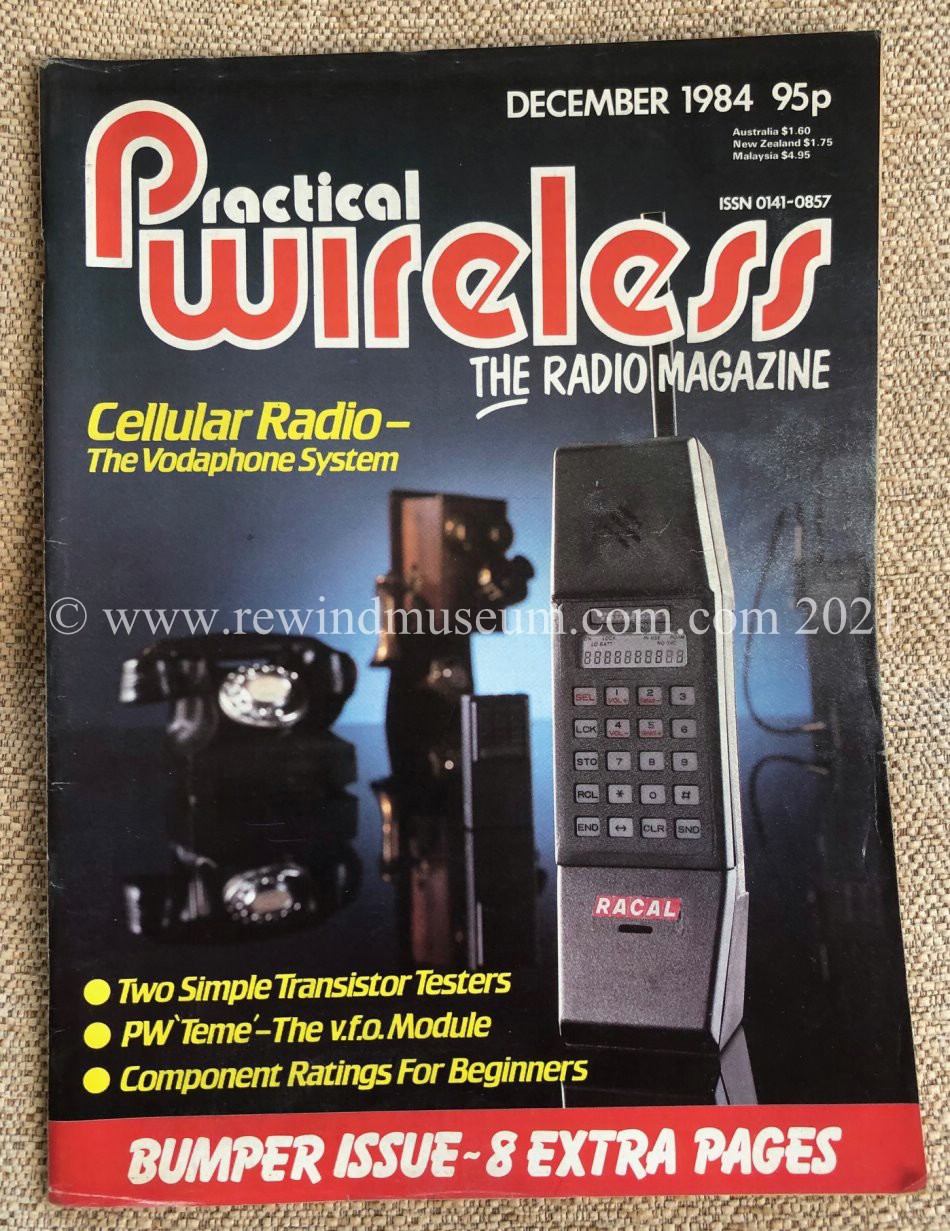 1983/84 was when the 1st handheld cell phones started to become available.
Practical Wireless did an interesting article right at the start.


Making a donation.
The Rewind Museum is a non-profit making endeavour. The web site and the touring exhibitions are run on
a voluntary basis. Donations,
not money,
just old items you no longer want, are always welcome.
If you have something that you think would be of interest, please contact us with the details.
We can send in a courier to pick them up. (Even an international courier). Thank you.
Please note - The Rewind Museum site has been archived by the British
Library so that future generations can always access the site's content.
To talk to us about making a donation please go to - "
making a donation
".

Are you interested to read about a 10 year + restoration of a classic vehicle?
If so go to -
www.1952chevytruck.com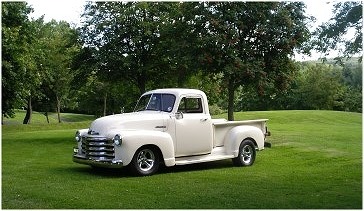 The 1952
The 1952 Chevy truck
web site.

Link to our main site. Satellite TV.
Rewind Museum is sponsored by Vision International. Note. One of our businesses, Vision International (established 1991)
sponsors
Rewind Museum
and
Satellite Museum
including financial support for this web site. Vision International
is one of a group of businesses which we have in the field of Satellite TV.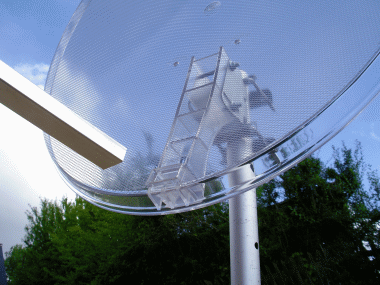 Tune in an extra 10,000 channels? Watch the world? Links to some of the Satellite Superstore pages are below,
Sky Receivers
Freesat Receivers
All satellite receivers
Fixed Dishes
Transparent Dishes
Motorised systems
LNBs
Multiswitches
Caravan satellite
Satellite finder meters
Installation equipment.
Catalogue of all satellite products.
Rewind Museum web site is maintained on a non-profit making voluntary basis.
Our main business website is at
www.satellitesuperstore.com
.
Our main business is satellite TV and we are a specialist satellite company. We
supply satellite goods in the UK and worldwide including fixed and motorised satellite
systems, multiswitches, instrumentation, accessories and installation equipment.

Web site copyright © 2018 Vision International. All rights reserved.
For all questions & comments about this site's content
contact Dave
at Rewind Museum.