Museum of early consumer electronics and 1st achievements
www.rewindmuseum.com


1948. Bush Model TV-12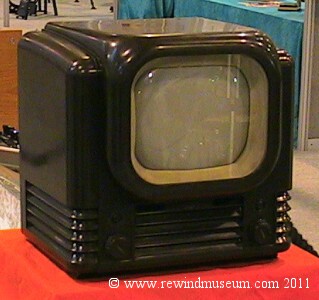 The landmark Bakelite TV - the 1948 9-inch screen Bush Model TV-12. The
picture above was taken at the IOV show in 2003 where Rewind Museum had a stand.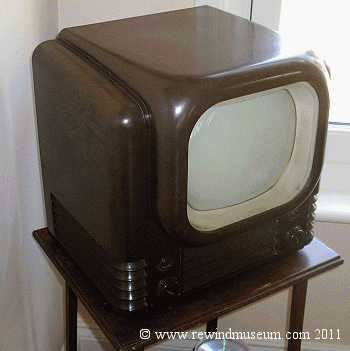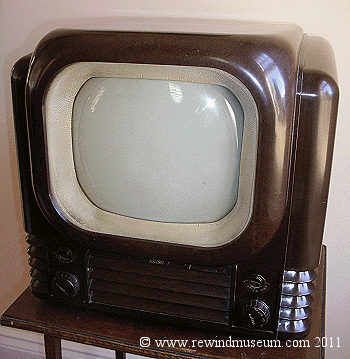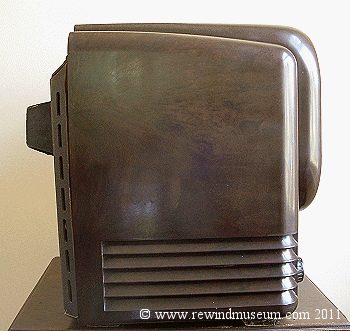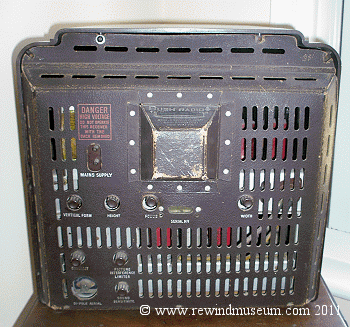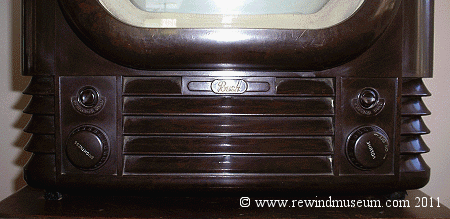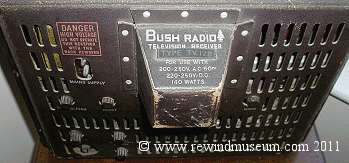 This set is probably the most well used example of an old TV by television and media. It is a classic bakelite
design which gets away from the box shape that televisions had in those days. This one is in very good condition
and is a valued part of the museum. The TV-12 had a 9-inch screen and a single channel tuner. In 1950 the TV-22
was introduced with a 5 channel tuner (still with a 9-inch screen). It looked exactly the same as the TV-12.
In 1953 Bush upgraded the set with a 12-inch screen and that model was called the TV-24.
We have two of these Bush Model TV-12, 9-inch screen 1948 TVs in the museum.

1949 DER Model 303 9" TV (Thorn 942T)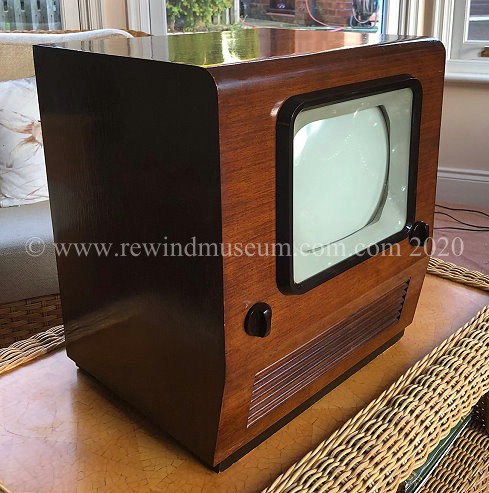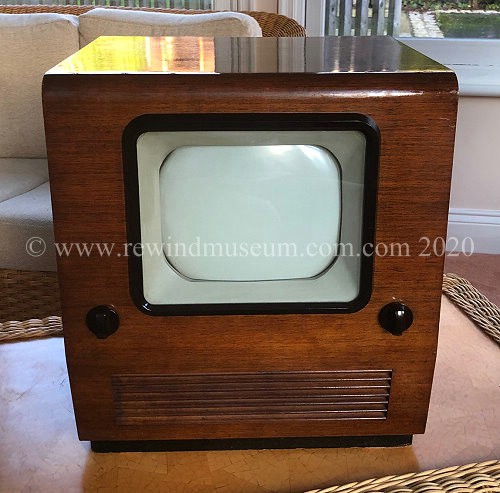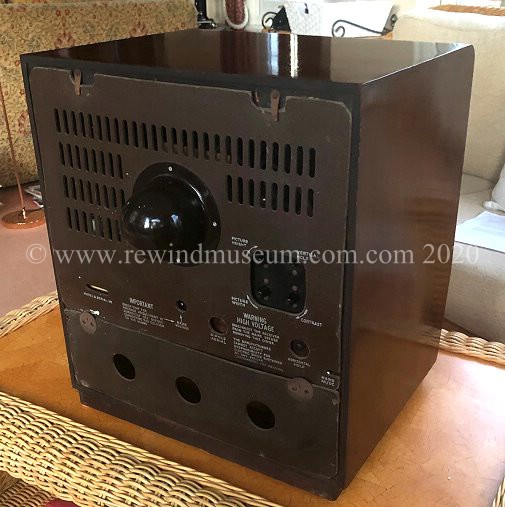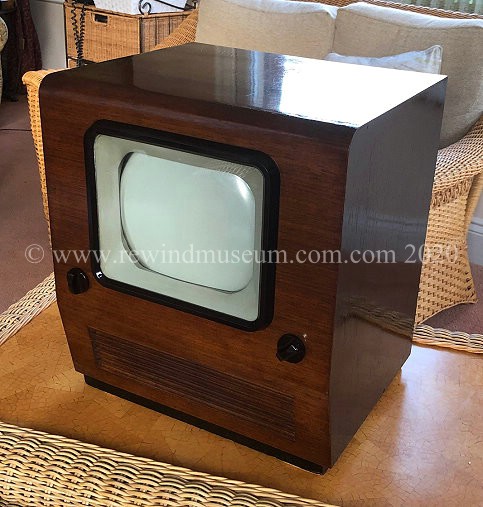 This is a 1949 DER (Domestic Electrical Rentals) Model 303 television with circular 9" screen. This model
has a tuner for Alexandra Palace in London. In 1949 there was only 1 channel, the BBC and so there were
no channel selectors on these early sets. It has a single channel tuner. It uses a Thorn 941T chassis
which was also the chassis used in Thorn's "Ferguson model 941T" television. Ferguson was the brand name
for Thorn manufactured televisions. The Ferguson 941T was in a different cabinet. This set was specially
built for DER and unlike the Ferguson which has a speaker on the side, here the speaker is at the bottom.
The cabinet was unique to DER. Production numbers of all TVs in the U.K. in 1949 would have been very low,
mostly being sold in the London area, but since DER in 1949 had an estimated 1-3 shops, the production
numbers for this set supplied to DER for the rental market would be extremely low. Indeed this may now
be the only one still in existence. Here are some pictures during the restoration process.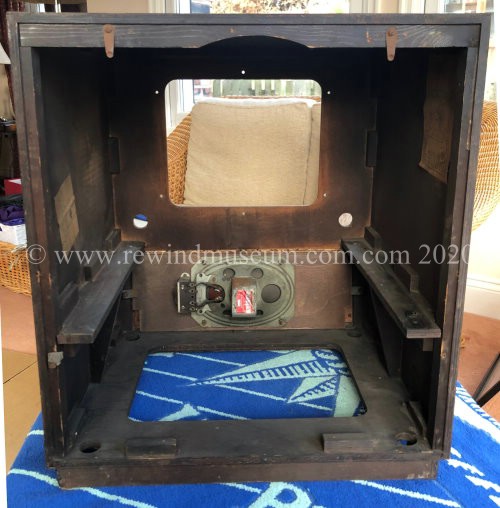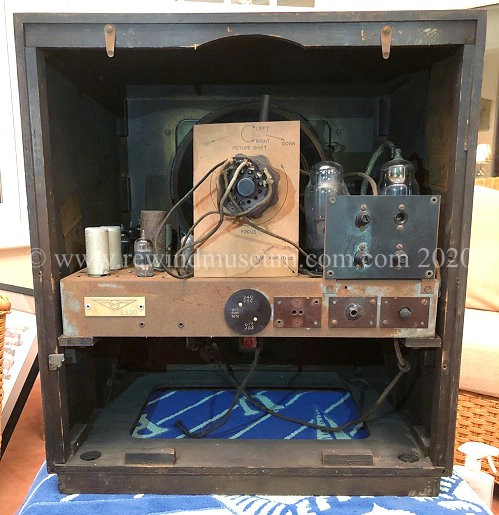 The Model 303 used a "Truvox" permanent magnet dynamic loudspeaker (moving coil).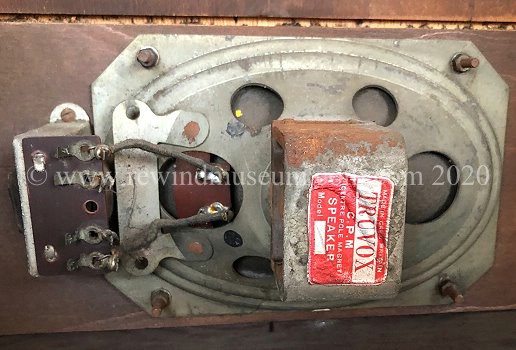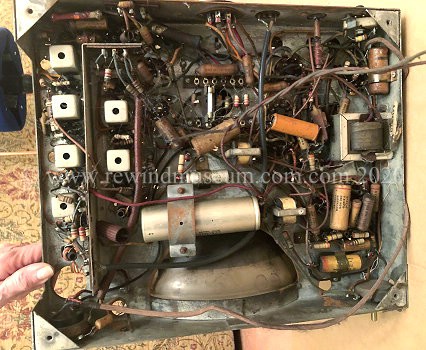 Thorn 941T chassis, 9" circular CRT television screen. Veneer covered wooden cabinet.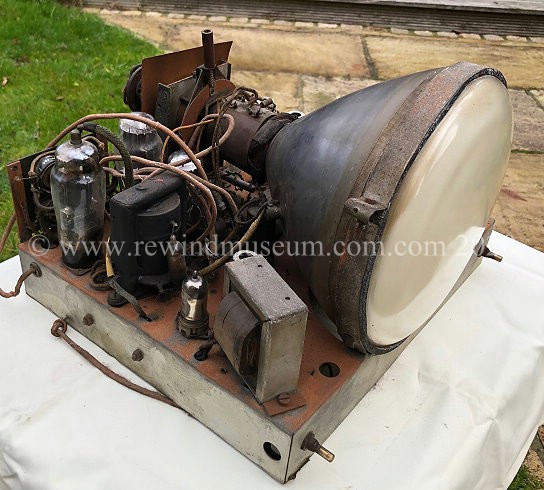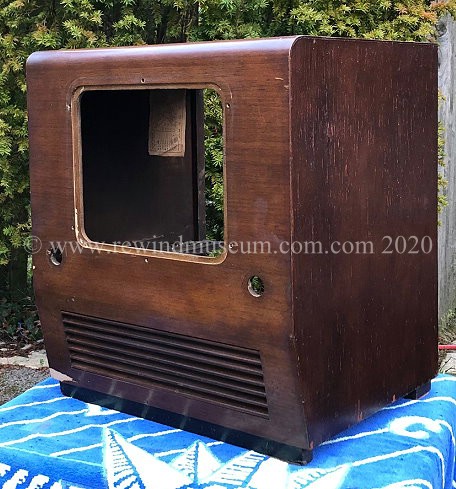 The proud original owner of this "table model" set lived in the London area and sadly died in 2008. This set was kindly
donated by his daughter in December 2020 after recovering it from the loft. She remembered it from
her childhood. She says it was the only TV in the street in 1953 and neighbours came in to watch the
Coronation. It was surprisingly to hear it was also still in service to watch the moon landings in
1969 as much larger screen sets would have been available by then, however, in those days people
did keep sets longer than they do today. It was common for TV sets in the 40s 50s and 60s to be
rented. This was because of the high costs of repairs especially if the CRT tube failed. All
repairs to a rental set were covered by the rental agreement and were "free". Once reliable TVs
especially from Japan appeared from the 1970s onwards buying a set was a less risky investment.
Click here
to see more pictures of the
Thorn 941T
chassis while it was removed from this set.
Finally, below you can see pictures of the set before it was donated to the museum. The pictures below
show the set in Oct. 2020 after being rescued from the loft and during the families house clearance.
Rewind Museum has done some work since it arrived to clean and restore the cabinet. See below.
Before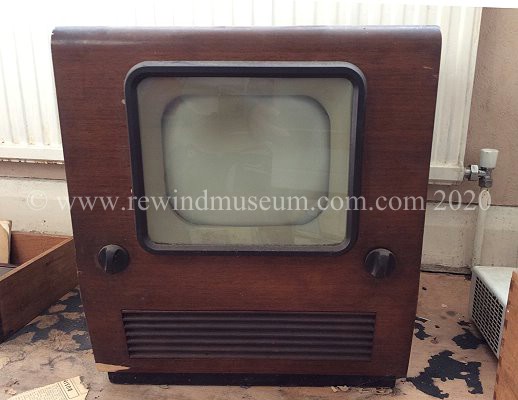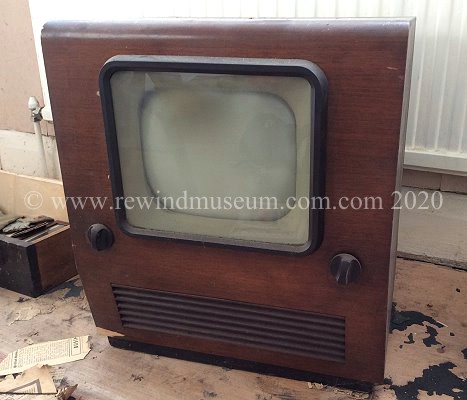 After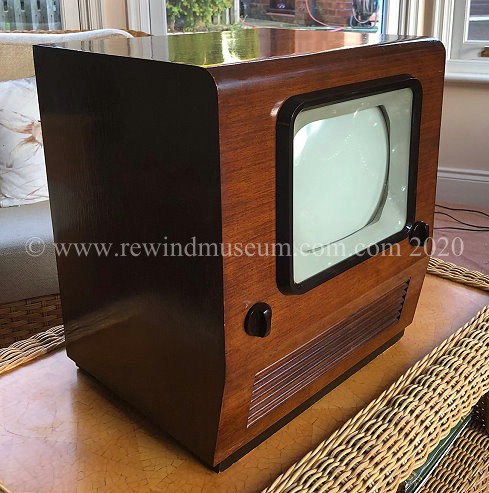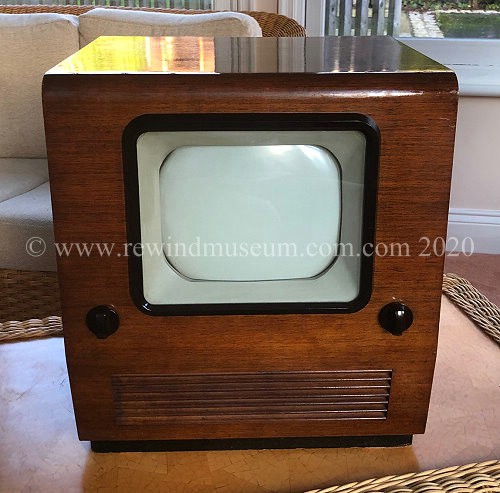 Click here
for more information about DER (Domestic Electrical Rentals).

1951. Ekcovision Model T164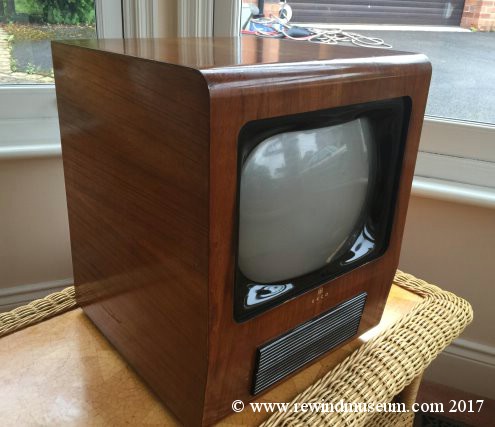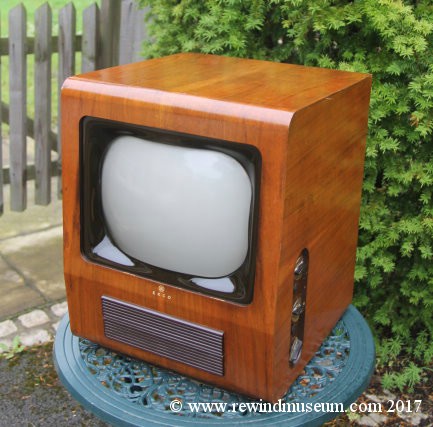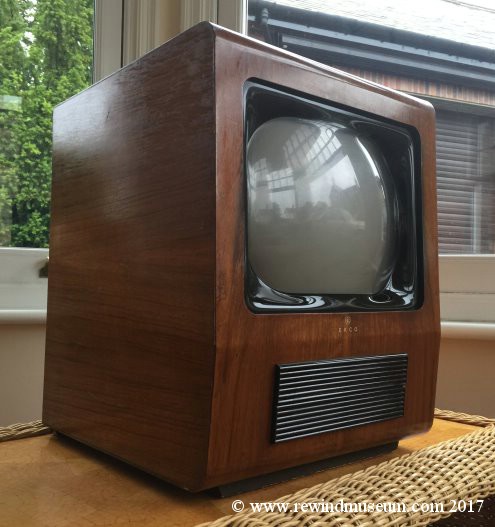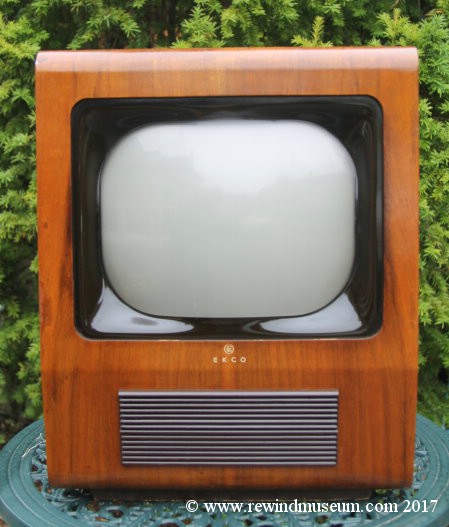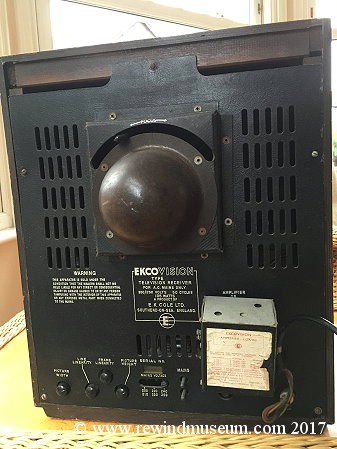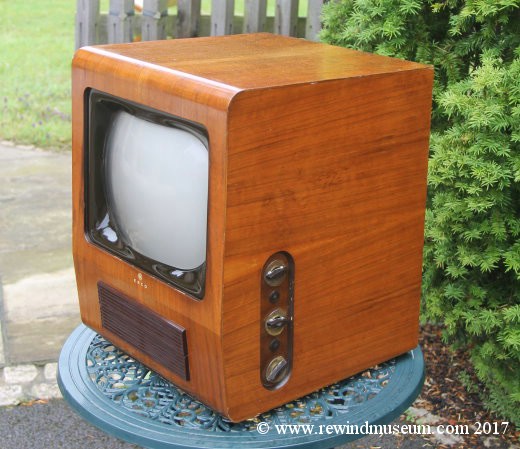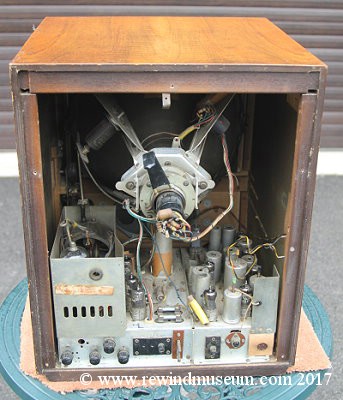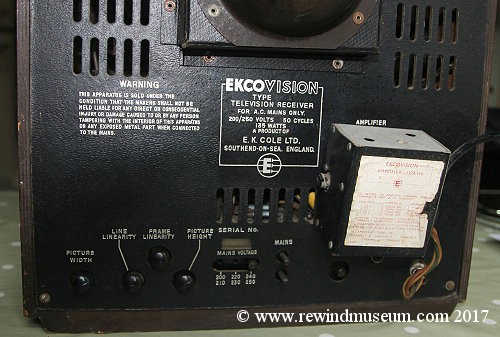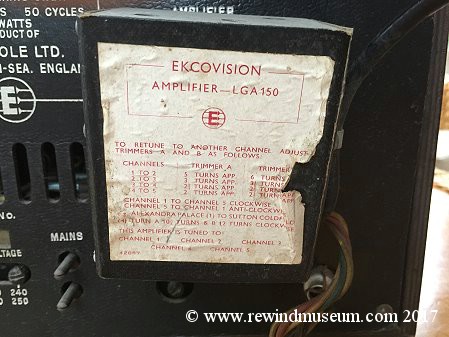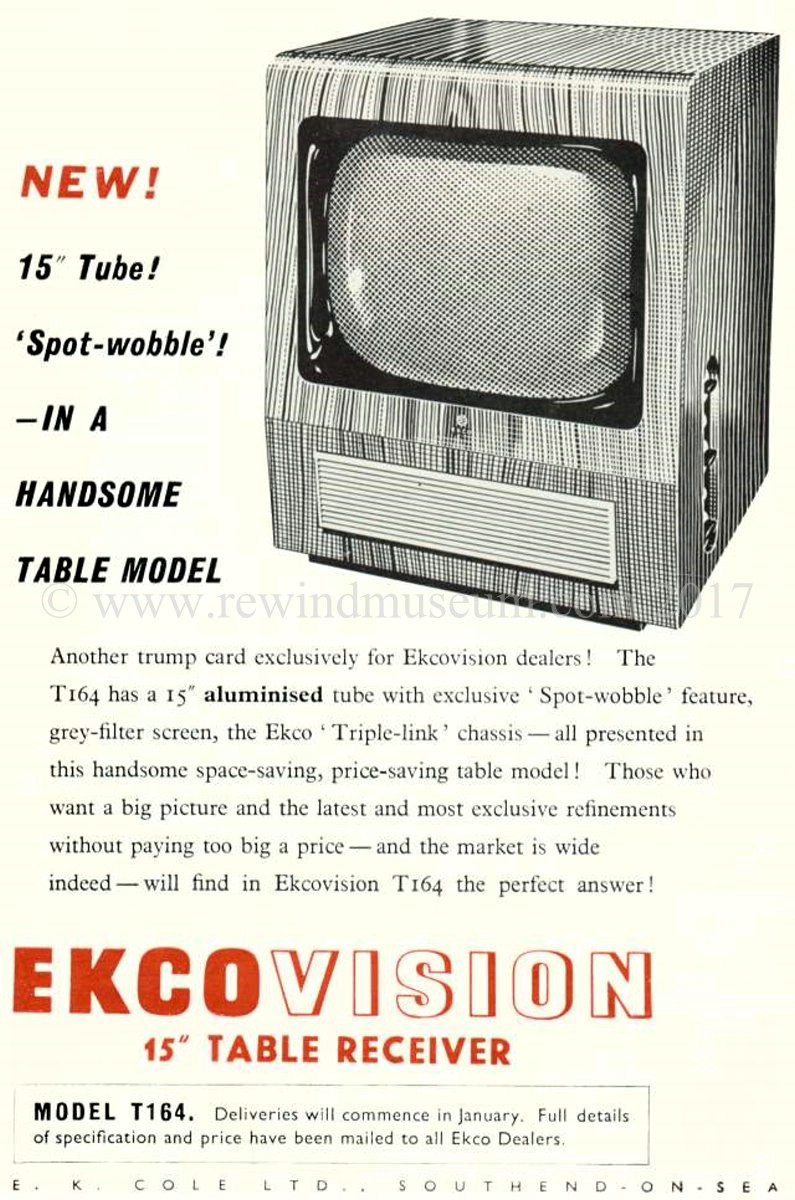 Some pictures were taken indoors in low light and others outside. It is the same TV. This is an
attractive table top model from 1951. The advert below says "Deliveries will commence in January.
That would be January 1952. The set is in good condition. Notice the large lever on the back for
adjusting the focus. Also notice the Ekcovision LGA150 Amplifier. This is riveted to the back panel.
There is a socket for an aerial, however, there is also a different socket on the back of the TV to
plug in either an amplifier if the signal is low or an attenuator is the signal is too high.
Ekco made their first cathode ray tube TV in 1937, There were more new models in 1938 and 1939.
Production stopped during the second world war and restarted in 1946. The B on the end
of the model number is for "Birmingham model" rather than L for the "London model". This is likely to
be referring to transmitters. The BBC transmitted originally from Alexandra Palace in London,
then, in 1949 the Sutton Coldfield transmitter near Birmingham opened to transmit to the Midlands.
This TV must had a tuner set up for the "Birmingham" transmitter.
The TV has a 15 inch "aluminiumised CRT" made by "Mazda", model number CRM153. The set features
a "Triple-link" chassis, "Spot wobble" and "Superhet" circuitry and 18 valves. Once source
quotes the retail price of about £94 but this has not been confirmed. The set was manufactured by
E. K. Cole Ltd., Ekco Works, Southend-on-Sea, Essex UK.
TV started in the UK in 1936 from Alexandra Palace and transmitted to London and surrounding districts
The "Birmingham" transmitter for the Midlands started transmitting in 1949.
This TV was donated by a lady who inherited it from her parents. It had been on a loft for 50 years.
Her parents had moved to St Neots after they were married in 1953 (approx..) This all adds up as St Neots
would have been within the range of the Sutton Coldfield transmitter (near Birmingham) and the date is
about right. The distance from Sutton Coldfield to St Neots is almost 80 miles (as the crow flies) and
this also explains why the set has an amplifier on the back. The TV was therefore owned by one family
from new until it was donation in 2017.
It's good when much of the history of an exhibit can be worked out and all of the facts fit.
TVs, how many were made?
I have always been of the opinion there tended to be more TVs around from 1953 onwards
but it was only when I did the research on the T164 above that a realised the reason.
Before 1949 TV was only transmitted from London and so the TV sales market was quite small.
After 1949 the "Birmingham Area" transmitter started and sales in the midlands forced an increase
in the number of sets being manufactured. Between 1953 and 1955 transmitters started in the north
of England and in Scotland and so once again there was an increase in the number of sets being
manufactured. Clearly sets which are pre-1953 were only manufactured in small numbers.

1955. Ekco TMB272 portable TV.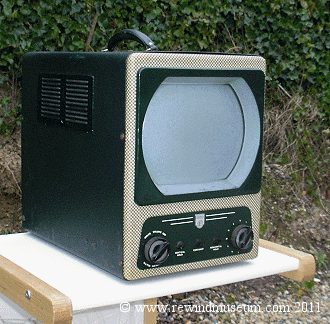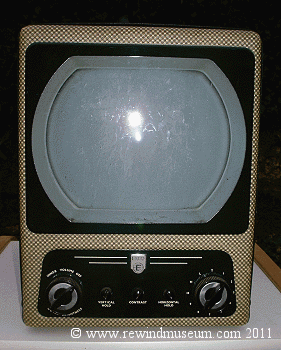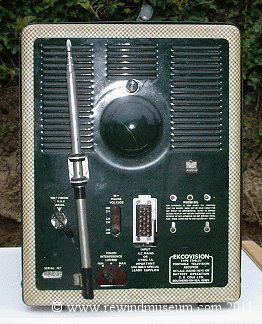 The is an amazingly heavy 1955 Ekco TMB 272 valve (tube) portable TV. This TV was on our stand at the 2006
IOV show and a visitor gave us some interesting information. He used to work for the BBC and in the late
1950 they had quite a large number of these Ekco TMB272 portables. He said they were used as outside
broadcast monitors. TV presenters, in front of camera, liked to see themselves on these
monitors to check the shot was fine.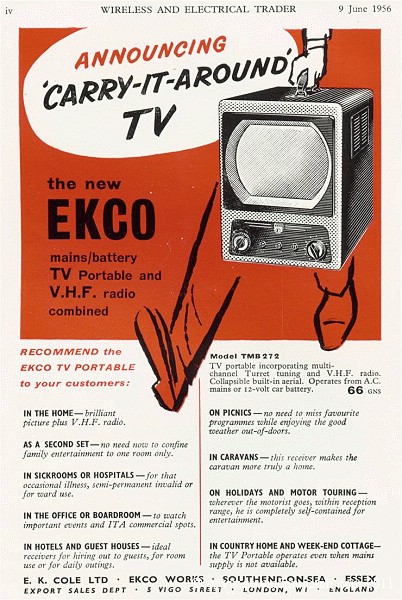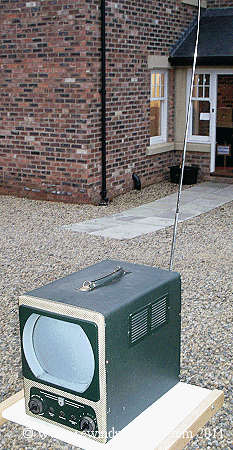 There is an interesting story behind this particular TV. It was acquired early in 2006 and the owner originally
bought it from an antique shop where she lived. This particular shop had been clearing out some stuff from a
house locally. The owner had owned this TV from new and was Richard Todd the actor. He was probably best
known for his leading role in "The Dambusters" film but he stared in many films including "The Longest Day".
During the second world war, in the British army, he did actually participate in the allied invasion of Normandy.
The antique shop was called "Aladdin's Cave" and was in Grantham (UK) where Richard Todd lived.

Background -
When I was a very young, our first set was a 1954 GEC BT1746 3-channel 14-inch desk-top model. This lasted many
years. Always being interested in Electronics, at the age of 17 while in the 6th form at school, I went into
business with a friend in the same class. This was 1968. We bought second hand TVs from a trade supplier, did
a little work on them, if needed, and sold them. We also, on occasion, repaired the teachers televisions. After
a few years I became a teacher and later a University lecturer but little did I know in those days that
eventually, 20+ years later, I would be back in business. This time as the MD of a successful satellite TV
business. Another interesting set I owned was a 1953 Pye console. (Technical stuff - This was a very advanced
set in it's day with a 13 channel switch tuner gated AGC and flywheel Sync.) The chassis was mounted on a
sloping shelf in the console so that is glided out. The coil assembly on the CRT used a complete quick release
spider chassis. It was a dream to service. It was an old set when I bought it in the 1970s but due to it's size
I regret to say that I could not store it. There are few items I have not kept but this unfortunately was one
of them. Recently a very similar 1953 GEC 14-inch TV has been donated to the museum. See below. If you look at
the side of the 1954 model in the advert below you will see 3 controls including a channel changing knob towards
the front. In the 1953 model this control is underneath and is part of a GEC tuner upgrade under the TV set and
was to increase the channels capability from 1 to 3. This was so that viewers could tune into the
ITV as well as the BBC.
1954. GEC BT1746 14-inch TV.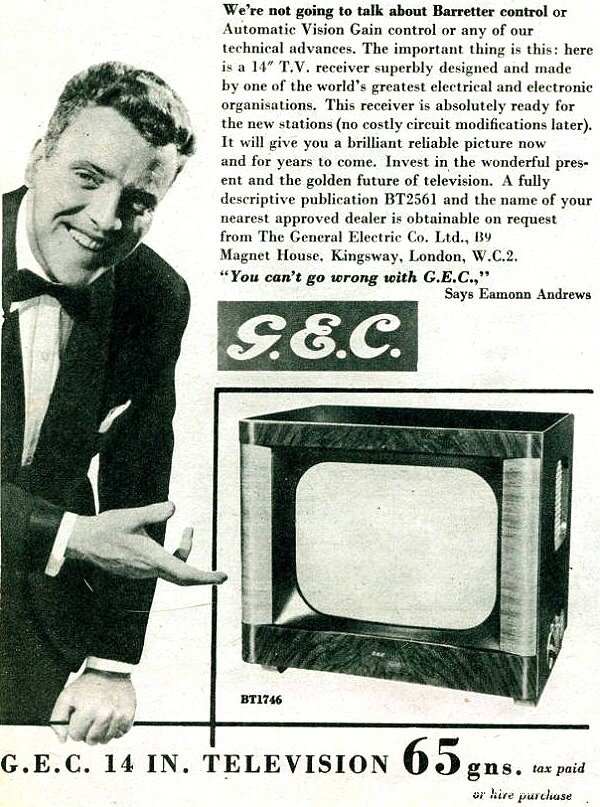 1953. GEC BT5246 14-inch TV.
with GEC tuner upgrade.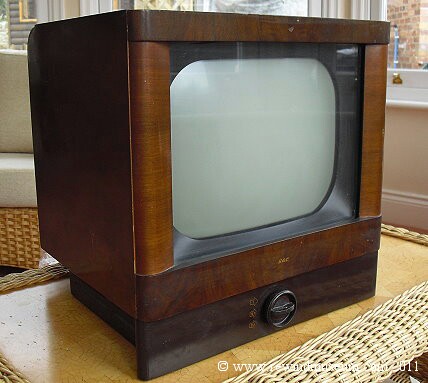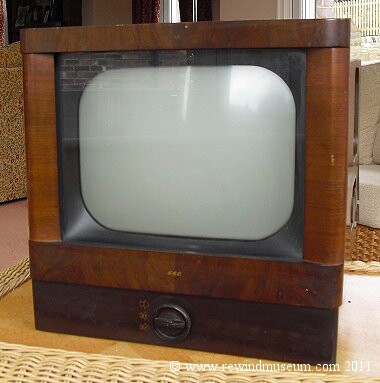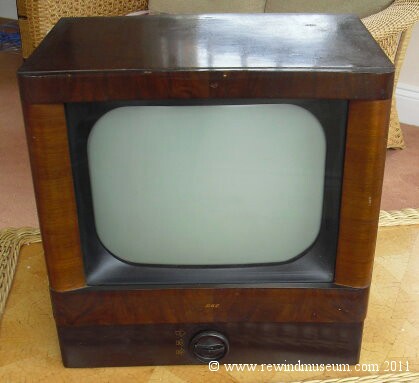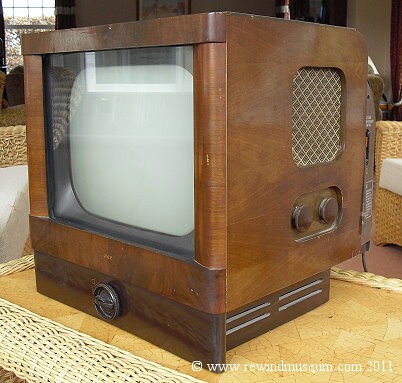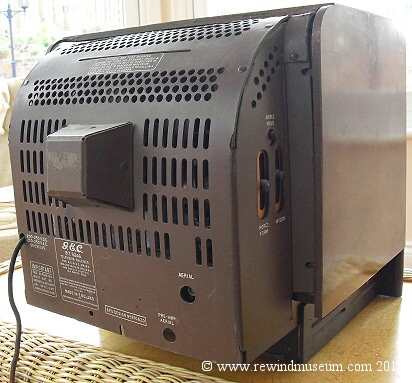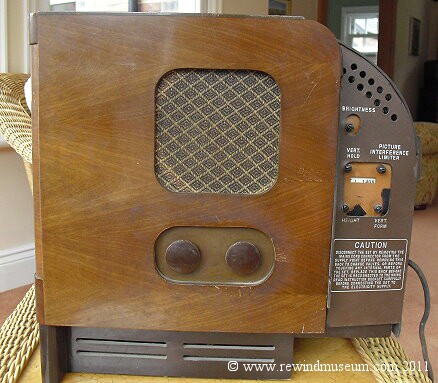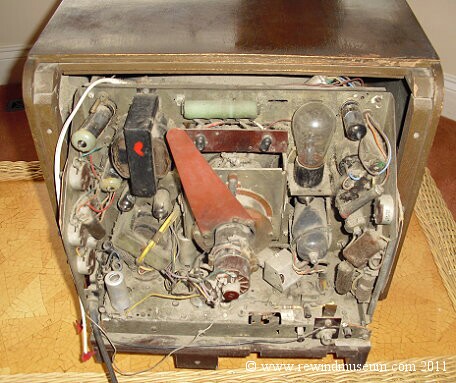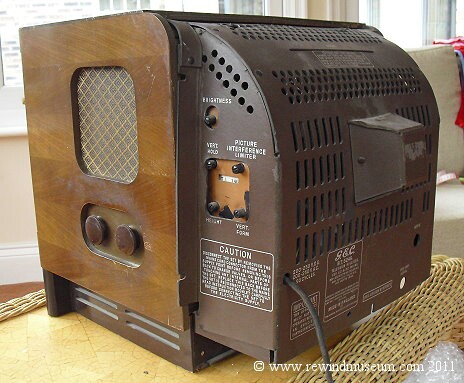 This 1953 GEC 14-inch TV was a single tuner only TV. When ITV started in 1955 owners of this TV
were able to have it upgraded to a 3 channel tuner with the GEC tuner upgrade unit that you can
see under the TV. In 1954 the 3 channel tuner was built into the set and the knob on the front
of this 1953 model was on the side of the 1954 model. (Resulting in three knobs on the side instead of two)
The advert below show the price to be 60gns (£63) for the 1953 model and 65gns (£68.25) for the 1954 model
(advert above). In 1953 and 1954 this was a great deal of money. It is likely that the weekly wage
(manual labour) would have been under £10.00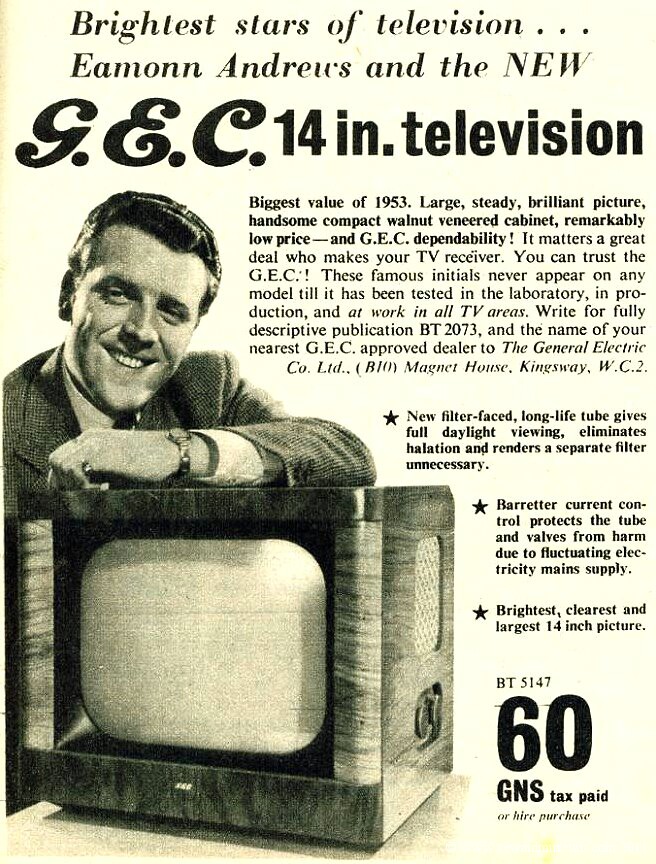 1958. KB Royal Star portable 17" TV.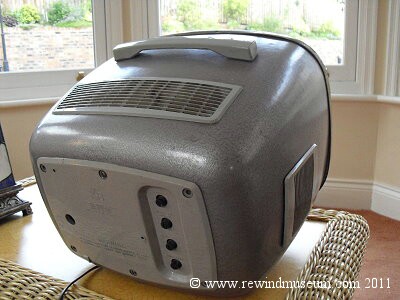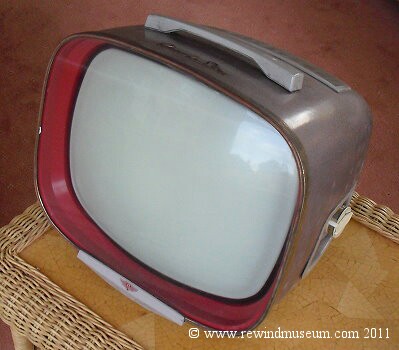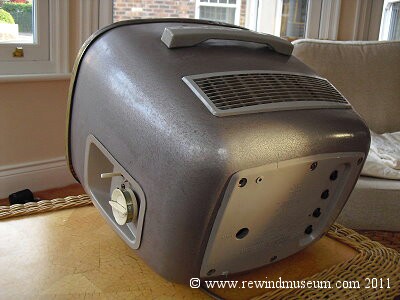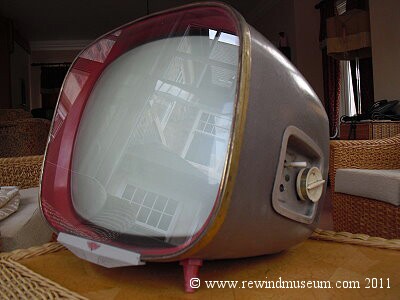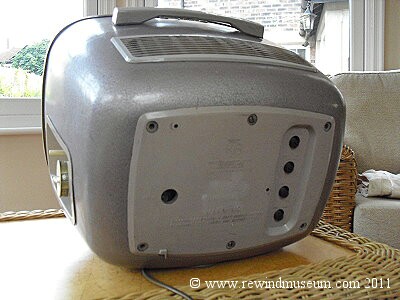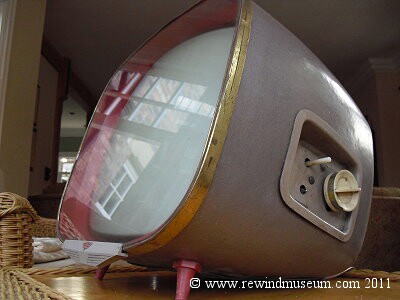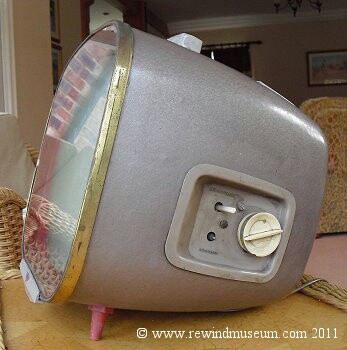 This KB television (PVP20) was classed as portable but weighed 7.5 kg. It does have a lighter fibreboard case
and a carrying handle but like most early "portable" TVs, it was basically a standard TV with a handle fitted.
Apart from the attempt to make a lighter case, the chassis was the same as a desktop model.
The price in 1958 was £44.2s.4d + purchase tax.
KB stood for - Kolster Brandes (Ltd) from Foots Cray, Sidcup, Kent. UK.

1963. The Philips 23TX381A TV next
to the EL 3400 on the front of the
1964 VTR owners manual.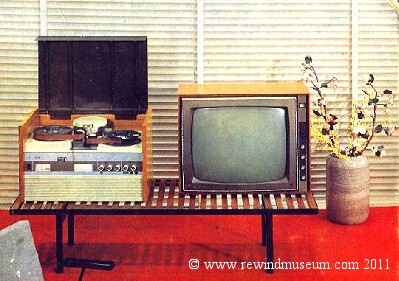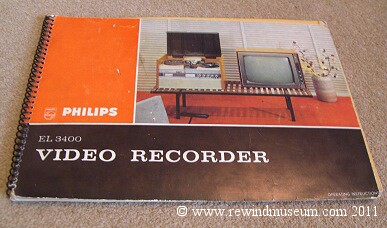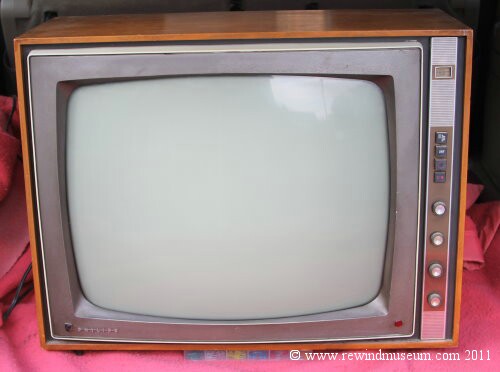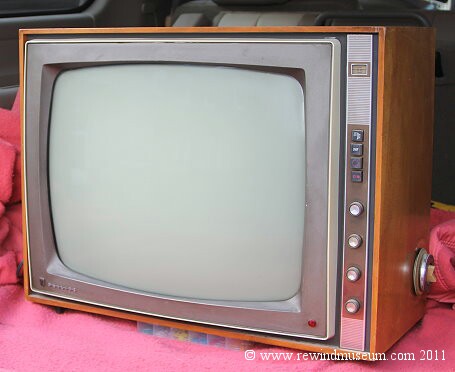 At last we have this old black and white TV in the museum from 1963 and 1964. The plan is to try to reproduce the picture
on the front of the VTR manual showing the
Philips EL3400
alongside the 23TX381A TV, on a table, on red carpet,
with blinds behind (and a plant?).
This is a dual standard 405/VHS - 625/UHF table model containing 23 valves (tubes) and a A59-11W 23" cathode ray tube.
There was also a 23TX400A that looked identical to the 23TX381A. This 23TX381A is in excellent condition.
The Philips 23TX381A 23" TV was introduced in 1963 and was also sold through 1964.
More pictures and notes soon.
Philips TVs from the same era (1964/5).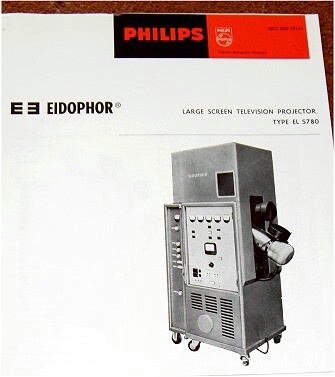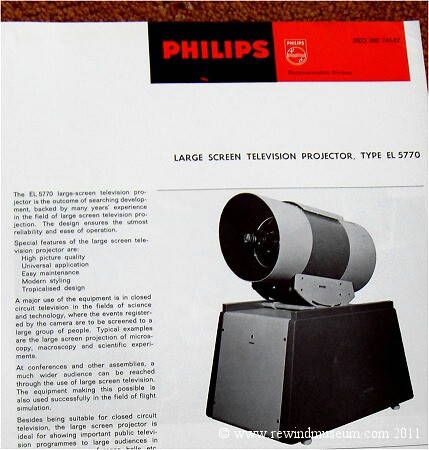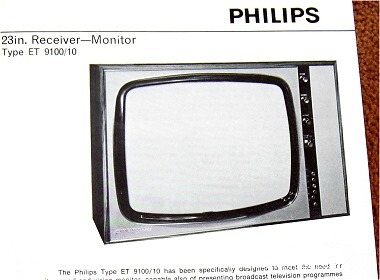 1967. HMV Model 2647
Dual Standard TV. VHF and UHF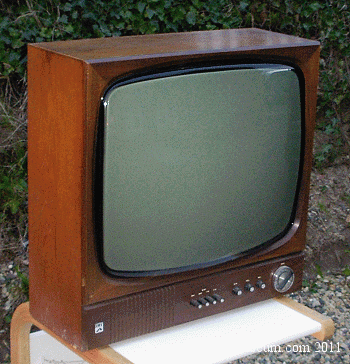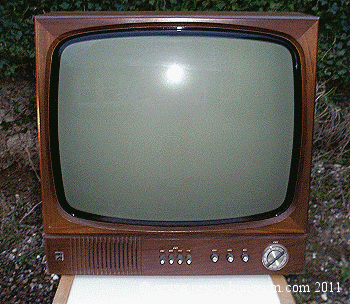 This television was my own TV in the early 1970s. I bought it second hand and used it for many years. It has been stored
ever since and is now part of the on-line collection. It was taken to the first IOV exhibition in 2003 when we had a
stand and the public really enjoyed seeing it. Many comments were made. The service manual and a spare chassis are in
the collection. During it's use in the 1970s I repaired it several times. I seem to remember problems with the system
switching from 405 line VHF to the 635 line UHF being a problem as it was with many duel standard sets of the day.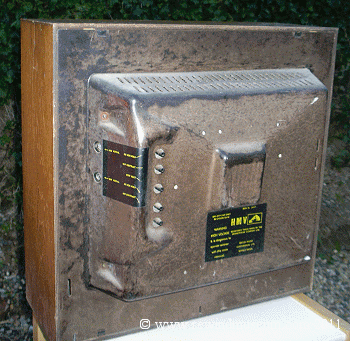 This TV used the Thorn 1400 Chassis and was the same as the Ferguson Model 3652 apart from some minor cosmetic differences
to the cabinet and switches. In particular, the Ferguson had a silver strip behind the controls whereas the HMV was wood
all the way down to the bottom. In my opinion, the HMV has clearer line but then I am biased. The Ferguson Model 3652 can
be seen at
www.tvmuseum.co.uk/
"South West England Vintage Television Museum" on the Black and White TV page.

Mid 1960s. Toshiba 12SBB TV.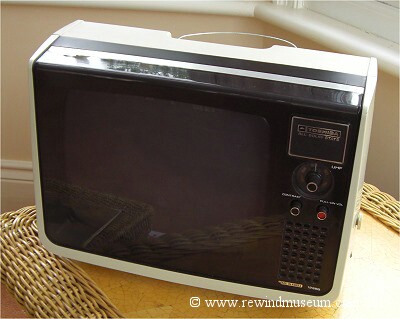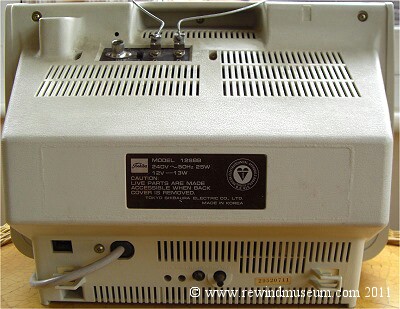 Black and white portable TV.
12 volts, Made in Koria by the Japanise company - Tokyo Shibaura Electric Co. Ltd.
Toshiba merged with Tokyo Shibaura Electric Co. Ltd. in 1939. They became Toshiba Corporation in 1978

1969. Sony KV-1320UB Trinitron
13" (33cm) colour TV.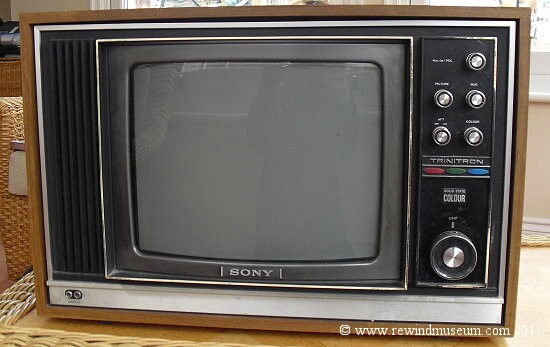 In 1968 the KV-1310 colour TV was introduced by Sony. This was the first in Sony's exclusive range of Trinitron colour TVs.
This model offered approximately twice the brightness of TVs using conventional shadow-mask tubes. Indeed, the design
offered, in terms of brightness, colour fidelity, and simplicity of operation, a picture quality way ahead of any rival
television set. It was a milestone product. The improvements were mainly due to the introduction of Sony's new Trinitron
cathode ray tube. The tube was also flat vertically, a side-effect of the internal vertical wires in the aperture grille,
and this gave it unique and attractive look. The KV-1310 was available first in Japan and the USA. In 1969 this TV was
introduced into the UK with model number KV-1320UB. This model had a PAL decoder for use in the UK. The timing was perfect
as colour TV started in 1969 in the UK! This sample is in very good condition. It is complete with original manuals and
cleaning cloth. This particular set was originally purchased in the UK in 1971. Very nice set and advanced in it's day.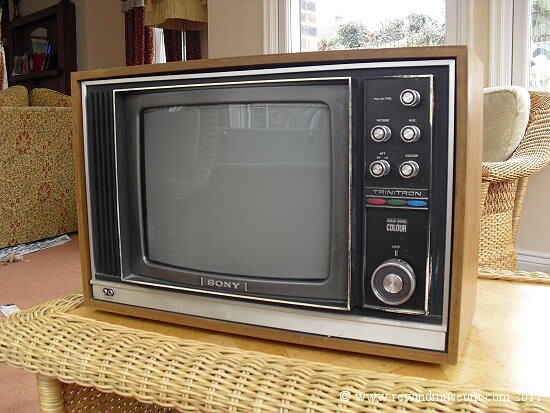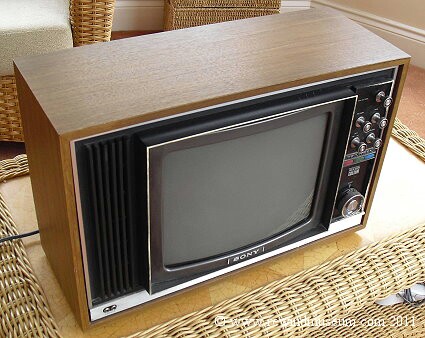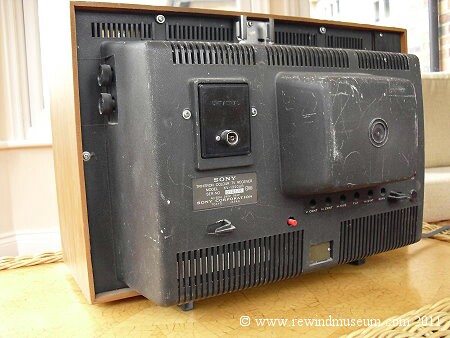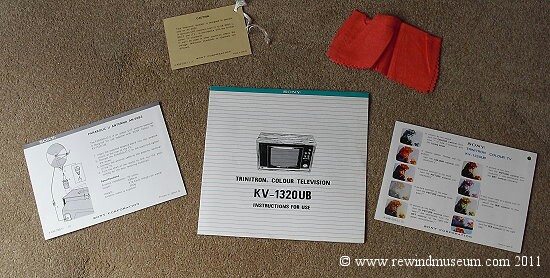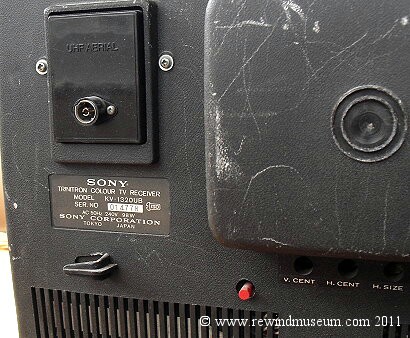 1971. Sony TV-110UK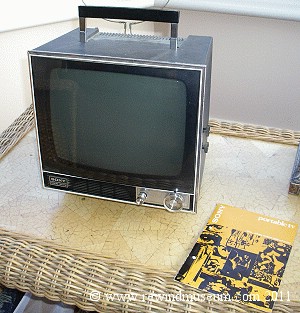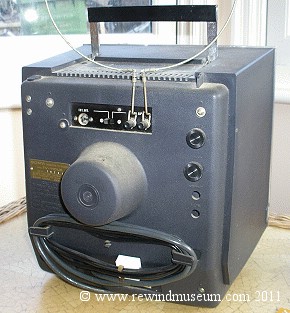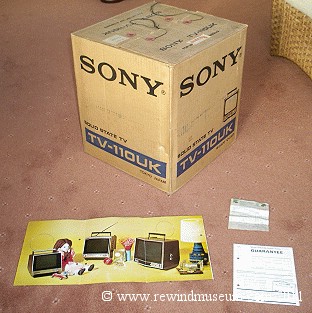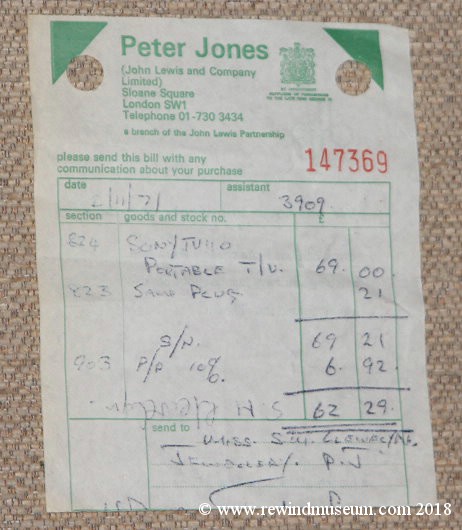 This set was originally purchased on the 2nd Nov 1971 from Peter Jones (John Lewis an Company Ltd.) Sloane Square,
London SW1. It is an ideal addition to the museum as it is exactly the sort of 12 volt / 240 volt small TV that
would have been used with the reel to reel video recorders and the early VCRs of that era (like the ones on this
site). It has an 11-inch 90 degree CRT (Cathode Ray Tube) and UHF tuner. Weight 15lb and 7oz. It is complete
with manufacturers packaging, guarantee card and Sony advertising pamphlet. The receipt shows the TV was
purchased from John Lewis and Company, Sloan Square London for £62.29
The price should have been £69.21 but a 10% discount was applied.

1971. RGD SV237 black & white UHF TV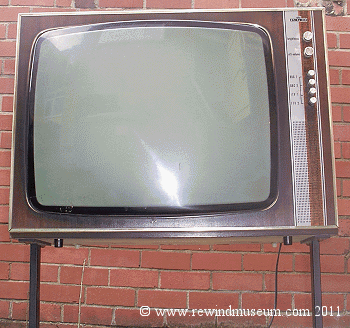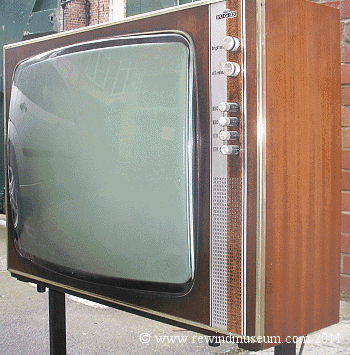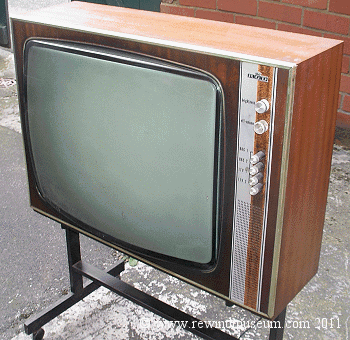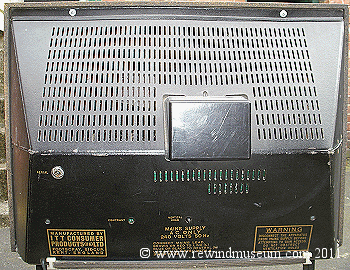 Manufactured by ITT Consumer electronics. This is also a TV that I owned from the 1970s, hence it's inclusion.
An interesting feature is the original purpose built stand that came with the set from new. This is a single
standard black and white TV. Later than the HMV dual standard TV above. Dual standard sets were no longer
available new by 1971 but it was still only a black and white TV. Colour TV started in 1967 with BBC2 and
extended to BBC1 and ITV in 1969 but it was into the mid 70s before colour sets were more widely found in the
home. Black and white sets did continue for many years after the mid 70s but usually only as small portable TVs.

1977. Sony TV-511UK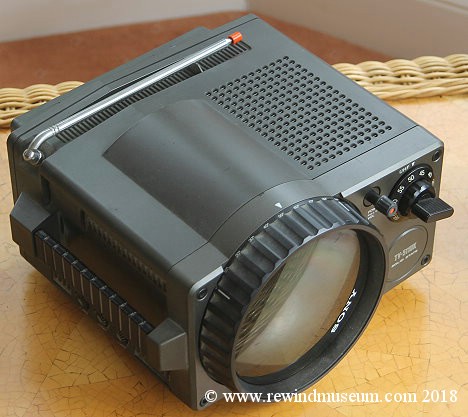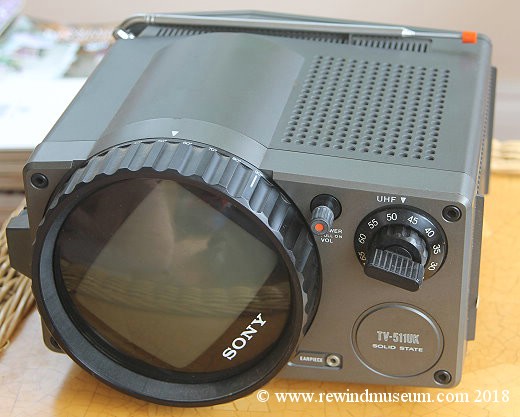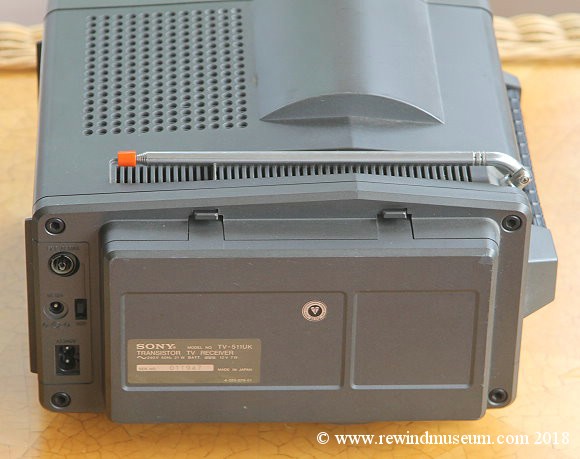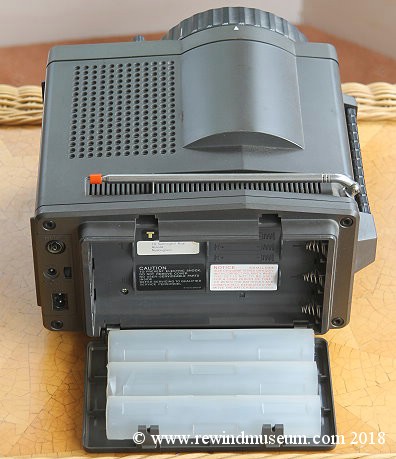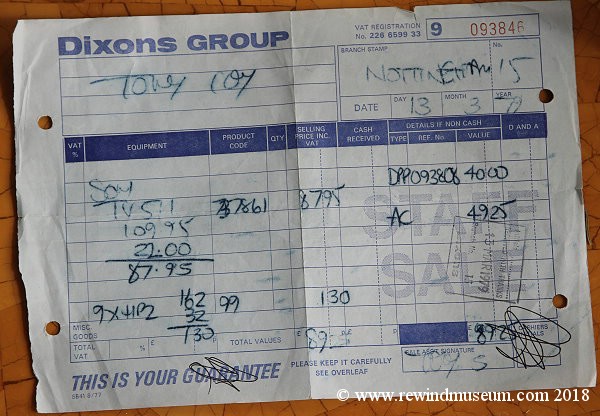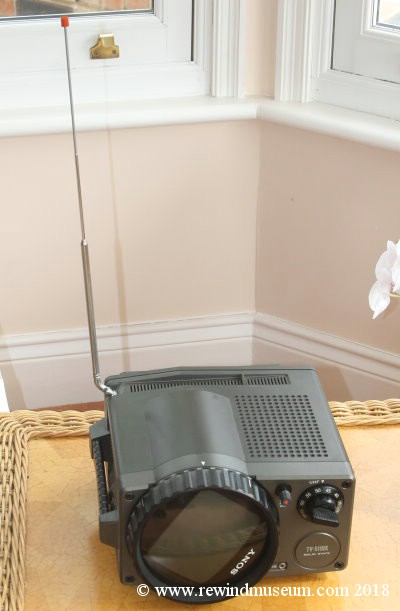 The Sony TRV-511 is an unusual portable television. It has a 5 inch black and white television screen
which is set in a rotating bezel which allows users to turn the screen up to 90 degrees to view the
picture if the television is upright or on its side. It has a pull out aerial and is a strong plastic
case. The batteries are loaded through a drop down panel at the back. This particular set was
purchased from Dixons stores in March 1979 and it cost £89.95

1978. Sinclair Microvision MTV1B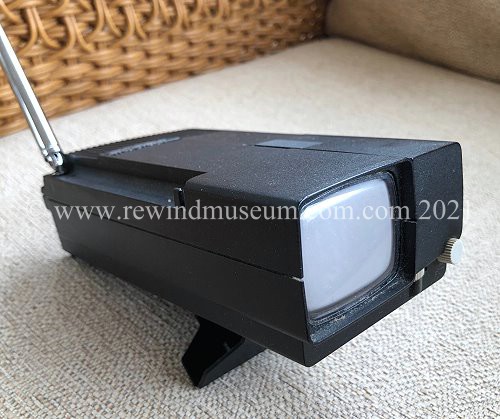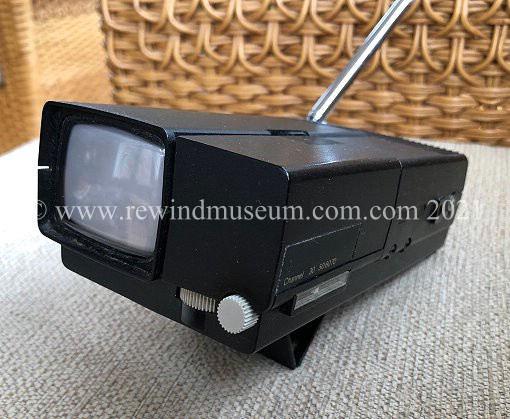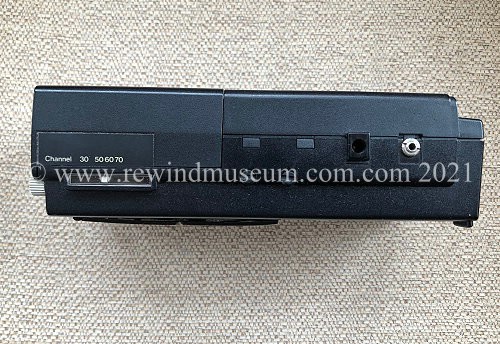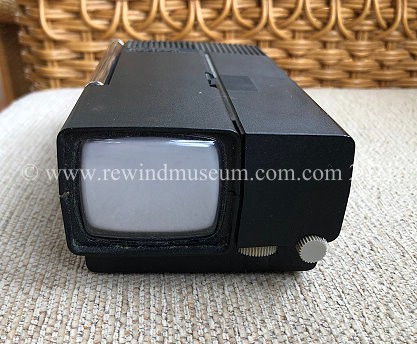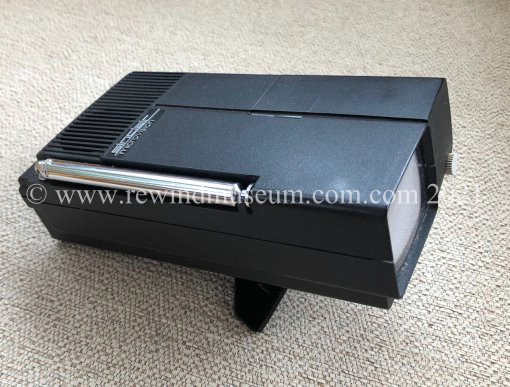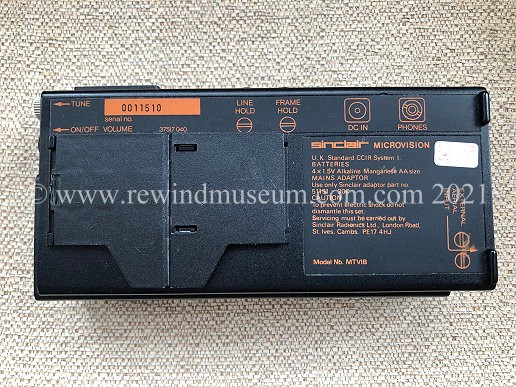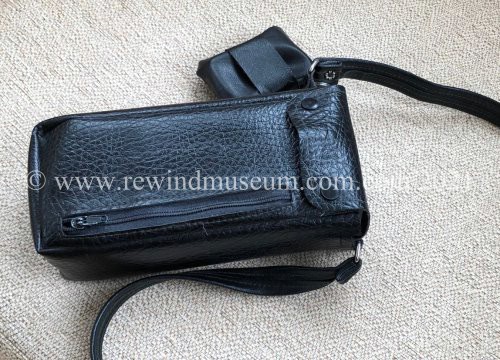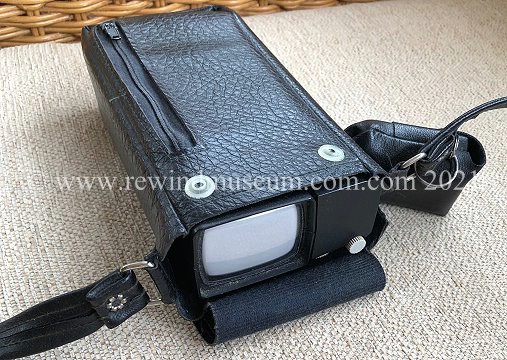 Manufactured by Sinclair Industries Ltd. London Road Cambridgeshire England.
We have a section below about "Pocket TVs" (in the 1980s). This TV might have fit into a large pocket but mostly is too big
to be in that section. This uses a 2" CRT (Cathode Ray Tube) whereas the pocket TVs use early flat screen displays.
The Sinclair TV FTV1 using a modified CRT with side entry electron guns and by the late 80s, pocket TVs used LED
flat screens. At the time, this was the smallest TV in the world and was powered by 4 x AA batteries (6V).
Development started in 1968 and the first sets, the MTV1A in 1977 were sold in the States for $400. The
cost of the MTV1B in 1978 (U.K) was £99 and that would equate to £600 in 2021. An expensive TV.
It sold reasonably well for 2 years. Overall this TV was a loss maker for Sinclair Industries.
Many were later sold under the cost price to clear them.

1987 Sentra STX600TV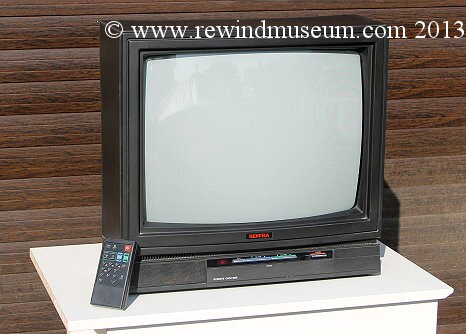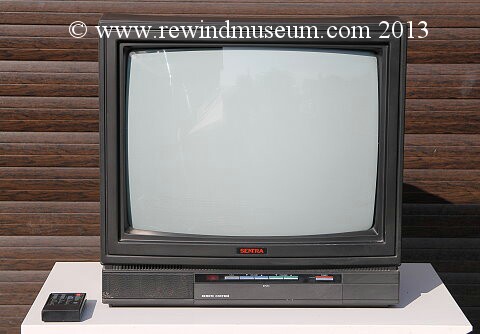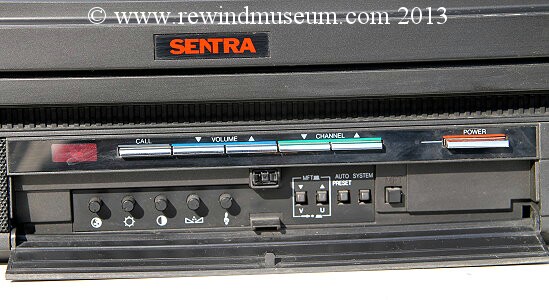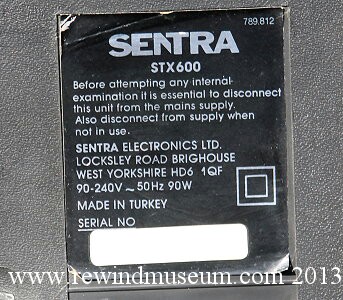 There are two of these Sentra TVs in the museum. I purchased one from new from the "Makro" store in Washington UK.
After reading an article by
Roger Bunney
in "Television" magazine when he commented - "these televisions are
multistandard, PAL, SECAM and NTSC (with all NTSC variants) and at a good price" (about £160) - they were
purchased. Sentra were a British company but they badged many products. These TVs were made in Turkey. I
purchased the second Sentra 600 TV was purchased from the Gateshead branch of the "COOP in April 1990 for £179.95.
We do have another small portable Sentra TV in the museum and that is
below
.

Pocket TVs


1983. The Sinclair Pocket TV FTV1.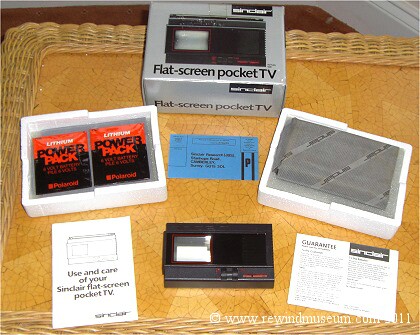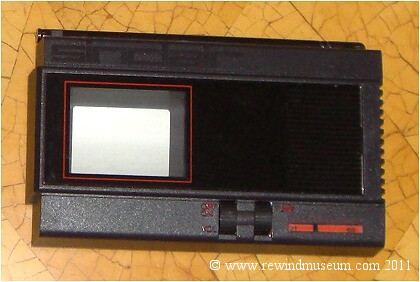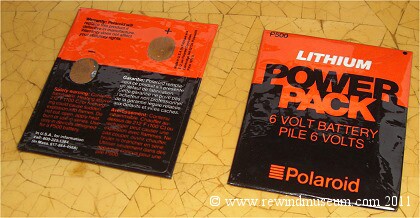 The Sinclair pocket TV set was officially launched on September 16th 1983. It was only available direct by mail order.
The price was £79.95 (inclusive of VAT and delivery) with the Polaroid flat batteries at £9.95 each in packs of three.
The set was less than 1/2 of the price of the Sony Watchman (1982). The set has a 2in. cathode ray tube (CRT) screen
and weighs 9½oz. The Sinclair Pocket TV was multi-standard with auto switching between most u.h.f. standards worldwide
(except for SECAM). The circuitry is mostly contained within a single integrated circuit which was manufactured by Ferranti
but was developed by Sinclair Research and Ferranti. The flat-screen tube was manufactured by Timex and the set was
assembled by Thorn. The Sinclair flat-screen TV has the electron gun at the side of the screen, emitting electrons at
right angles to the line (plane) of vision. The phosphor coated screen is at the back of the tube, not the front. This
made for a very compact CRT compared to the type of CRT in normal television sets where the electron gun is directly
behind the screen and tend to stick out of the back of the set. An article in the November 1983 issue of Television
Magazine announced the arrival of the Sinclair Pocket TV.

1987. Casio Pocket TV-400.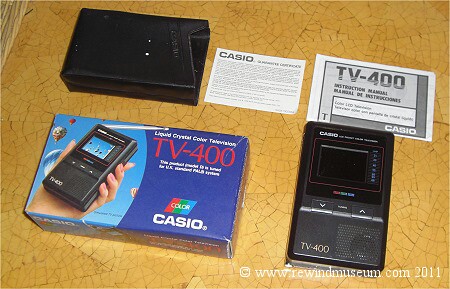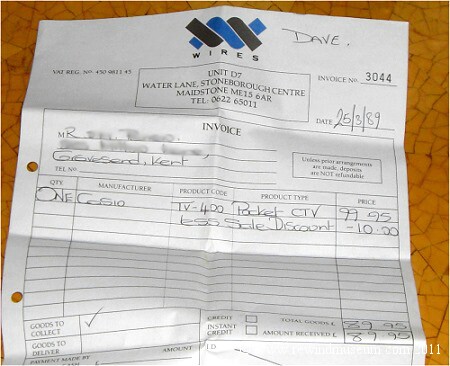 The first portable mass-produced TV with liquid crystal screen (LCD) was the CASIO TV-10 (1983) and in
May 1985 the Casio TV-1000 was launched in Japan, this was the first pocket TV with a Colour LCD. The
TV-400 was introduced in 1987 and this sample was purchased in 1989. See invoice above - price £89.95.

1988. Sentra CTV 2000 12V TV.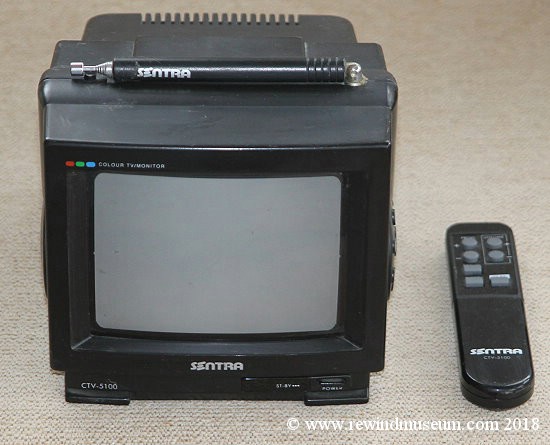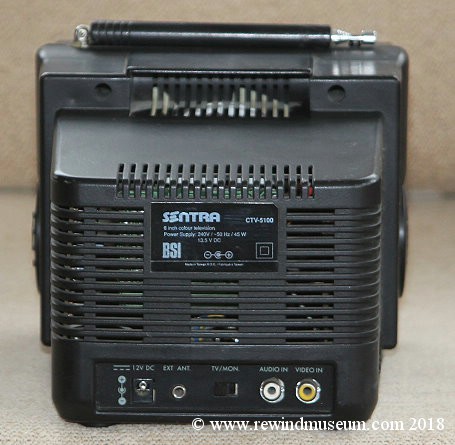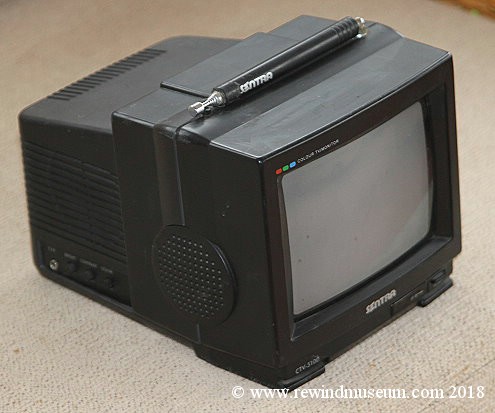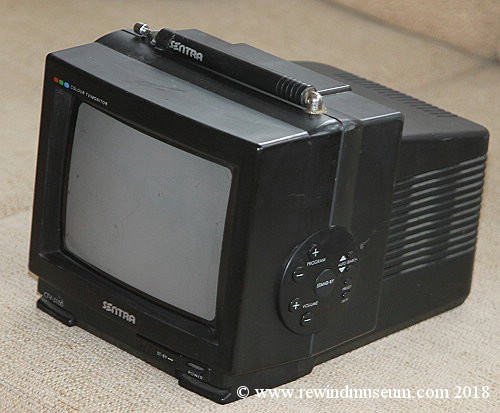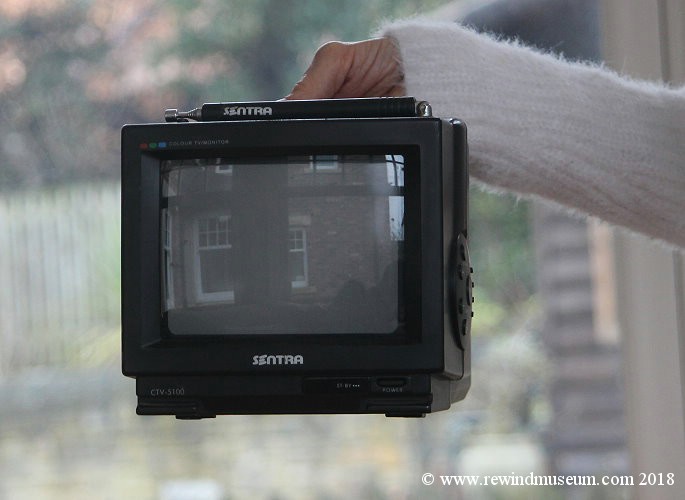 Sentra CTV 2000 6-inch CRT screen colour TV. This TV will work on 12V. I have owned this TV from new. It was
sometimes used within the video production business we had at the time when out on location (although usually
larger monitors were used in venues) but in particular it was used during holidays in the late 80s -
In those days we had 2 young children and on our long caravan holidays in Europe we would use this TV and the
Alba VCP 2000
VHS video player. These two units were stuffed between the front seats and play children's
videos to the kids in the back seats of a 2.8L Mk2 Granada GL. This kept them happy during the long drives.
These days that might not seem to be very unusual but back in 1888 - 1994 I doubt if anyone else actually did
this. A particular favourite with the kids were the old "
Blondie
" movies and of course Tom and Jerry. We had
been known to drive many hundreds of miles in a day towing the caravan and this entertainment kept them quiet!
Once again we are towing the caravan and last year and later this year (2018) once again we are carrying the
(grown up) kids and grandchildren (big American SUV with 8 seats). Trouble is, children these days tend to
want to watch "rubbish" on the TV but anyway it still helps to keep them quiet. We do have another Sentra TV
in the museum and that is
above
. Sentra were a British company but they badged many products.
Sentra products were usually available through "Makro" stores. The Abla VHS video cassette player is also below.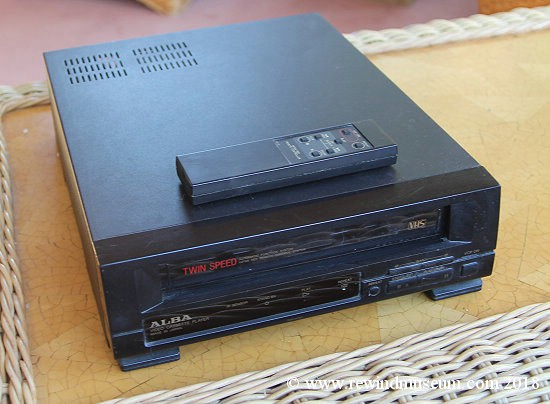 Mid 1980s. JVC TM-P1 Compact
Colour Video Monitor.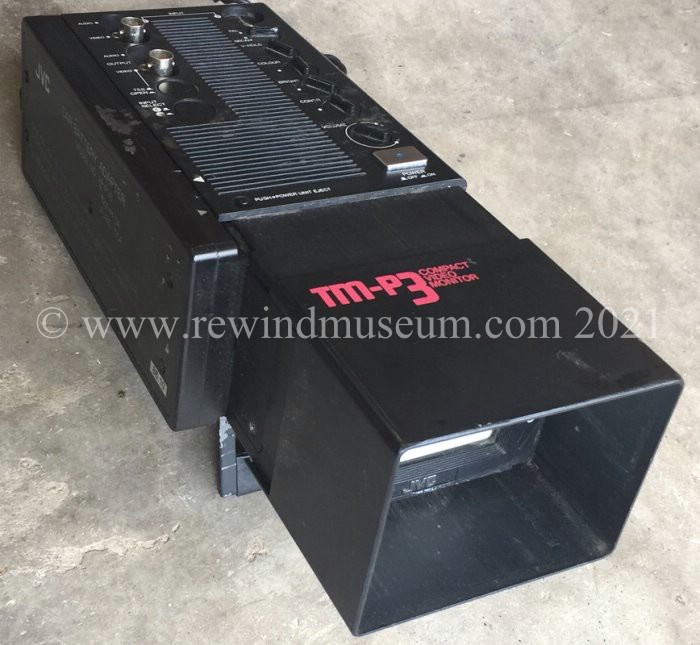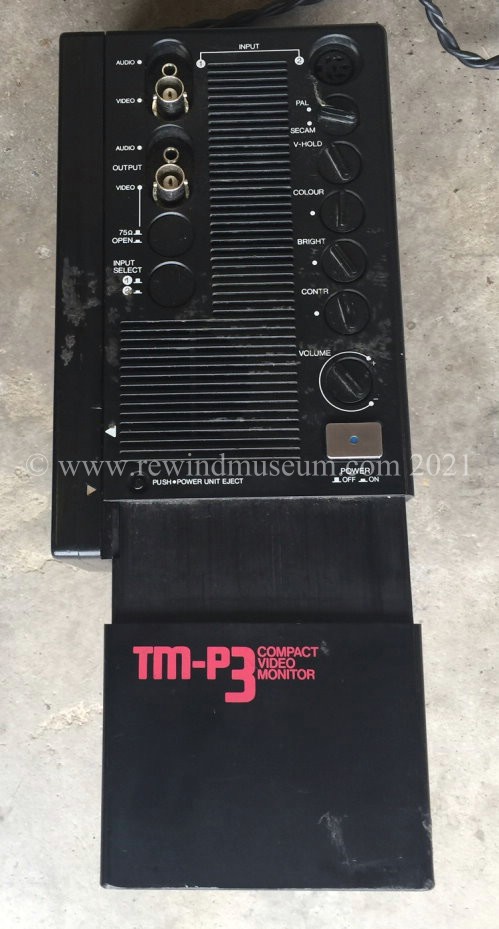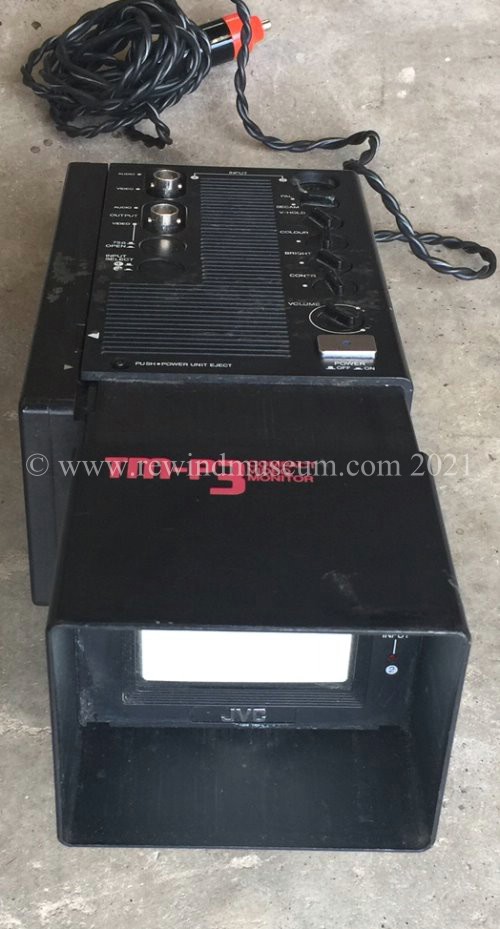 Designed for use as a monitor to accompany portable video equipment. 12V working. Colour CRT.
I purchased this second hand in 1990 approx. therefore it would be fair to date it mid 80s. I am pretty sure
I paid £50.00 for it. It came in a canvas bag with a strap and could be used in the purpose made bag.
You can see above from Casio that from 1987 onwards, small LCD monitors started to become available.

TV Magazines and books.


1946. Wireless World. July 1946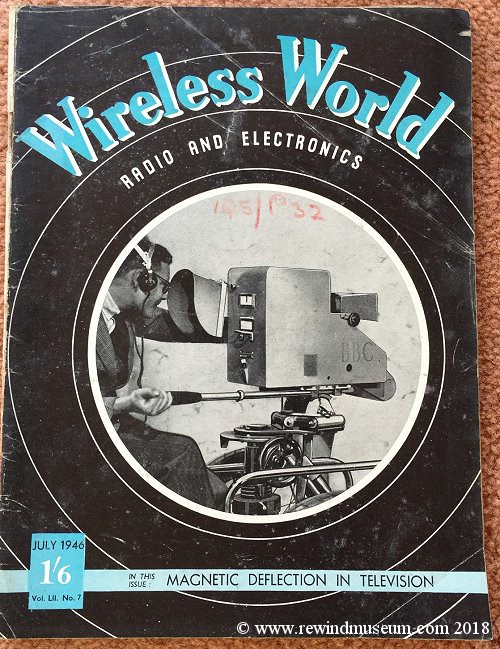 There is an excellent picture of a BBC camera on the front on this magazine.

Wireless World. September 1948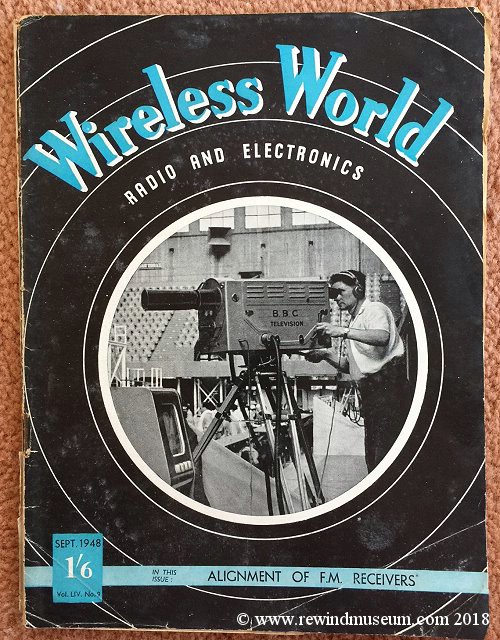 There is an excellent picture of a BBC camera on the front on this magazine.

Practical Television magazine. June 1950.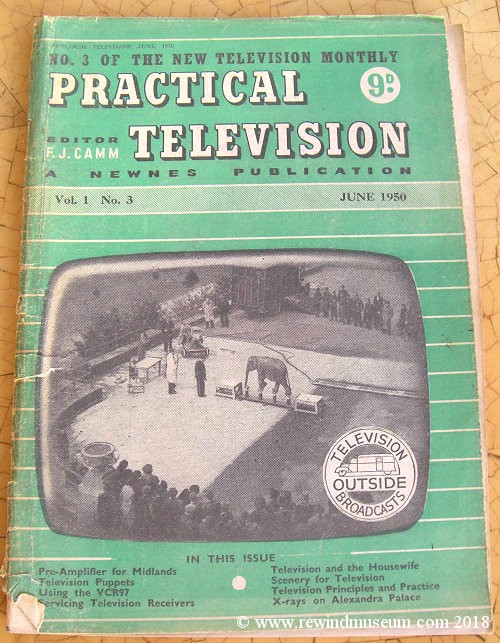 Volume 1. Number 3.

Popular Science Magazine 1971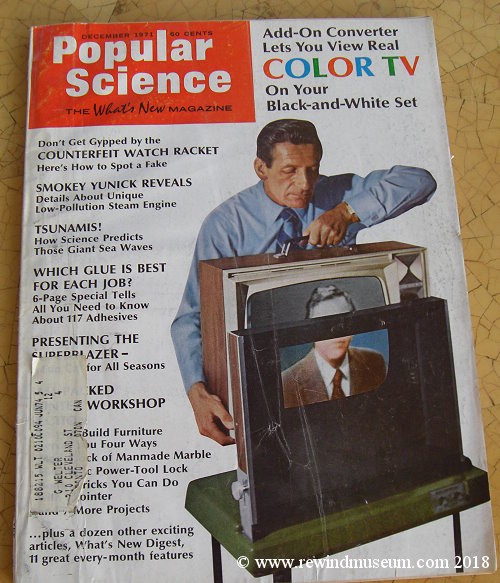 An interesting new invention??

Practical Wireless magazine January 1971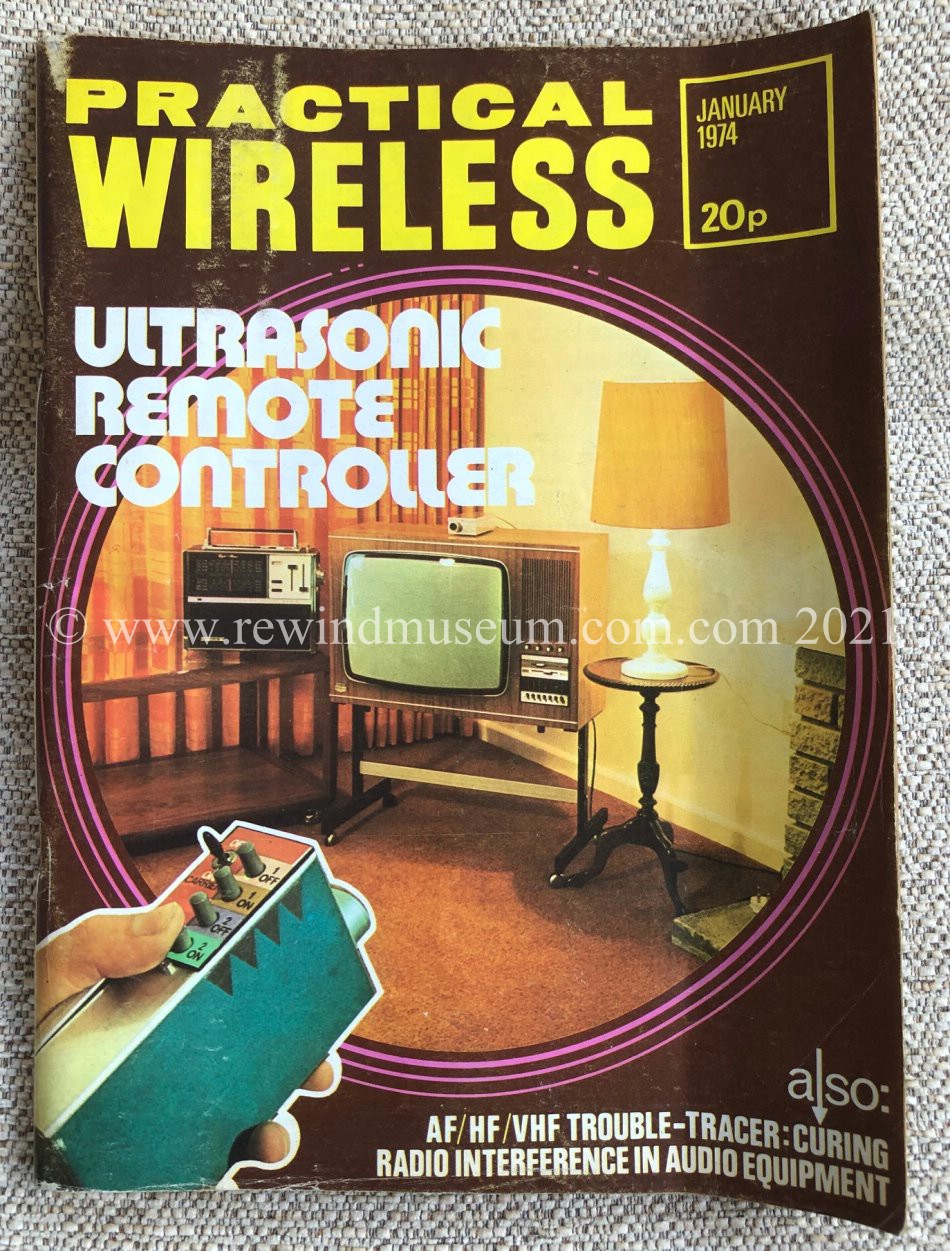 An early remote control. Build your own remote project.


Making a donation.
The Rewind Museum is a non-profit making endeavour. The web site and the touring exhibitions are run on
a voluntary basis. Donations,
not money,
just old items you no longer want, are always welcome.
If you have something that you think would be of interest, please contact us with the details.
We can send in a courier to pick them up. (Even an international courier). Thank you.
Please note - The Rewind Museum site has been archived by the British
Library so that future generations can always access the site's content.
To talk to us about making a donation please go to - "
making a donation
".

Are you interested to read about a 10 year + restoration of a classic vehicle?
If so go to -
www.1952chevytruck.com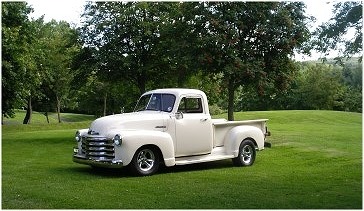 The 1952
The 1952 Chevy truck
web site.

Link to our main site. Satellite TV.
Rewind Museum is sponsored by Vision International. Note. One of our businesses, Vision International (established 1991)
sponsors
Rewind Museum
and
Satellite Museum
including financial support for this web site. Vision International
is one of a group of businesses which we have in the field of Satellite TV.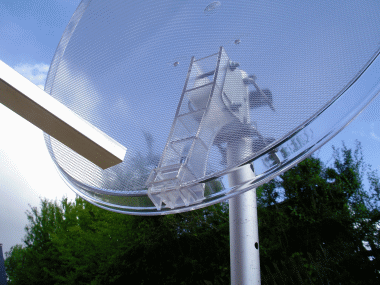 Tune in an extra 10,000 channels? Watch the world? Links to some of the Satellite Superstore pages are below,
Sky Receivers
Freesat Receivers
All satellite receivers
Fixed Dishes
Transparent Dishes
Motorised systems
LNBs
Multiswitches
Caravan satellite
Satellite finder meters
Installation equipment.
Catalogue of all satellite products.
Rewind Museum web site is maintained on a non-profit making voluntary basis.
Our main business website is at
www.satellitesuperstore.com
.
Our main business is satellite TV and we are a specialist satellite company. We
supply satellite goods in the UK and worldwide including fixed and motorised satellite
systems, multiswitches, instrumentation, accessories and installation equipment.

Web site copyright © 2018 Vision International. All rights reserved.
For all questions & comments about this site's content
contact Dave
at Rewind Museum.