Museum of early consumer electronics and 1st achievements
www.rewindmuseum.com



More vintage electronics devices.
This page also includes some vintage still cameras.
"VP Twin." camera" 1935 / 37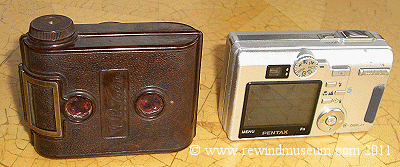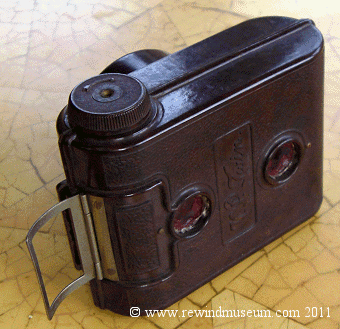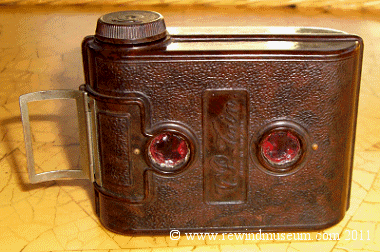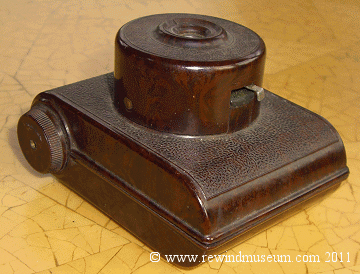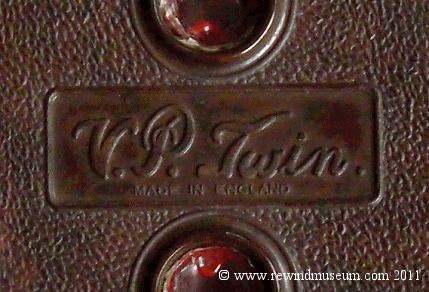 VP Twin - so called because it took two photo's per frame on vp film
All of the notes about this camera are in the letter at the bottom of the page
but here also are a few details. (A modern small digital camera is included to show how small it is.)
Like the Sony CVC-2000 (1st domestic video camera) from 1965. this camera used a hinge out
metal frame view finder. The camera was donated to the museum by Martin Bloodworth who bought
the camera for one shilling and six pence from "Woolworths" stores in 1936. Like the pound stores
(or dollar) stores of today, nothing was sold in Woolworths in 1936 that was over 6 pence.
(Six pence is 2 & 1/2 new pence (UK) or 5 cents (US) - One Shilling and six pence is 7 & 1/2
new pence (UK) or 15 cents (US)). To get round the six pence max. problem, Woolworths
sold it in 3 parts! (It was purchased from Guildford High street branch. UK)
The VP Twin camera was a bakelite camera. It used 127 rollfilm to give 16 exposures.
Each exposure was 5/8" x 1¼". It was manufactured by E. Elliott Limited in Birmingham UK.
The Woolworths web site also details this camera and mentions that a film with developing
was 7d. i.e seven (old) pence (about 3 new pence (UK) or 6 cents (US)) They also say
that it was sold in the 1930s.
There were later models but this one is the Mk1, first ever, VP Twin camera. They were
either black or coloured. This one is brown. No idea if any other colours were available
but the coloured models are the most rare and sought after by museums and collectors.

Minetta Camera 1960 / 65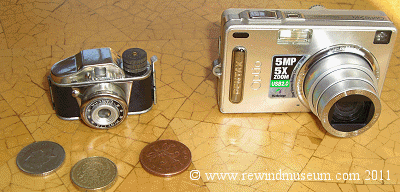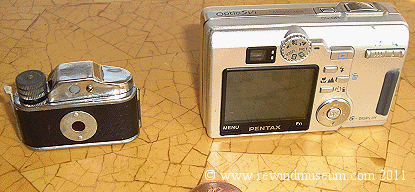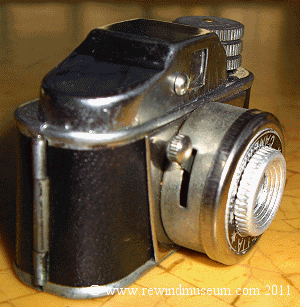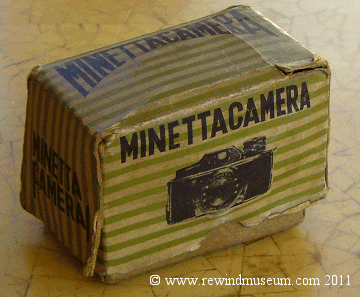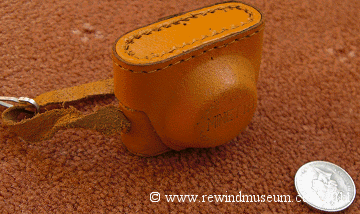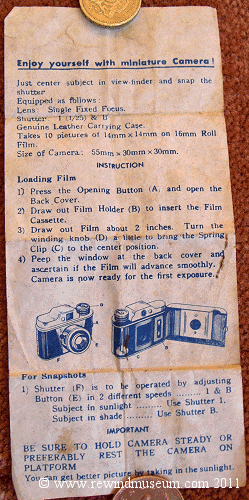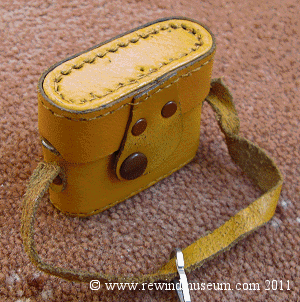 I bought this camera from new, a shop in Gateshead (UK) when I was young. Probably I was about
12 or 13 years old. This would make it 1964 or 1965 approx. Other web sites put the camera at
about 1960 or early 60s and so the date will be close to that estimate. I was taken with it's
small size. Unfortunately I cannot remember how much I paid for it. Maybe about 40p (80 cents US)
in todays money (maybe about seven shilling and sixpense) but not sure. Kept it all these years
and now it is included here. There is a fare amount in information about this camera on the web.
It was produced and badged under a number of different brand names.
The Minetta camera is called a (HIT type) subminiature camera. It was made in Japan around 1960.
It takes 17.5mm film which produces a 14x14mm image.
From the instructions above we see it had 2 shutter speeds and the film took 10 pictures.

Kodak Brownie 127 camera. 1952 - 59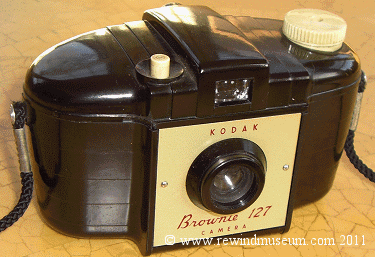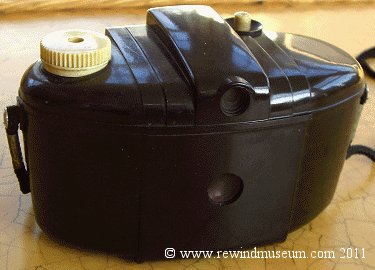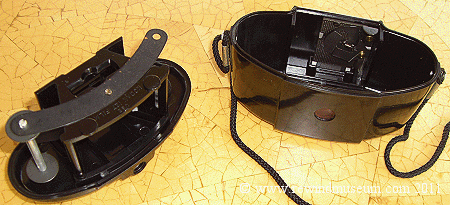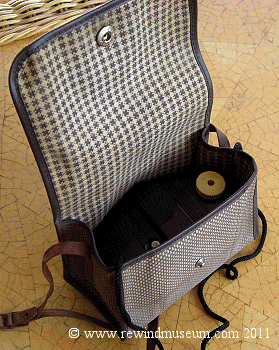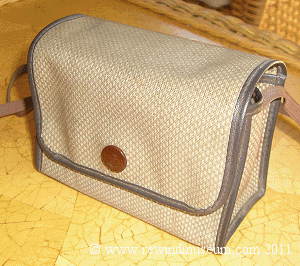 This was my first camera. I did not buy it, it was given to me when I was a boy. Not sure if
it was new, or handed down but it would have been mid. to late 1950s. I used the camera at
that time and it produced good results. It came with an original case and I also have the
original box and an original Kodak 127 film (pictures of these will be added to the site soon.)
The camera is made of bakelite. Millions of these 127 Mk 1 cameras were made between 1952
and 1959. Kodak introduced the 127 film in 1912 and it continued to be produced until the
late 1960s. The picture size was 1 & 5/8 X 2 & 1/2 inches. It was manufactured in the UK
but some were exported to America where it first sold for about $5.00 The lens was an
f/14, 65mm and shutter speed 1/50s. Even by 1954 over 1,000,000 had been sold.

Polaroid Super Swinger camera. 1972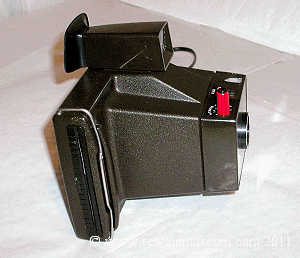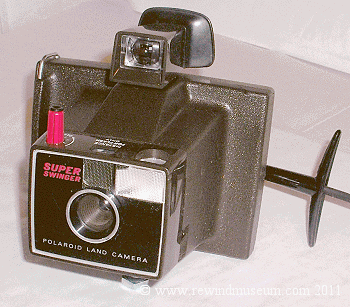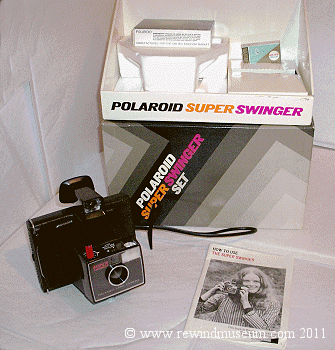 This camera was donated to the museum in 2004. It is boxed and complete.
This type of camera prints a picture while you wait.

AVO Type 4 valve multimeter. 1933/34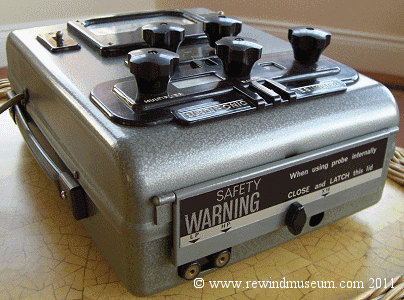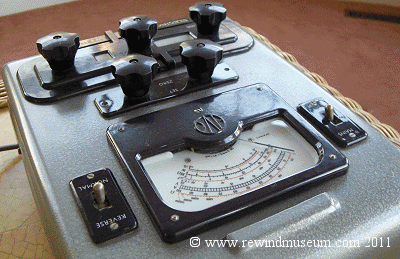 There is also an original manual which will be added to the site soon.
I bought this from a friend in 1980. He was quite old at the time. He died in 2000.
This unit was made my AVO Ltd. London England. In those days it was called an electronic
testmeter. These days the "multimeter" is a more common description.

Sinclair Cambridge Calculator. 1973-77
The first Sinclair calculator was the Sinclair Cambridge. There were 4 types.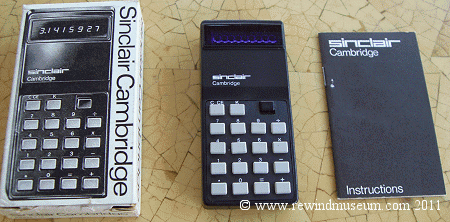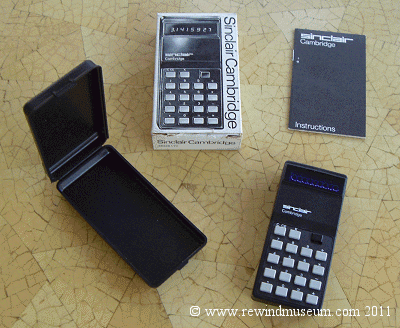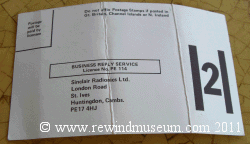 The type 1 was from 1973. This is a Cambridge type 3 probably from 1975.
It is complete and perfect in original box and instructions.

This page will also contain -
Early calculator,
a Sinclair Cambridge. Never used in perfect original box and instructions.
Early video titling system.
The vintage GSE MPS 2000 Pro editing stand alone "Multi Production Editor" system.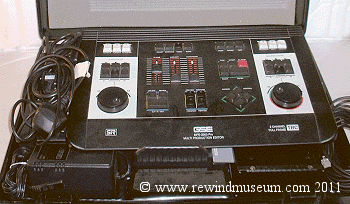 Instrumentation,
Early multimeter

Pinhole camera and ejector seats.
This letter was sent to us with the "JP Twin" Camera and was so interesting it is included for you to read.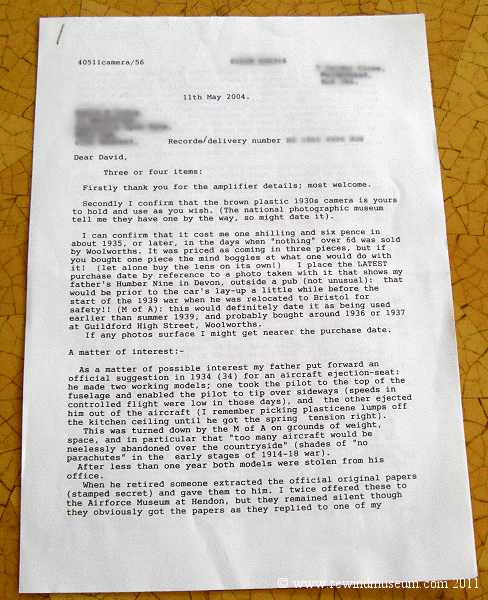 Who really invented the ejector seat used in aircraft?


Making a donation.
The Rewind Museum is a non-profit making endeavor. The web site and the touring exhibitions are run on
a voluntary basis. Donations,
not money,
just old items you no longer want, are always welcome.
If you have something that you think would be of interest, please contact us with the details.
We can send in a courier to pick them up. (Even an international courier). Thank you.


Link to our main site. Satellite TV.
Sponsored by Vision International.
Note. One of our businesses, Vision International (established 1991) sponsors the
Rewind Museum including financial support for this web site.
Vision International is one of a group of businesses that we have in the field of
Satellite TV. This is a link to our sponsor.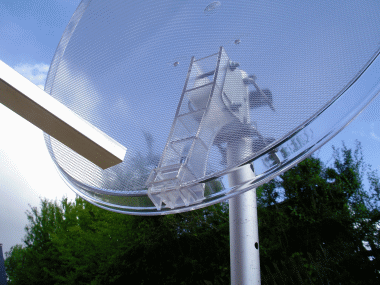 tune in an extra 8000 channels? Watch the world? Links to some of the pages are below,
Sky Receivers
Freesat Receivers
Transparent Dishes
Motorised systems
High Definition Receivers.
Caravan satellite
LNBs
Catalogue index page of all satellite products.
Technomate
Installation equipment.
Satellite finder meters
The Rewind Museum web site is maintained on a non-profit
making voluntary basis. Our main business website is at
www.satellitesuperstore.com/cat.htm
Our main business is satellite TV and we are a specialist satellite company.
We supply satellite goods in the UK and worldwide including fixed and
motorised satellite systems, accessories and installation equipment.

Web site copyright © 2011 Vision International. All rights reserved.
For all questions & comments about this site's content
contact Dave
at Rewind
Museum (We only accept questions in English. We do not open attachments.)