Museum of early consumer electronics and 1st achievements
www.rewindmuseum.com



Vintage Hi Fi Amplifiers.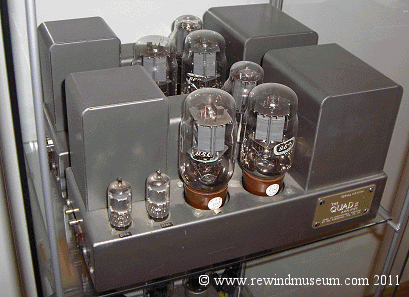 As a teenager I was a Hi Fi enthusiast. Indeed I built a radiogram from parts when I was 14 years old.
Most of the exhibits on this page were either owned by me from new or were bought second hand long
before the advent of e-bay or home computers

The Williamson valve amplifier.
We have complete set of parts to make a pair of Williamson valve amplifiers.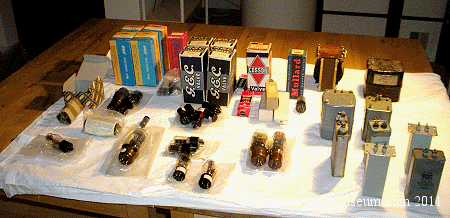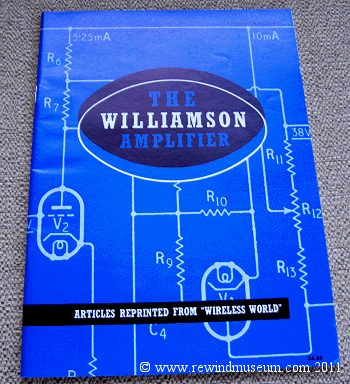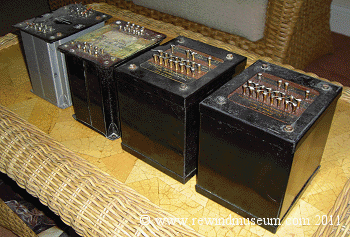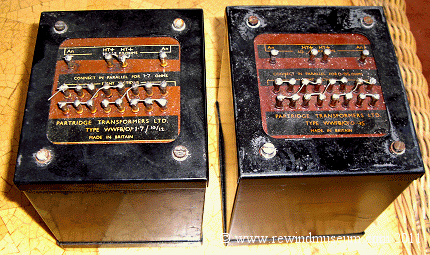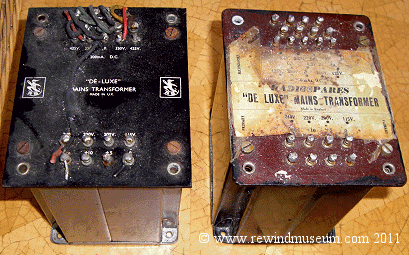 Shown above is a pair of Williamson output transformers and a pair of Williamson mains transformers.
and many other items. These Williamson parts have been in the collection since 1992.
These include,
Partridge output transformers built to Williamson specifications (also see advert below).
RS components (used to be called Radiospares) mains transformers built to Williamson specifications.
GEC KT66 valves including matched pairs. Oil filled capacitors and chokes.
No museum would be complete without the Williamson amplifier. The Williamson papers were
printed in 1947 and it is the most famous and important valve amplifier design of all time.
It used the new GEC KT66 triode valve (tube) that was developed by GEC just before WW2
The valve was restricted to military uses during the war but was absolutely ideal for
audio use. Williamson worked for GEC and after the war he printed his valve amplifier
designs in Wireless World magazine. In those days, buying a complete piece of consumer
electronics in the shops was not the only option. Many designs were printed, or in kit
form. The Williamson design was so popular that many manufacturers built transformers
to Williamsons specifications and audio enthusiasts built the amplifier from parts.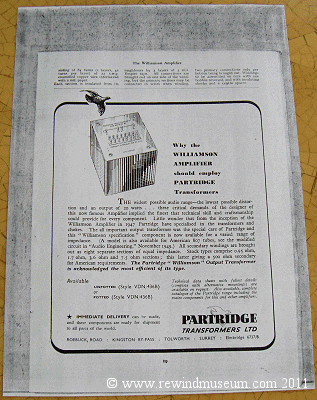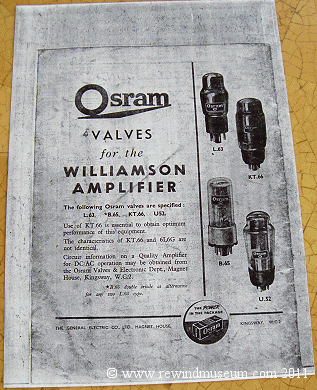 D. T. N. Williamson wrote,
"It appears then that the design of an amplifier for sound reproduction to give the highest
possible fidelity should centre round a push-pull triode output stage and should incorporate
negative feedback. The most suitable types of valve for this service are the PX25 and the KT66.
Of these the KT66 is to be preferred since it is a more modern indirectly heated type with
6.3 volt heater, and will simplify the heater supply problem. Triode-connected it has
characteristics almost identical with those of the PX25."
Update Feb. 2008. The original "Wireless World" magazines. April and May 1947.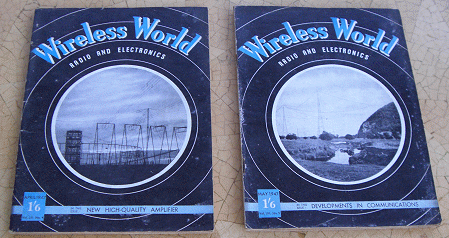 As shown at the top of this section, reprints are still available of the
Williamson amplifier "Wireless World" publications.
Now, in the museum, we have the two original magazines showing both parts 1 and 2 of the original
Williamson articles and these detailed the full designs of the Williamson valve amplifier.
See an interesting article at
http://www.tcaas.btinternet.co.uk/jlh1996.pdf
and
Bert van der Kerk shows how to build a Williamson amp at
http://www.xs4all.nl/~ideas/amps/index.html
Some companies did build Williamson amplifiers to Williamson specifications and these are shown below.
It was certainly one of the more expensive amplifiers available at the time mainly due to the large
number of high quality components that were needed to build it.
£31 From "Rogers" is approx. $62 and in 1952 that was expensive - In 1952 in the UK the weekly
wage for the working man was about £5 per week and so £31 was 6 weeks pay! Also remember that
this was for a mono amplifier. Two Williamson amps would be required for stereo. No wonder many
people opted to build it themselves and that assumes they could afford the parts. It is interesting
that Rogers Developments Co. who made valve amps and transistor amps for many years are,
in 1952 selling fully assembled Williamson amplifiers. (Adverts from "Wireless World" 1952)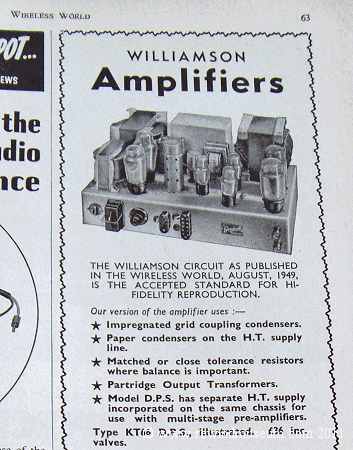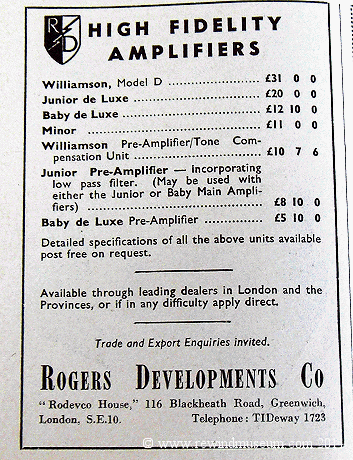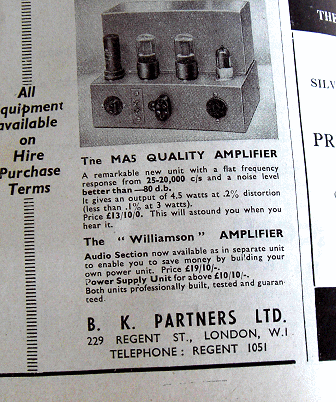 A pair of Quad II power amplifiers
(introduced 1953) and 22 pre-amp
control unit (introduced1958).
These units are in mint condition and complete with manual.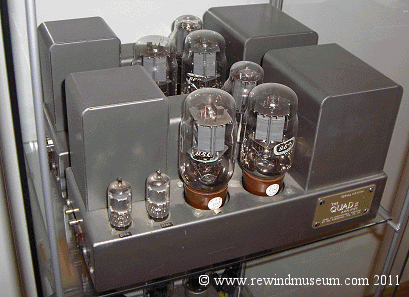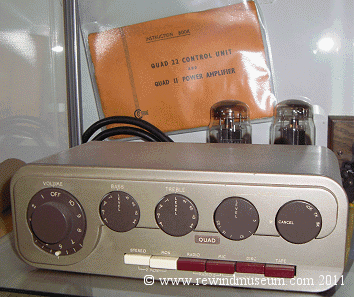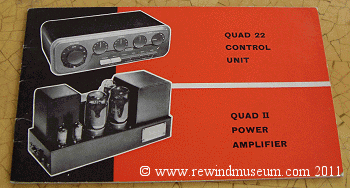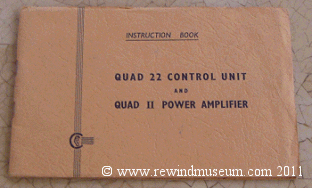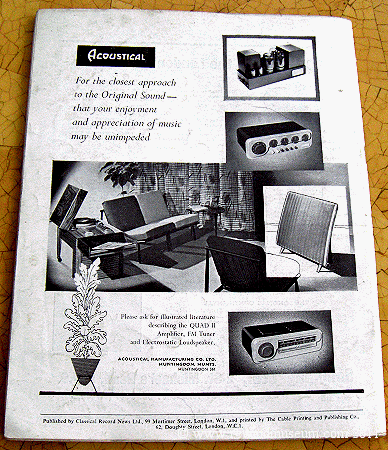 Quad advert from Hi Fi News magazine 1958 including the Quad II amps and 22 valve pre amp.
Also in the advert is the Quad valve tuner unit and Quad electrostatic speakers.
The Quad II power amps were sold for 18 years. In 1958 the Quad FM tuner was also introduced.
These Quad valve amps have been in the collection since 1990.
Update. A big effort was made in Jan. 2010 to fully service the Thorens TD 124 turntable and
use it with the Quad amps, Here are some new pictures of the amps now in use.
They are driving a pair of JBL speakers.
The valves are original GEC KT66s. Two matched pairs of KT66s with very low hours.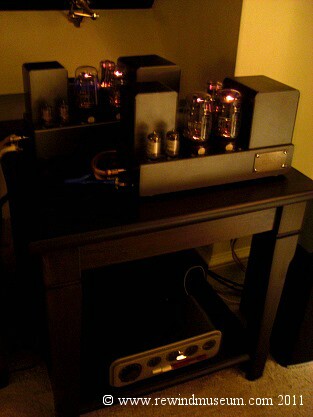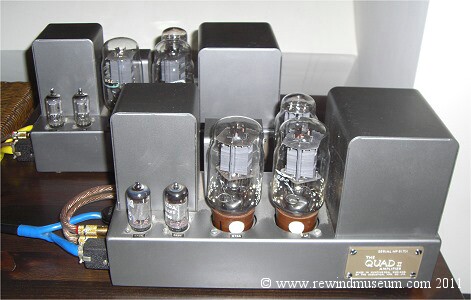 A very interesting site which includes notes and pictures about restoring Quad valve amps can be found at
http://www.dc-daylight.ltd.uk
In particular, how to upgrade the old resistors and capacitors to protect those valuable KT66s.

Trio WX-400 valve (tube) receiver
(tuner amplifier.) 1962

Little is known about this very interesting unit.
It is likely to have been built between 1960 and 1962.
Kasuga Radio Co., Ltd was established in 1946 and renamed Kasuga Radio Industry Corporation in 1950
and then again renamed in 1960 - Trio Electronics, Inc.
In 1962 Trio introduces the first transistor products and by 1966 all products are fully transistorised.
This Trio WX-400 receiver was also known as the Kenwood KW-70.
Trio eventually became known as Kenwood Corporation. (Kenwood Electronics in the UK).
In the States Trio has always been known as Kenwood and it is likely that the Kenwood KW70 was the
US version of the Trio WX-400. There was also a WX-500 although not sure what the differences were.
The WX-400 has 22 valves and is an AM/FM Wide Band Stereo Receiver
The appearance, with it's chrome edging is typical of early Japanese domestic Hi Fi and consumer electronics.
It has been in the collection since the early 1980s and was bought from a friend. There is almost
no information about this unit on the internet and as usual manufacturers web site are of no help.
Any information would be most welcome.

Wharfedale 100.1 Multiplex Receiver. 1971
(This prototype - 1969/70)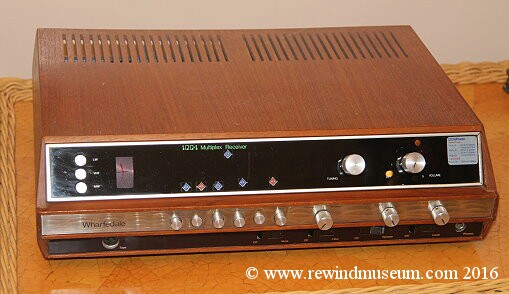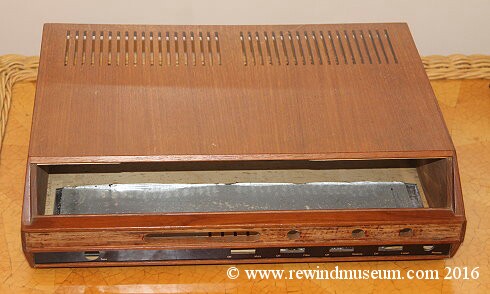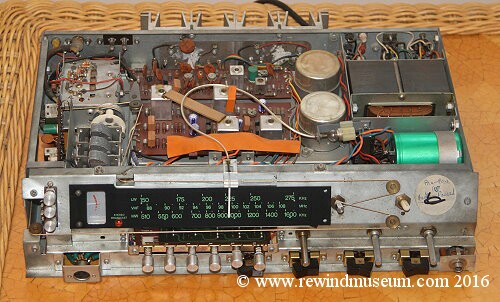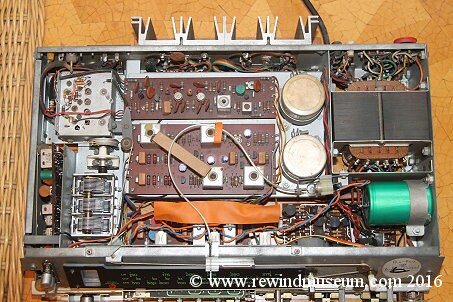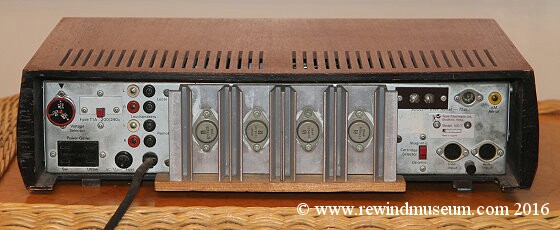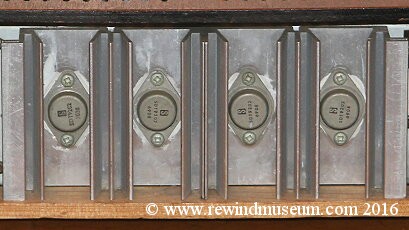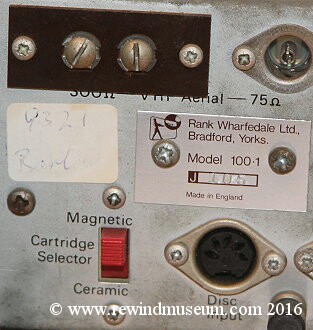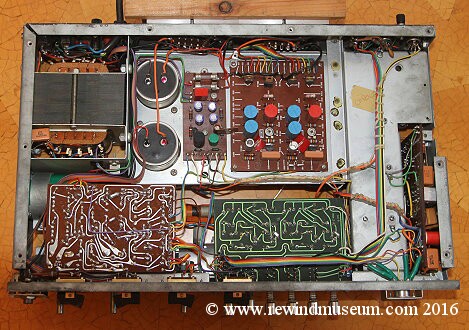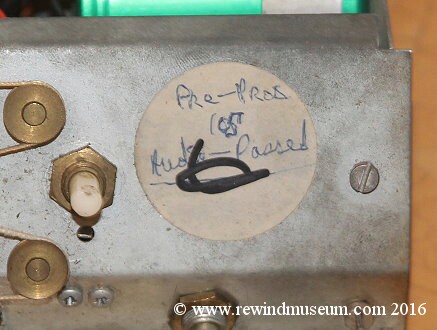 Whafedale 100.1 (prototype) Multiplex Receiver / stereo amplifier. Production models were available from 1971. This prototype
would have been developed in 1969/70. You will see in one of the pictures the words "Pre-Prod" (Pre-production) on an internal
label. Typical of 1970s British design it has a wooden case. The receiver is AM / FM and the amplifier has an output of 35W
per channel. It is interesting to note that the "100.1" model number came from "100W peak power and 0.1% distortion". The
retail price was at £131. This was one of the first transistorised Hi Fi receivers. Don Barlow was one of the designers who
worked for Wharfedale. This prototype amplifier was donated by "Helen", the late Don Barlow's daughter. Don Barlow worked at
"H.J. Leak " in the 1950s and 1960s. In January 1969 Rank-Wharfedale acquired Leak and Don then worked for Wharfedale until
1974. This prototype was passed on to his daughter after his death. H.J. Leak manufactured many Hi Fi products and Don was
instrumental in the development of many of these products. He invented the Leak Sandwich Speaker (see below) which used a
new concept sandwich constructed piston rather than a paper cone in the drive units. Work started in the late 1950s and the
speaker went into production in the mid. 1960s. In the early 1960s he also worked on the development of the Leak Dynamic
pickup cartridge (but the product was never launched), the "Truspeed" turntable and many other products. Much more
information about H.J. Leak and Don's achievements can be found in the book –
"Firsts in High Fidelity: The Products and History of HJ Leak & Co. Ltd by Stephen Spicer. ISBN 9781882580316".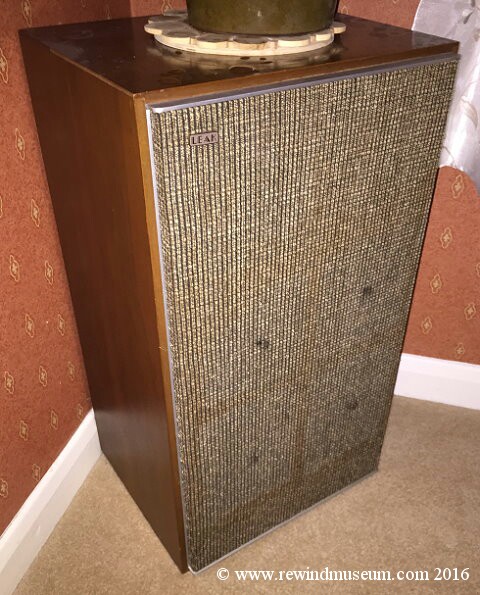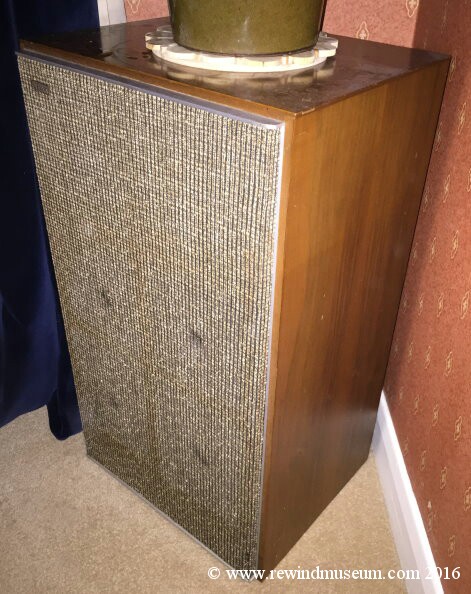 This page will soon contain -
A Leak valve amplifier.
A Rogers valve amplifier
The Jason Mercury 2 below. Any information on this would be most welcome.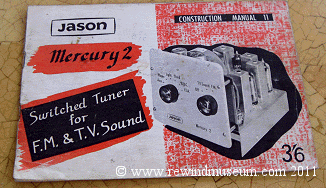 Making a donation.
The Rewind Museum is a non-profit making endeavor. The web site and the touring exhibitions are run on
a voluntary basis. Donations,
not money,
just old items you no longer want, are always welcome.
If you have something that you think would be of interest, please contact us with the details.
We can send in a courier to pick them up. (Even an international courier). Thank you.


Link to our main site. Satellite TV.
Sponsored by Vision International.
Note. One of our businesses, Vision International (established 1991) sponsors the
Rewind Museum including financial support for this web site.
Vision International is one of a group of businesses that we have in the field of
Satellite TV. This is a link to our sponsor.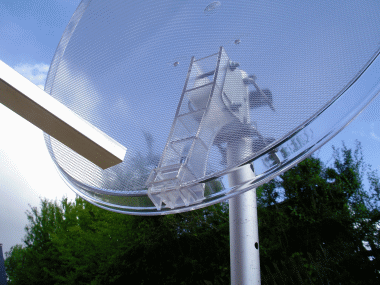 tune in an extra 8000 channels? Watch the world? Links to some of the pages are below,
Sky Receivers
Sky Accessories
Transparent Dishes
Motorised systems
High Definition Receivers.
Caravan satellite
Lyngbox
Catalogue index page of all satellite products.
Technomate
The Rewind Museum web site is maintained on a non-profit
making voluntary basis. Our main business website is at
www.satellitesuperstore.com/cat.htm
Our main business is satellite TV and we are a specialist satellite company.
We supply satellite goods in the UK and worldwide including fixed and
motorised satellite systems, accessories and installation equipment.

Web site copyright © 2010 Vision International. All rights reserved.
For all questions & comments about this site's content
contact Dave
at Rewind
Museum (We only accept questions in English. We do not open attachments.)