Museum of early consumer electronics and 1st achievements
www.rewindmuseum.com



1982 Philips VLP-700 Laser Disc Player.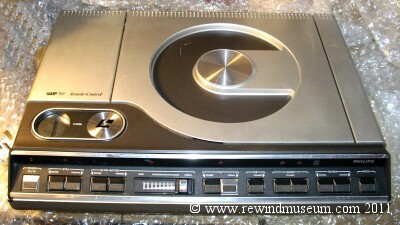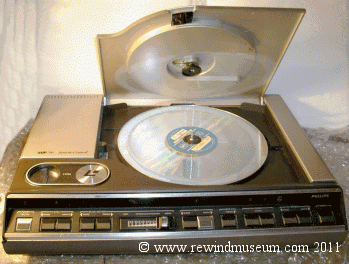 The VLP-700 was the first laser player on sale in the UK. The VLP-600 was the same unit but
without a remote control. The 700 was released in May 1982 after various problems were sorted out.
The original release date was 1980 which was revised to 1981 then 1982. The problems were both
with the player and the disc pressings. The styling of the unit has many features that match
the earlier Philips VCRs like the 1500 and 1700. Similar size, colour, rounded corners and
sloping controls at the front. Placed alongside a 1700 you would think they has been designed
together. Rounded edges, chrome trim and silver plastic are all typical of Philips in the 1970s and
early 80s. The discs were 30cm across, much bigger and much thicker than a CD. (see right hand picture
above where a disc is sitting in the platter.) The discs were used to hold films. there was both
standard and long play. Playing time was either 36 minutes a side or 55 minutes a side.
A number of trick play modes were possible. At the time, VCRs had very poor still frame and
search modes and showed noise bars but the laser disc had perfect pause and search features.
The unit above was added to the museum in Feb. 06.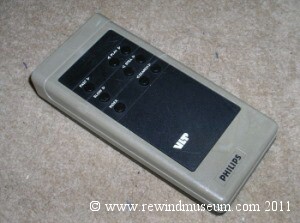 Update Nov 07. We now have the handset for this 1st laser disc player.


Making a donation.
The Rewind Museum is a non-profit making endeavor. The web site and the touring exhibitions are run on
a voluntary basis. Donations,
not money,
just old items you no longer want, are always welcome.
If you have something that you think would be of interest, please contact us with the details.
We can send in a courier to pick them up. (Even an international courier). Thank you.


Link to our main site. Satellite TV.
Sponsored by Vision International.
Note. One of our businesses, Vision International (established 1991) sponsors the
Rewind Museum including financial support for this web site.
Vision International is one of a group of businesses that we have in the field of
Satellite TV. This is a link to our sponsor.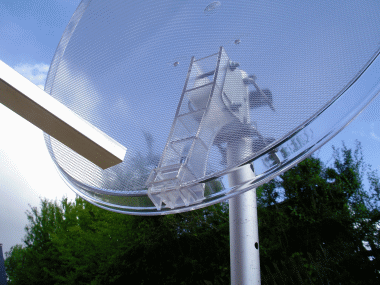 tune in an extra 8000 channels? Watch the world? Links to some of the pages are below,
Sky Receivers
Freesat Receivers
Transparent Dishes
Motorised systems
High Definition Receivers.
Caravan satellite
LNBs
Catalogue index page of all satellite products.
Technomate
Installation equipment.
Satellite finder meters
The Rewind Museum web site is maintained on a non-profit
making voluntary basis. Our main business website is at
www.satellitesuperstore.com/cat.htm
Our main business is satellite TV and we are a specialist satellite company.
We supply satellite goods in the UK and worldwide including fixed and
motorised satellite systems, accessories and installation equipment.

Web site copyright © 2011 Vision International. All rights reserved.
For all questions & comments about this site's content
contact Dave
at Rewind
Museum (We only accept questions in English. We do not open attachments.)