Museum of early consumer electronics and 1st achievements
www.rewindmuseum.com



Vintage camcorders. Betamax, VHS and VHS C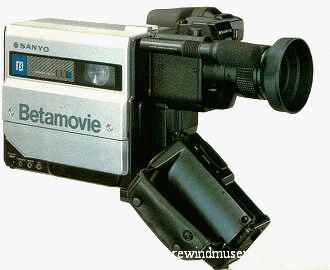 This page will contain -
The Sony BMC100P
Betamax Camcorder 1983/1984. The Sony Betamovie Camcorder in original case.
The world's first camcorders were of the Betamax format and were labeled "Betamovie".
See below for more information on "Betamovie"
The JVC GR-C1.
1984. The 1st VHS C camcorder.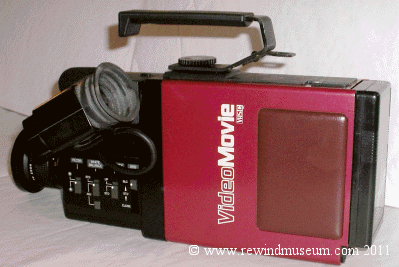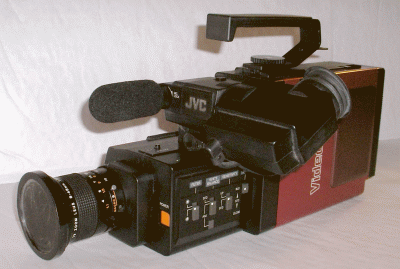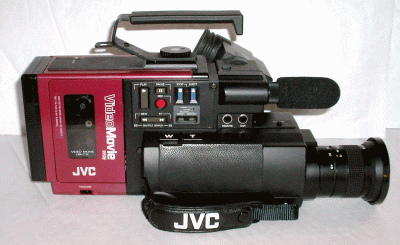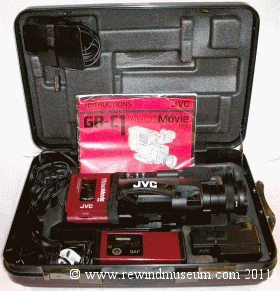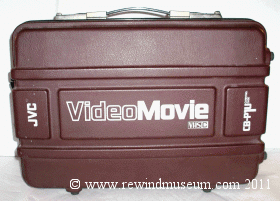 THIS WAS VOTED ONE OF THE TOP 100 GADGETS OF ALL TIME AND IS THE SAME MODEL
THAT WAS USED IN ONE OF THE 80S MOST FAMOUS FILMS BY MARTY MCFLY IN
"BACK TO THE FUTURE", STARRING MICHAEL J FOX.
A JVC GR-C7 is below.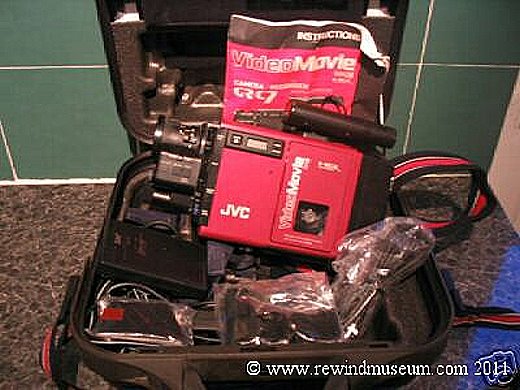 The JVC GR-C7
early VHSC camcorder in original case. 1986. There is a temporary picture above
but much better pictures will be added soon.
In 1986 it is the world's smallest and lightest VHS-C video camcorder.
Also in the museum,
1988. Amstrad Fidelity Videomatic VMC 100.
Amstrad's 1st VHSC camcorder - cheapest camcorder available.
"Betamovie." information.
Sony's Betamax video uses 1/2 inch home video cassettes. Betamax video recorders
were also sold by Toshiba, Pioneer, Aiwa and NEC, Zenith Electronics, and WEGA
The Betamax format was most popular in 1983, gaining almost a third of the UK video
recorder market. Sanyo celebrated the VTC5000 as the top selling UK video recorder.
However, by 1985 the market had turned sharply towards VHS.
The world's first camcorders were of the Betamax format and were labeled "Betamovie."

1985 Sony "Video 8" Camcorder.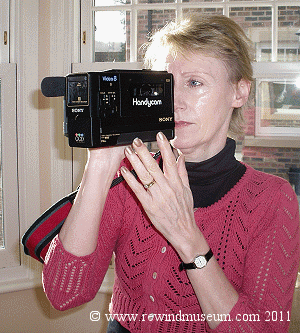 LEFT - Popular Science Magazine September 1985. RIGHT - Sony CCD-M8E Handycam.
BELOW - the complete kit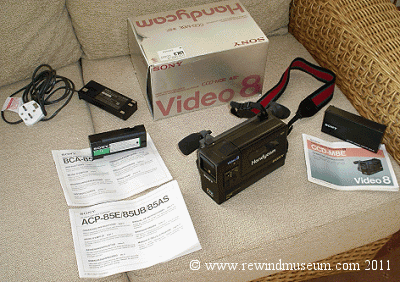 This compact tape recording system from Sony used tape that was 8mm in width in a compact cassette.


Making a donation.
The Rewind Museum is a non-profit making endeavor. The web site and the touring exhibitions are run on
a voluntary basis. Donations,
not money,
just old items you no longer want, are always welcome.
If you have something that you think would be of interest, please contact us with the details.
We can send in a courier to pick them up. (Even an international courier). Thank you.


Link to our main site. Satellite TV.
Sponsored by Vision International.
Note. One of our businesses, Vision International (established 1991) sponsors the
Rewind Museum including financial support for this web site.
Vision International is one of a group of businesses that we have in the field of
Satellite TV. This is a link to our sponsor.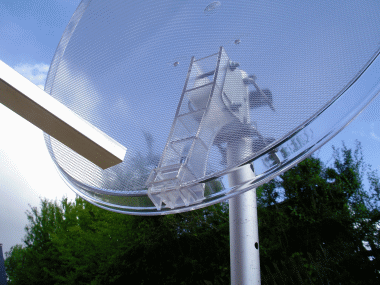 tune in an extra 8000 channels? Watch the world? Links to some of the pages are below,
Sky Receivers
Freesat Receivers
Transparent Dishes
Motorised systems
High Definition Receivers.
Caravan satellite
LNBs
Catalogue index page of all satellite products.
Technomate
Installation equipment.
Satellite finder meters
The Rewind Museum web site is maintained on a non-profit
making voluntary basis. Our main business website is at
www.satellitesuperstore.com/cat.htm
Our main business is satellite TV and we are a specialist satellite company.
We supply satellite goods in the UK and worldwide including fixed and
motorised satellite systems, accessories and installation equipment.

Web site copyright © 2011 Vision International. All rights reserved.
For all questions & comments about this site's content
contact Dave
at Rewind
Museum (We only accept questions in English. We do not open attachments.)