Museum of early consumer electronics and 1st achievements
www.rewindmuseum.com


Car magazines and publications.
Car Mechanics June and July 1962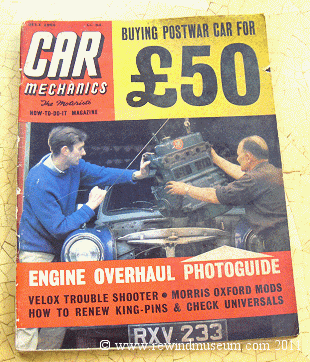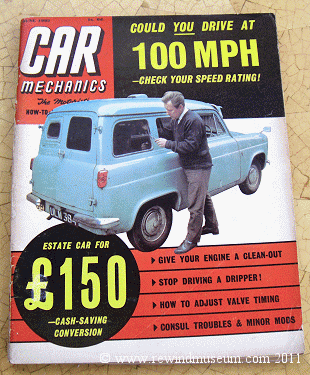 Buy a post war car for fifty quid!
Could you drive at 100mph. Check your speed rating!

Practical Motorist Magazines 1955-1957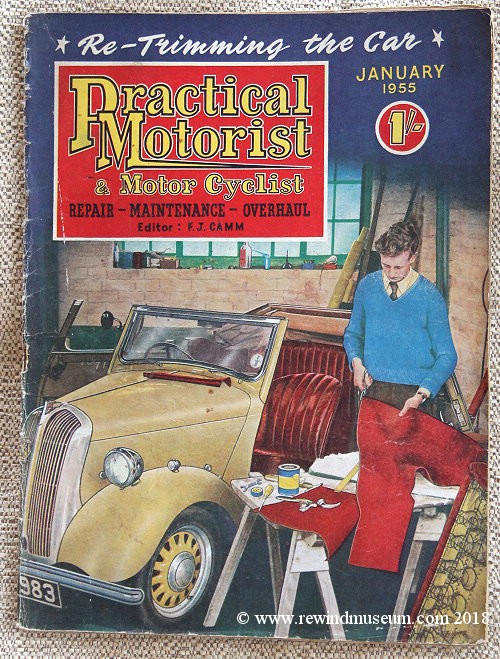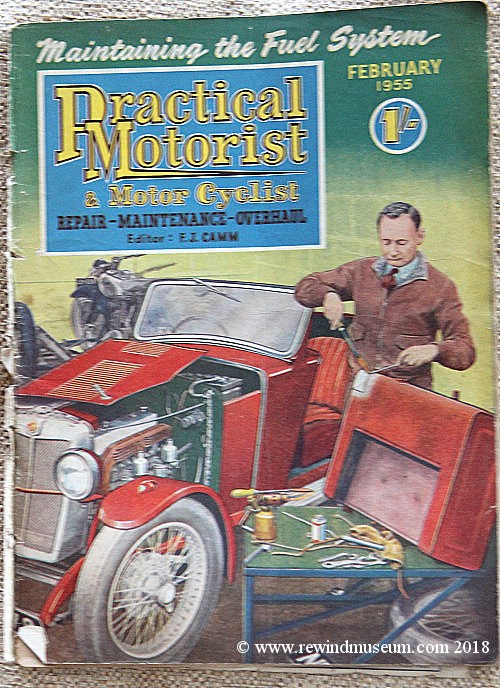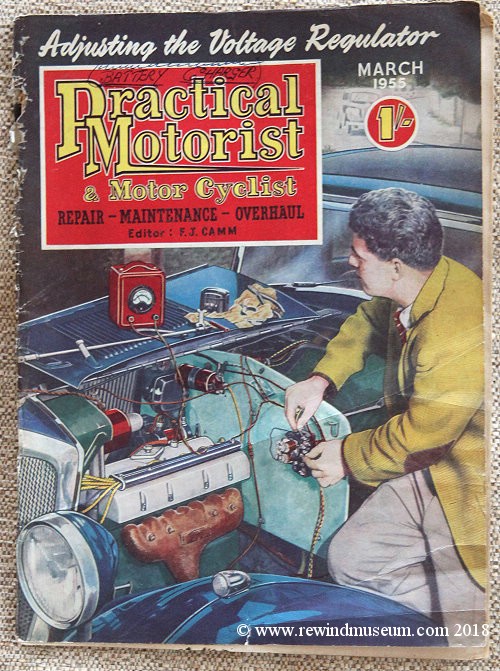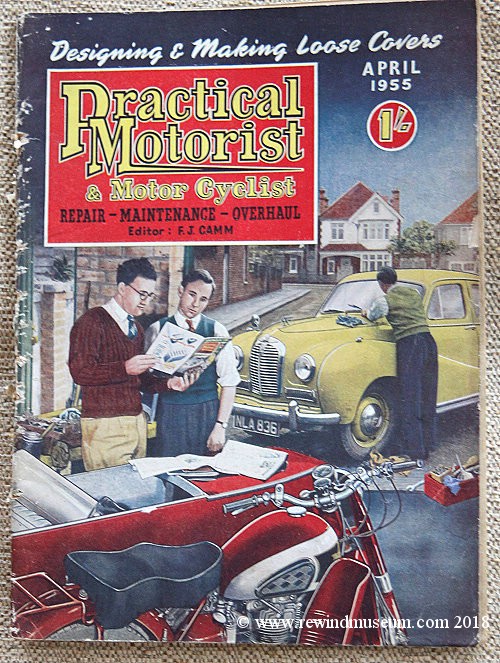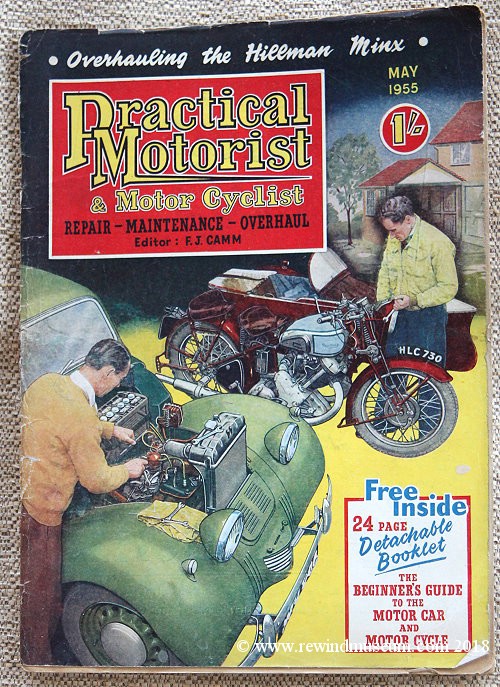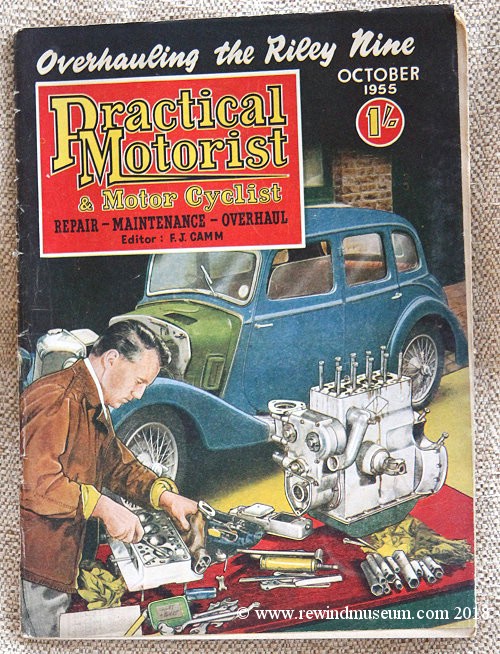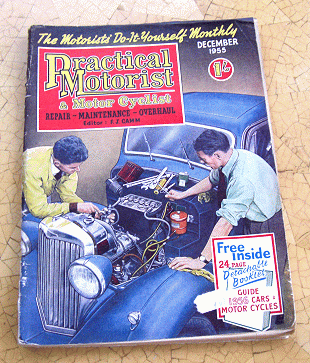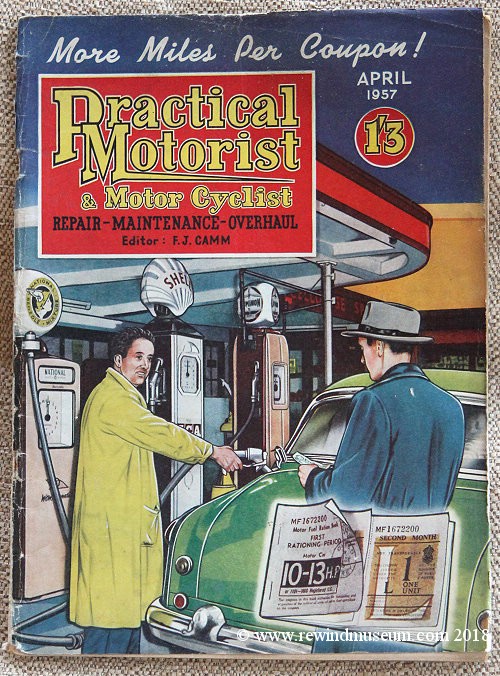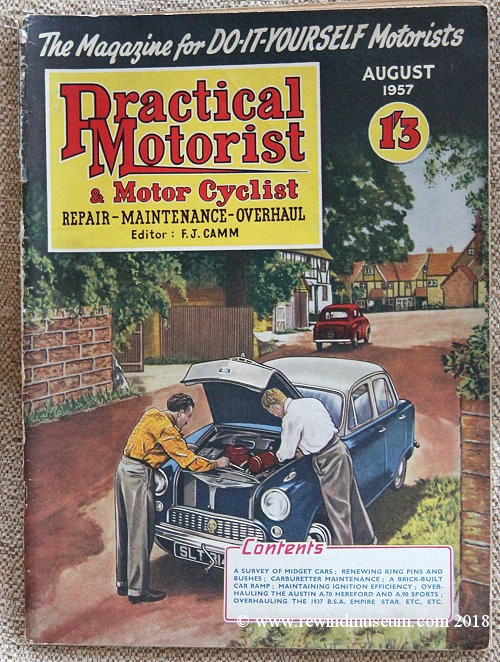 The price of this magazine was 1 shilling in 1955 which is 5 pence. Increased to 1 shilling and 3d (6p) in 1957.
The pictures on the front of this magazine are really excellent and typical of the time.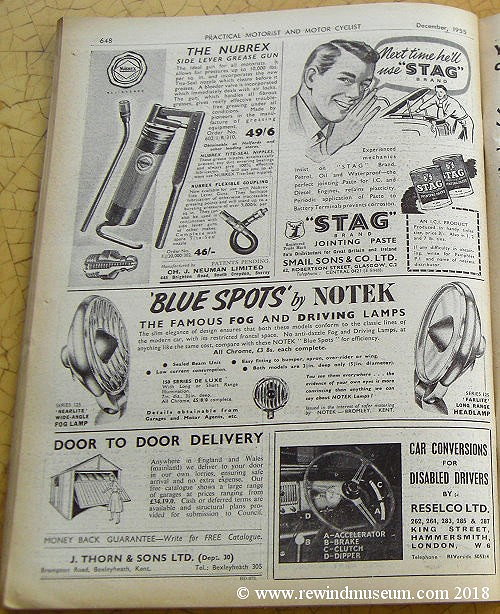 Adverts from Practical Motorist Oct. 1955.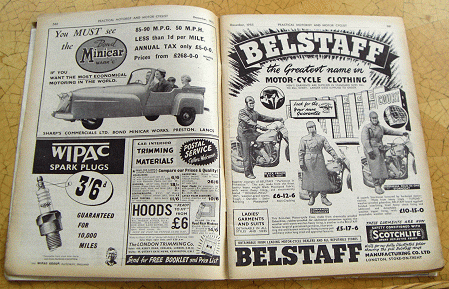 Adverts from Practical Motorist Dec. 1955.

Practical Mechanics Magazine April 1953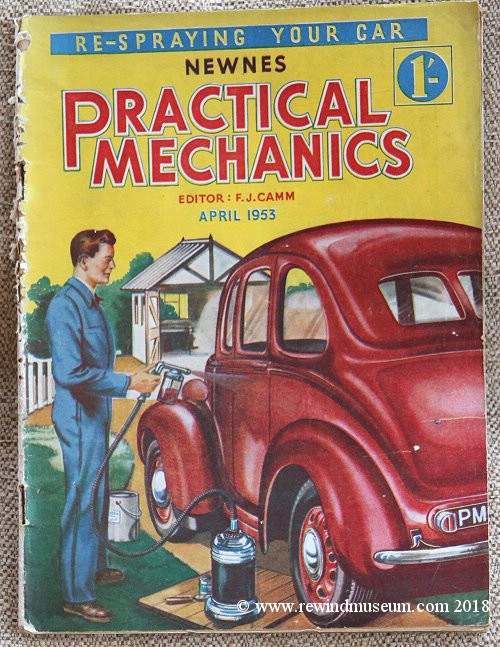 From the same publisher as Practical Motorist above, this is Practical Mechanics. Also the same editor : F.J.CAMM.
A very similar type of attractive front cover but this magazine is about more than just cars.
Indeed the contents are varied and more like a science and technology publication. Subjects covered in the issue -
Building a periscope, building a sand yacht, making an electric guitar, helicopters, telescopes, new steam trains ...

Custom Car Magazine. October 1975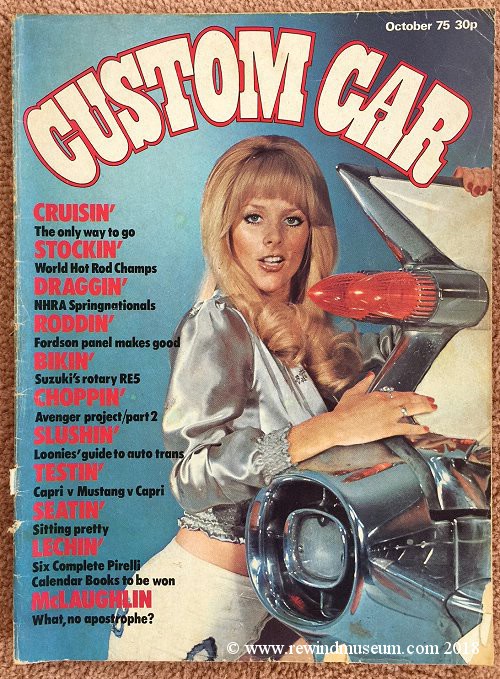 I purchased this magazine in 1975. My interest in American cars goes back to when I was very young.
The front of the magazine shows the tail fin of a 1959 Cadillac Eldorado. The fins of the 1950
reached their zenith in 1959. Cadillac had the highest fins at 42 inches and Chevrolet had the
widest in the 59 Impala. By 1960 fashions had changed and the fins started to disappear. One
company in 1960, Plymouth did not realise and in 1960 the Plymouth Fury still had high tail
fins. This car was made famous in the film "In the Heat of the Night" Staring Sidney Poitier.
There was a car chase when he was chased by "the bad guys" who were driving a 1960 Fury.

Motor Cycling magazine. March 1961
Excellent cartoon type, typically early 60s picture on the front of this magazine.

Red Book National Used Car Market Report. No. 117. 1939.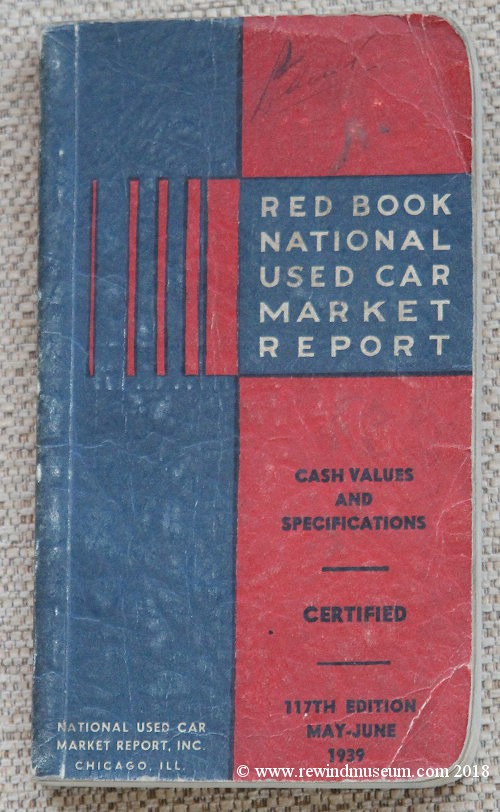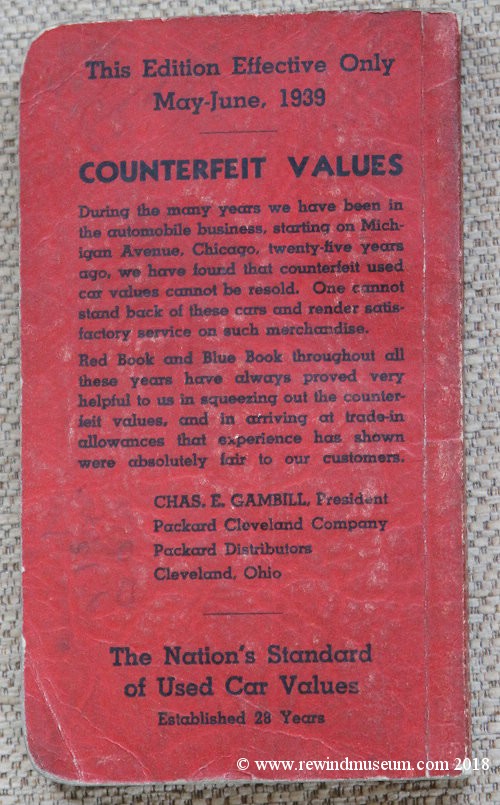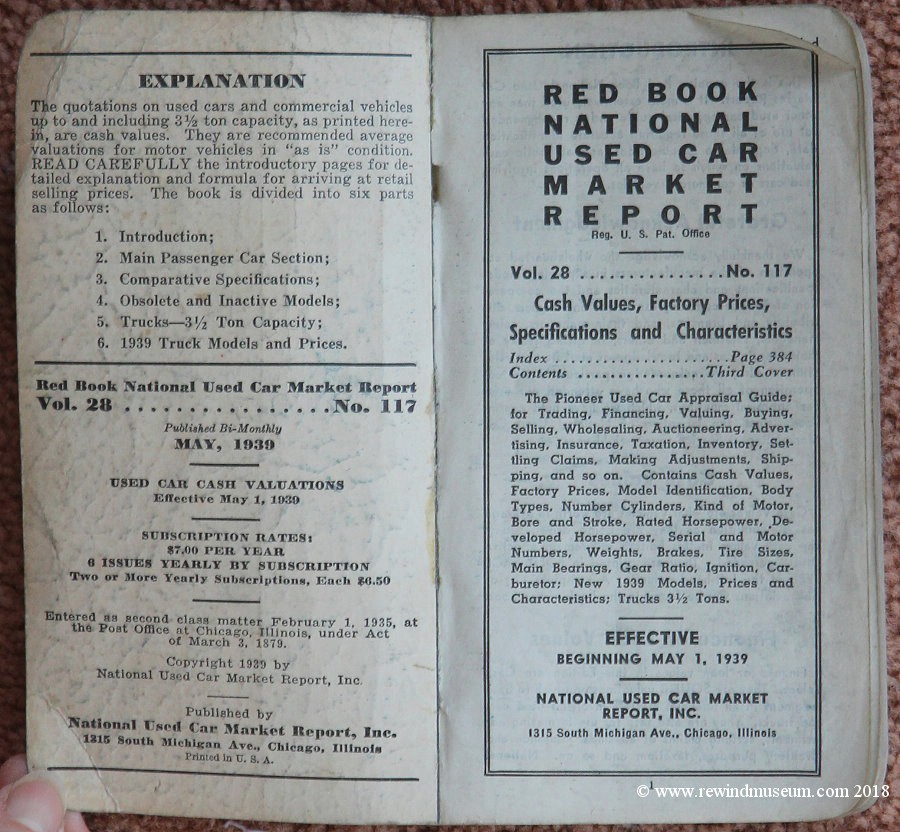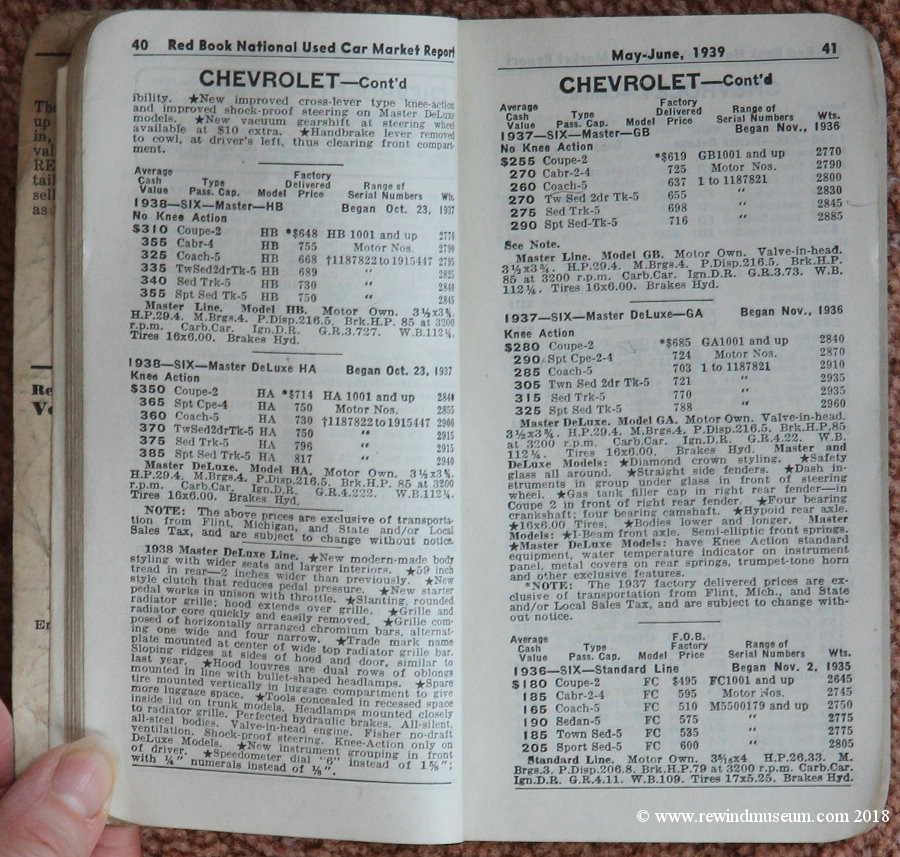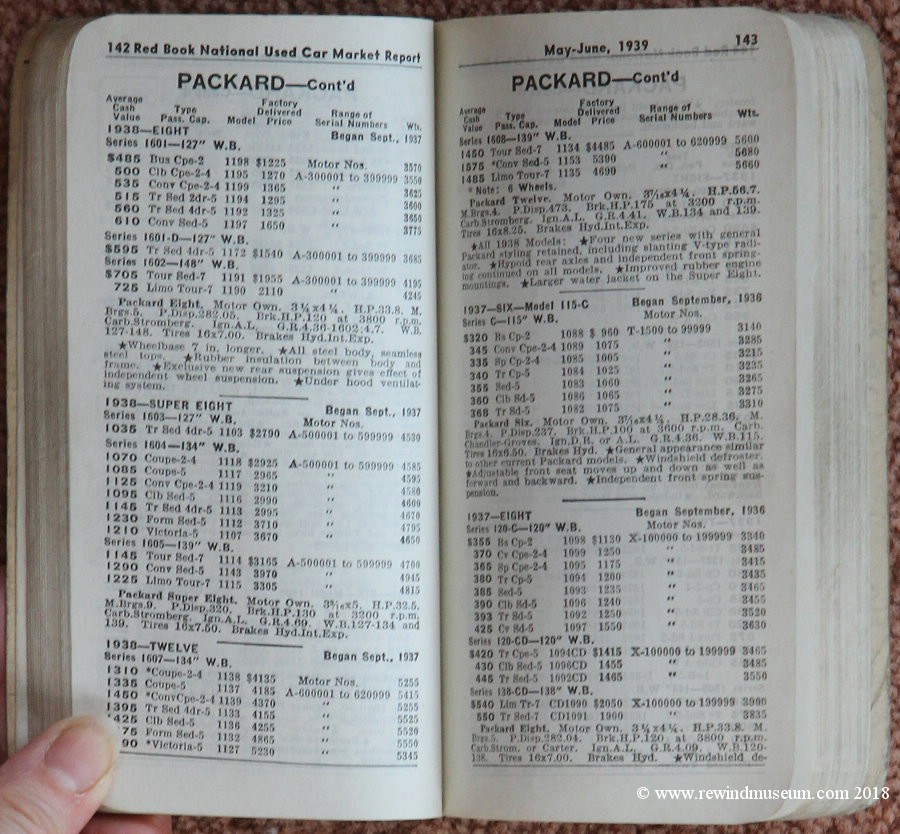 These days it seems to be mainly the blue book people use to find used car valuations but some countries
use a red book. This one is from 1929 and so all cars listed are pre-1929. Published in Chicago, USA

Who's Who at the Motor and Equiment Association show. 1929.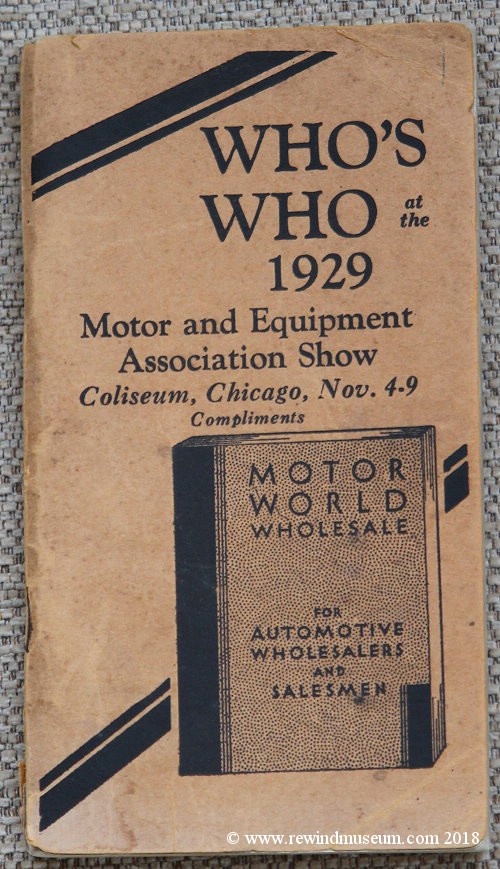 This is a show guide for the Motor Association Show at the Coliseum, Chicago, USA from Nov.4-9 1929.
Maybe the modern equivalent would be the SEMA show in Las Vegas?

General Motors builds it's first 50 Million Cars. 1954.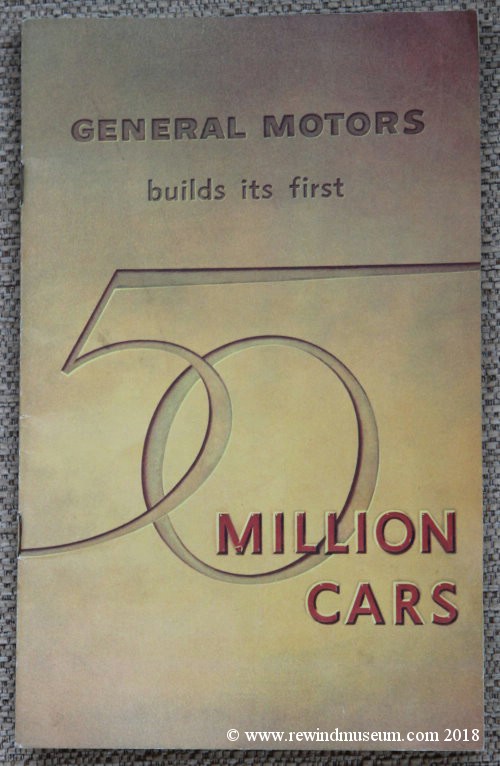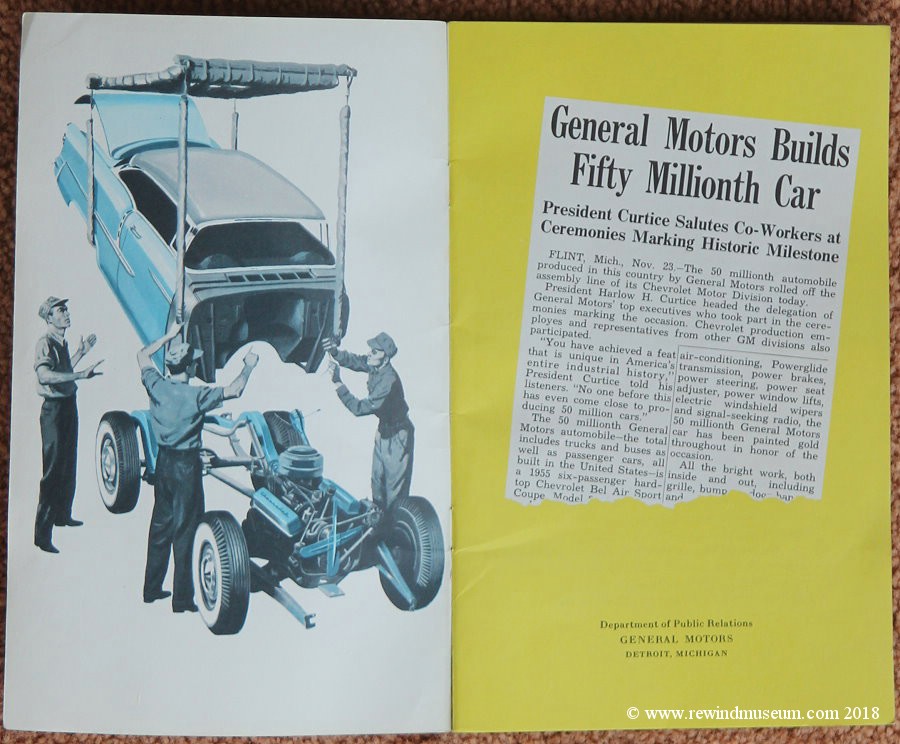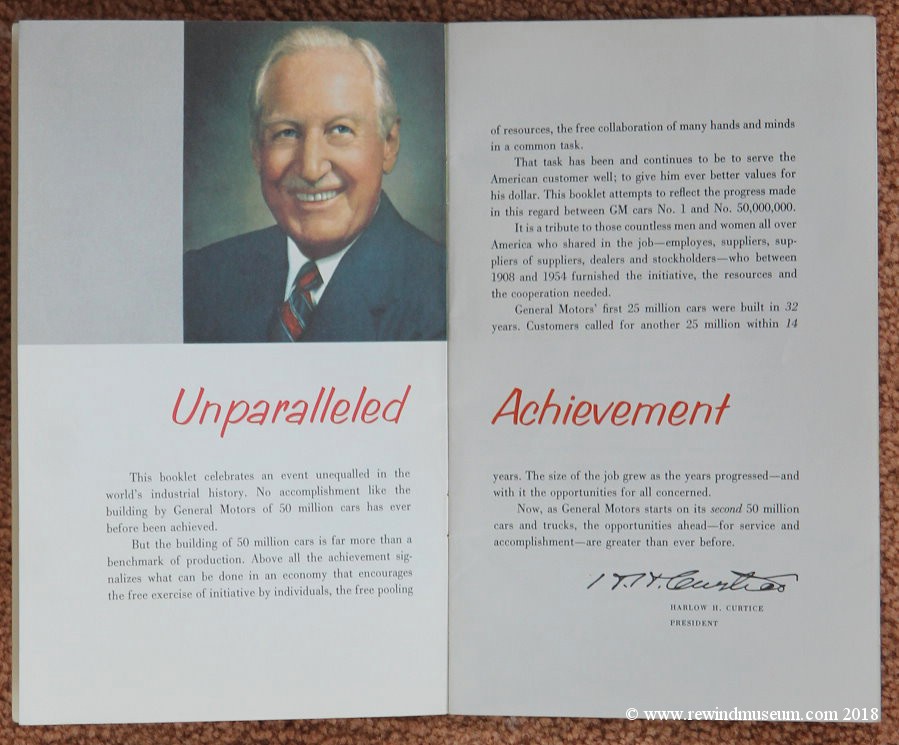 In 2011 GM announced it had built 100 million small block Chevy engines. The most production of any engine in history.

We have a number of old Car magazines in storage.
These include,
"Motor" magazines from the 1960s and 1970s.
An original mint advertising brochure of the sinclair C5
Old American Car magazines from the 1980s.
Many pictures and notes from the magazines will be put onto this page later in the year.

We have a large stock of old "Practical Electronics" magazines in storage.
These are from the 1960s and 1970s.
These include "Practical Electronics", Maplin data sheets, TV mags from the 40s and 50s. Car magazines
from the 50s and 60s. Many pictures and notes from the magazines will be added to this page soon.




Making a donation.
The Rewind Museum is a non-profit making endeavour. The web site and the touring exhibitions are run on
a voluntary basis. Donations,
not money,
just old items you no longer want, are always welcome.
If you have something that you think would be of interest, please contact us with the details.
We can send in a courier to pick them up. (Even an international courier). Thank you.
Please note - The Rewind Museum site has been archived by the British
Library so that future generations can always access the site's content.
To talk to us about making a donation please go to - "
making a donation
".

Are you interested to read about a 10 year + restoration of a classic vehicle?
If so go to -
www.1952chevytruck.com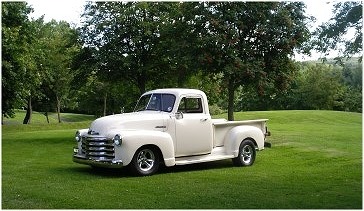 The 1952
The 1952 Chevy truck
web site.

Link to our main site. Satellite TV.
Rewind Museum is sponsored by Vision International. Note. One of our businesses, Vision International (established 1991)
sponsors
Rewind Museum
and
Satellite Museum
including financial support for this web site. Vision International
is one of a group of businesses which we have in the field of Satellite TV.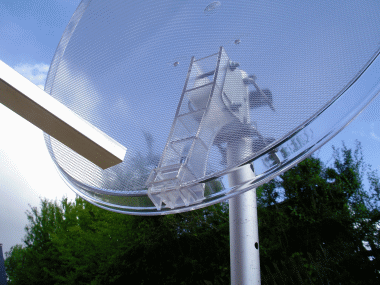 Tune in an extra 10,000 channels? Watch the world? Links to some of the Satellite Superstore pages are below,
Sky Receivers
Freesat Receivers
All satellite receivers
Fixed Dishes
Transparent Dishes
Motorised systems
LNBs
Multiswitches
Caravan satellite
Satellite finder meters
Installation equipment.
Catalogue of all satellite products.
Rewind Museum web site is maintained on a non-profit making voluntary basis.
Our main business website is at
www.satellitesuperstore.com
.
Our main business is satellite TV and we are a specialist satellite company. We
supply satellite goods in the UK and worldwide including fixed and motorised satellite
systems, multiswitches, instrumentation, accessories and installation equipment.

Web site copyright © 2018 Vision International. All rights reserved.
For all questions & comments about this site's content
contact Dave
at Rewind Museum.